Metro Atlanta pets find more than just boarding services at some blissful doggy daycares.
By H.M. Cauley
For so many people, summer means getaways and vacation trips that take them to new and exciting destinations. While those escapes are great for recharging and relaxing, they can also be the most stressful days for a pet who can't tag along.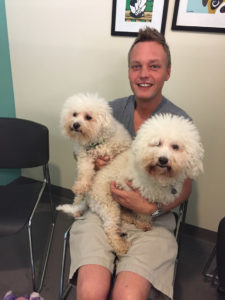 If an excursion away from home means having to find a place to board the family's dog or cat, the choice can be a tough one. Experts at WebMD suggest asking a veterinarian for references, visiting locations to see how the animals interact and are treated, and interviewing boarders about what services they'll provide in your absence.
At these four Atlanta area doggy daycare locations, those services and facilities can make a pet's staycation as memorable as the owner's trip. It's not just about boarding; the focus at these sites is going the extra mile to make your pet forget you've left town.
Arlene Sinanian, owner of Pupcakes Playcare, is certain that's the thought on the minds of the pets who come to her 2,500-square-foot Buckhead facility, even if just for a day.
"Some of my clients can't use the word 'Pupcakes' or their dogs go crazy," she says. "Some start howling as soon as they turn down Pharr Road. They're excited and know where they're going."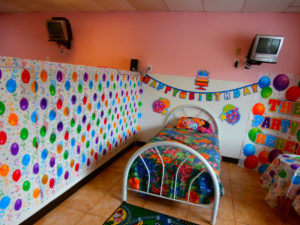 For nine years, Sinanian has catered to the daycare, boarding and grooming needs of small dogs up to 35 pounds. "We have dogs that weigh as little as 3 pounds," she says. "I'm partial to small dogs myself — I've had Malteses my whole life — and I realized they need their own place to be. So many times, small dogs can be an after-thought."
Instead, the critters in her care enjoy a low-volume, calm, cage-free environment where there's no danger of meeting up with another dog twice their size. "So many small dogs are afraid of large dogs," she says. "Here, they have an open environment where they can be themselves."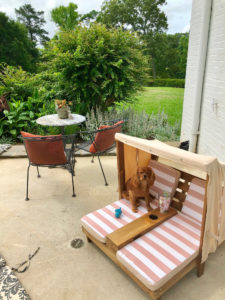 Sinanian also keeps the daily population low, taking in only about 40 dogs. They have freedom to roam the giant play space, the lobby, where it's quiet and conducive for less active dogs and the always-available outdoor area where artificial grass, paver stones, swings, glider and several tables and chairs with umbrellas are set up.
"Sometimes I'll go out there, and there are dogs on the chairs, dogs on the glider — there's no place for people," she says with a laugh. "We also have dog beds and mats everywhere so they can make their own little nests."
The pooches can also get some pampering. The blueberry facials whiten and brighten coats while making them soft and sweet-smelling. Specialty shampoos, gentle paw scrubs and plenty of sugar cookies are also part of the special treatment.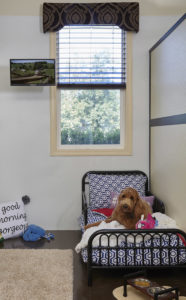 Guests of Rex and Roxy's in Decatur can spend their summer vacation romping in bone-shaped kiddie pools, chasing after bacon-flavored bubbles and going on hikes before enjoying a bath and a nail trim. But dogs that want to chill are free to sit out the activities.
"We do have luxury suites, so when dogs come to stay, they can have a whole room to themselves," says General Manager Aja Hatfield. "Owners can fill the suites with whatever they want — beds, toys, bowls from home, for instance. We supply the beds, blankets and towels."
For 20 years, Rex and Roxy's has catered to large dogs from 25 pounds and up while limiting the number in the facility to about 100.
"Sometimes it can be harder for large dogs to adapt," says Hatfield. "It all depends on temperament. We always do a test before they can come here. But we can work with a couch potato-y dog, who doesn't want to move around a lot, to super-hyper, excitable dogs, who run around the whole time. We love to let dogs be dogs."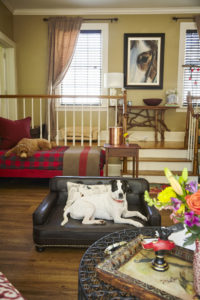 The facility has a spacious play area where dogs can frolic for about 12 hours, with naps and meals in between. "They get a lot of exercise," says Hatfield. "The playroom is indoor/outdoor, so they can go where they please. And during the summer, we'll take them for hikes to Arabia or Stone Mountain as another way to get them out and exercised."
A home away from home is the concept behind Fido Fido Dog Daycare and Boarding. Since 2006, Marea White has been making dogs of all sizes feel like the Sandy Springs facility is as cozy as their owners' abodes. The two-level space includes luxury suites as well as lounge areas with full-sized beds, floor rugs and TVs where "Animal Planet" or cartoons are often playing.
"They can hop on the bed and curl up just like they're at home," says White. "It's very comfortable."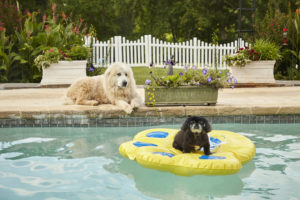 An outdoor play area provides fresh air and sunshine. Owners can also sign up for some one-on-one caretaker time that may include strolls around the city center. During the summer, dogs enjoy frozen ice cream socials, chasing bubbles, pool time and "pupcorn" treats.
"We have a calendar of engaging opportunities," says White. "On the Fourth of July, we have turkey burgers and frozen ice cream made for dogs. We offer red, white and blueberry bath specials, too. We usually have seasonal spa specials that give the dogs the full treatment — bath, nails, teeth, scent and a fresh bandana."
White also has a soft spot for older dogs. "We've found a niche working with them," she says. "Dogs are living longer these days as we take better care of them, but they have different needs — more one-on-one, more management of medication, more sleep, even a different type of bedding for old bones. They might have issues with sight and hearing. We customize care for each of our dogs."
Fido Fido will soon offer the same amenities in the Alpharetta-Roswell area.
"We'll be in a larger neighborhood in a park setting, and we've purposefully designed it to create less stress for dogs who have to be away from their owners," says White.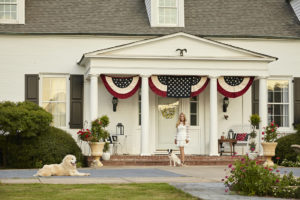 Dogs who stay with Beth Ramsey at her Serenity Dog Retreat can get a workout roaming the facility's bucolic site in Newnan. Opened last year, the 20-acre estate features 2 acres dedicated to dogs and represents the fulfillment of Ramsey's second-career dream after working in the corporate world of The Coca-Cola Co. for 25 years.
"I wanted to open an extremely nice, exclusive dog boarding place," she says. "But I didn't want to do a boarding facility in a warehouse or industrial park. So I bought 20 acres and made it my home."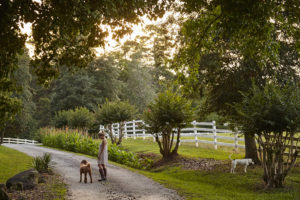 Ramsey, the owner of two Great Pyrenees and two terriers, transformed a three-car garage into walk-in suites for just 12 canine guests, who are also welcome to check out the pool, sunroom and reception area. Owners can sign up their pets for spa services such as mud or hot oil treatments.
"There are dog beds everywhere, so you'll see them either hanging inside with us or outside playing," she says. "They're only in their suites for feeding and sleeping. It's very much a home environment."
As an additional convenience for owners, Ramsey offers transportation to Atlanta and Hartsfield-Jackson Atlanta International Airport. "We're about 20 minutes south of the airport and very close to Serenbe," she says. "It's a breathtaking setting — exactly what I wanted it to be."
Pet owners closer to the city of Atlanta will soon have a new upscale dog daycare and boarding facility to pamper their pets. Lucky &Lady is set to open at the end of summer in a new building off Memorial Drive.
Partners Ryan Deal and Ryan Lepicier worked to create a space to cater to dogs and allows owners to use technology to schedule appointments and sign up for services. The idea grew from Deal's own experiences of having to find accommodations for his elderly dog when he was traveling with his government job.
"I always yearned for something more like home, more human-interactive," he says. "I also found myself with a two-hour commute every morning and evening, which left no quality time with my dogs — two Bichon Frises and one we call our 'lhasa shih tzu poo,' a rescue mix. One day it hit me that I needed to open my own facility."
The partners spent more than two years finding a place they could build and cementing the concept. The new site features an advanced HVAC system with a biological air filtration that will run 24/7. Deal also plans on welcoming a few cats, but they'll be in a separate area with its own circulated air.
The all-indoors play area is padded with rubber floors that are easier on paws and arthritic joints. A self-wash area with an ergonomically designed tub, shampoos, towels and blow dryers will be available to owners. The pets will enjoy structured periods of rest, play and one-on-one interaction that begins when the owners arrive.
"Our pet valet allows pet parents to remain in the car; we'll come out and get their pet and return him to the car in the evening," said Deal. "This allows our team to create barriers and gives the dog time to calm down before going through the door. Nothing is more frightening than to introduce a dog into an already established group."
The staff will also update owners with videos and texts about their pets, and owners can manage accounts and communicate with the staff online. And a portion of the business's sales will go to pet charities and rescue groups.
"We're trying to create Dog Care 2.0," says Deal. "Everything is designed for the animals; we're guided by wanting to create the best environment. We're big into technology and employing that to create an environment that reduces stress — whether that's auditory, visual or olfactory that might excite or upset them. We think that will also mean we won't have one thing: You won't hear a lot of barking."
Lucky & Lady 
975 Memorial Drive 30316
Luckyandlady.com
Pupcakes Playcare 
2989 N. Fulton Drive 30305
404.237.7440
pupcakesplaycare.com
Rex and Roxy's
142 New Street, Decatur 30030
404.377.9699
rexandroxys.com
Fido Fido 
275 Mt. Vernon Highway
Sandy Springs 30328
404.250.3920
fidofido.com
Serenity Dog Retreat
3049 US-29
Newnan 30265
678.857.3277
serenitydogretreat.com