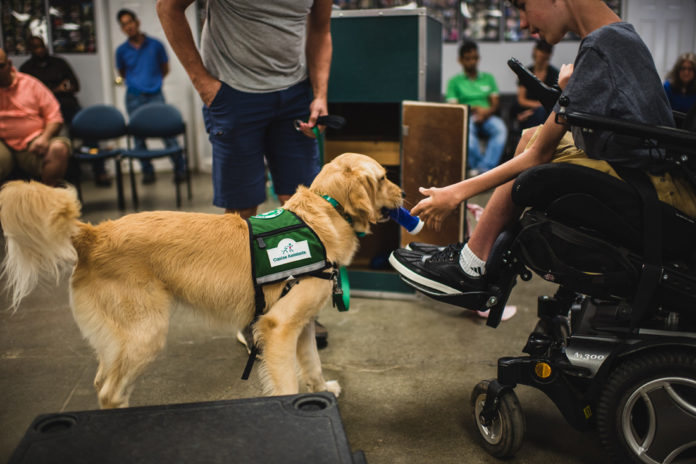 Dogs that can change the world
Written by Mickey Goodman
Located on a quiet winding road in Milton, Canine Assistants has all the trappings of an ordinary farm with horses, donkeys, an ornery goat and multiple cats roaming the 18-acre property.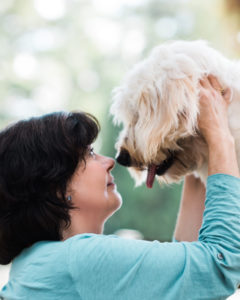 What's unusual is that these animals co-exist with up to 120 extraordinary dogs learning to become service and seizure response dogs for children and adults with mobility issues, epilepsy, Type I diabetes, multiple sclerosis, amyotrophic lateral sclerosis (ALS) and more.
From a humble beginning in 1991, Canine Assistants (CA) has become the primary provider of community service dogs for pediatric hospitals in the U.S.
"What better dogs to comfort hospital patients than those born, raised and taught at our facility who have never known a fear of people?" says Jennifer Arnold, founder and CEO. "We raise golden retrievers, Labradors and golden doodles because these breeds are not perceived as a threat by the public, they're large enough to assist their owners with mobility issues, and they have longevity."
The puppies' education begins when they are just two days old, and it takes about a year and a half before they are ready for placement.
"The selection process is gut wrenching because our list is extremely long, and we can only place 75 to 100 dogs a year," says Arnold. "There is never a charge to clients."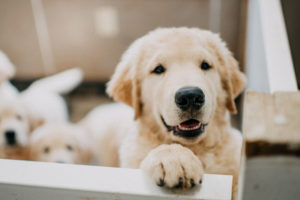 The program runs on volunteers who learn Arnold's methods of "teaching" instead of "training." They exercise the energetic dogs on campus, take them on field trips and invite them for sleepovers or extended visits at their homes to acclimate them to different environments.
"Helping ward off health issues is second nature to dogs that have an innate ability to detect slight changes in a human's body chemistry," says Arnold. "It's like our ability to recognize colors. Once you know that black is black, you know it. What's remarkable is that they can warn humans of imminent health crises. Recently, our 'spokesdog,' named Great — because he is — detected an epileptic seizure more than two hours in advance of its happening."
Another extraordinary dog named Max performed crucial interventions for his owner, Caitlin Jones, which led to her recovery after a violent attack. His journey from shelter to service was honored at the organization's Every Dog's a Hero Gala, where he was given CA's first ever Community Hero Dog Award.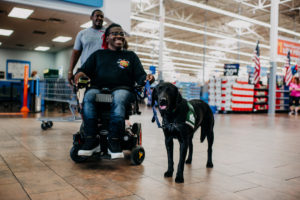 The impetus for CA began when Arnold was diagnosed with multiple sclerosis as a teenager and consigned to a wheelchair. Her father learned about a California program that trained service dogs and decided to start a similar program in Georgia.
Tragically, he was killed by a drunk driver before his dream came true or was able to learn of Arnold's misdiagnosis and ability to walk again. It took Arnold and her mother another 10 years to make the organization a reality.
Since the need for assistance dogs is so great, and the supply so limited, Arnold has developed a protocol called "Bond-Based Approach" to help those who want to teach their own dogs or start similar programs.
For more information on how to donate and volunteer, visit canineassistants.org