on Atlanta morning radio for 18 on Atlanta morning radio for 18 years.
Written by Courtney O'Neal-Hill
Photos courtesy of Bert Weiss
Host of The Bert Show on Q99.7 FM, the now nationally syndicated program also reaches 20 other markets across the country.
Outside of the show, Weiss is the owner of English bulldogs, Riggins and Tyra. "I got them both as pups from a dad of a Bert's Big Adventure child," he says, referencing his nonprofit that provides an all-expenses-paid, five-day journey to Walt Disney World for children with chronic and terminal illnesses and their families every February. "He breeds English bulldogs, and I'd always wanted to own one."
Weiss recalls having dogs in his life from an early age. "I remember growing up in New York with my mom, and we had this awesome German shepherd and a Shih Tzu." When he moved to San Diego to live with his father, he helped him breed Doberman pinschers for a while.
After radio stints in San Diego, Dallas and Washington, D.C., Weiss made the move to Atlanta to helm his eponymous show in 2001.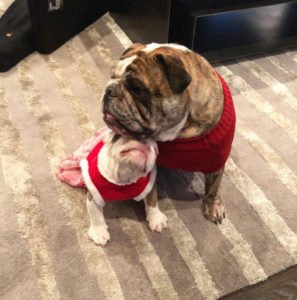 "Because of the show, I never thought I'd be able to own a dog," Weiss says, but the laid-back nature of the English bulldog breed plays well into Weiss' extremely busy schedule. "I'm up every morning at 3:45 a.m. to get ready, and I'm usually not back home until noon," he says of his weekday routine. "Then, I walk the dogs for about 20 minutes, and they usually get some other type of exercise, and that's it for them. That's all they need! English bulldogs just fit my nutty lifestyle so easily."
Five-year-old Riggins, whom Weiss describes as "very English bulldoggish" and the most laid back of the two dogs, loves human interaction but is quite skittish of other dogs due to an attack by two strays one afternoon while he and Weiss were on a Brookhaven stroll. "I've gotten him help through a trainer, and he's getting better, slowly," he says. "He gets along very well with [1-year-old] Tyra, even though she's extremely hyper and all over the place."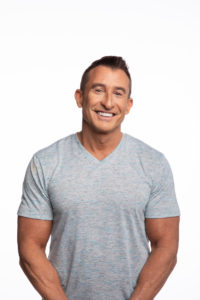 Riggins, whom Weiss also describes as "a lover of the concept of walking more than actual walking," often finds himself as the star attraction by Weiss' side across his social media platforms. He's also been with his owner through some rough times, including his 2015 very public divorce from now-ex-wife, Stacey, after 18 years of marriage. "Riggins was with me through that time, which was very tough. He's always been right there.
"Both dogs are considered family by Weiss' sons, Hayden and Hollis; his live-in girlfriend, Tiffany; and her daughter. "Everyone at home is in love with Riggins and Tyra, although Tyra, well, she's more of a boxer than a bulldog–stubborn, full of life and wants to play all the time," Weiss says with a laugh.
Despite his bulldogs' opposite personalities, Weiss' voice lifts at every mention of them. "Why are dogs considered 'man's best friend?' Because you really get the feeling that it's a true partnership and relationship with them, and it's not like that with any other animal, in my opinion. I just don't know what I'd do without my two."