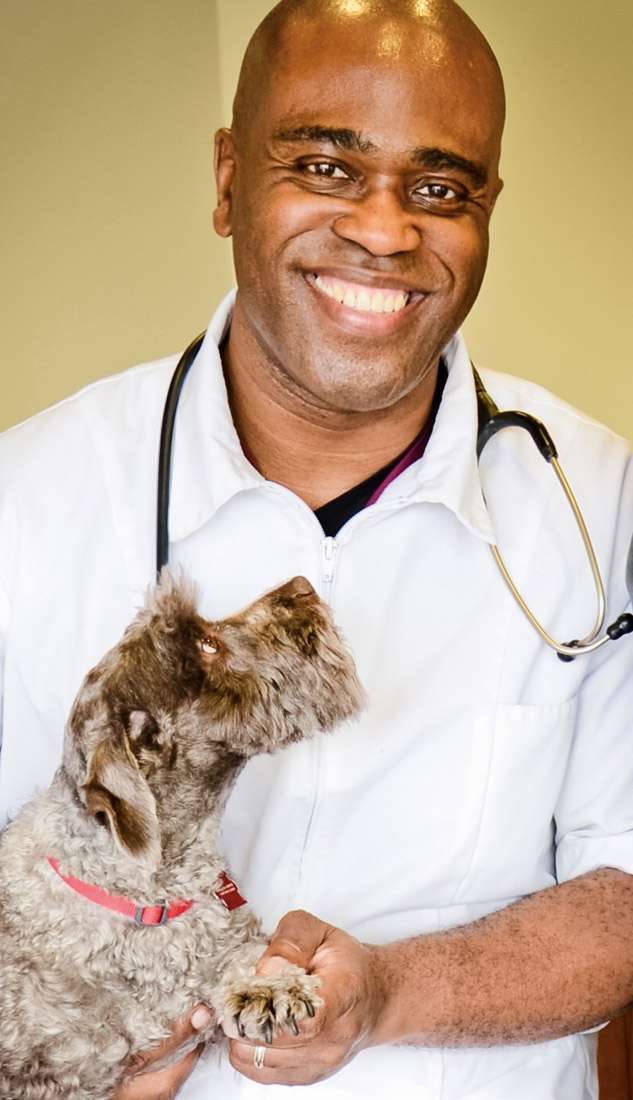 Atlanta vet Dr. Arvid Edward bitten by acting bug
Written by Mickey Goodman
Like many veterinarians, Dr. Arvid Edward of Trusted Friend Animal Clinic in Sandy Springs had a passion for the numerous animals that shared their home — birds, fish, guinea pigs and dogs. But he also had another infatuation — acting — which began while he was in kindergarten and continued throughout his high school years.
Extraordinarily, in the adult world, he's been able to successfully combine the two.
It wasn't until his German Shepherd, Master, was hit by a car and seriously injured that he ever imagined becoming a vet.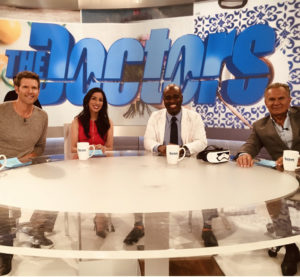 "We had never taken a pet to the vet before, but my Dad knew how much I loved Master and made an exception," Edward says. "The minute we got to the clinic and the vet whisked him back to a small room, my heart sank. I just knew that it would be the last time I would ever see my best friend."
Much to his amazement, Master was home waiting for him a few days later when Edward returned from school. Although a little worse for wear, his beloved dog made a full recovery. "It was an eye opener for me, but it wasn't until I was in the 11th grade that I decided to become a vet."
Acting was put on the back burner while Edward attended Tuskegee University and then the school's College of Veterinary Medicine. However, it wasn't long after he moved to Orlando to work at a veterinary hospital that the acting bug bit again.
"A friend told me that the Public Broadcasting Service was auditioning for a vet for a new children's program called the 'Dooley and Pals Show' about a friendly alien, Dooley, who landed in a backyard on Earth and explored the planet with the children of the neighborhood as guides. The role of the dad/ veterinarian seemed tailor made for me," Edward says.
"I auditioned in front of four men sitting around a table who asked me to do an improv routine," he says. "It was pretty daunting, but I must have done all right, because I got the part to play a veterinarian who brought pets home so he could talk about caring for them.
That role led to an opportunity to appear in a number of Disney ads and commercials, but somehow, he didn't miss a beat in his practice.
Five years later, he accepted a new job at an animal clinic in Los Angeles that opened up more acting opportunities. He also took some acting classes and studied at The Groundlings School of Improvisation, where a number of stars on "Saturday Night Live" had studied.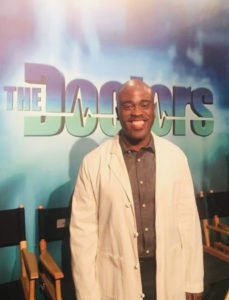 But Edward's most widely seen role is as the resident vet on the nationally syndicated TV program, "The Doctors."
"It necessitates flying back and forth to Paramount Studios several times a year, but I love being on the show," he says. "The first thing young women always ask is, 'Tell me about Travis Stork.'"
Edward also stars on the reality show, "Pet Doctors of Atlanta" on Amazon Prime and a has appeared in number of short films. His favorite, "In the Name of the Nameless", was selected for the Cannes Film Festival where it was well received.
"Even though I have my feet in two worlds, being a vet is my first love," he says.
For information: trustedfriendvet.com