Milton Rock For Rescues, hosted by
Crabapple Community Association and The City of Milton.
  Combining Milton's love of music and animals, this NEW free, community festival will showcase a variety of local rock bands, including Chip McGuire Band, a slow boat to china, Pony League, and linnie & amy joy! at Crabapple retailers, delicious wares from food & beverage trucks, and more fun activities while you rock out to awesome tunes.
Best of all, is that ALL proceeds from this event will benefit these 501(c)3 non-profit animal rescue organizations: Canine CellMates, Furkids Animal Rescue and Shelters, Pets for Vets, Pilots N Paws, and Special Equestrians of Georgia!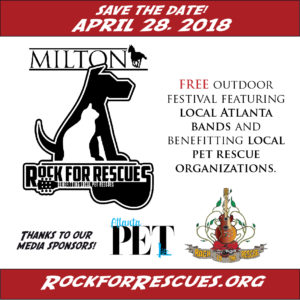 For more information on how to participate in this exciting event, including sponsorships, please visit https://www.rockforrescues.org/ or contact Courtney Spriggs at courtney.spriggs@cityofmiltonga.us.