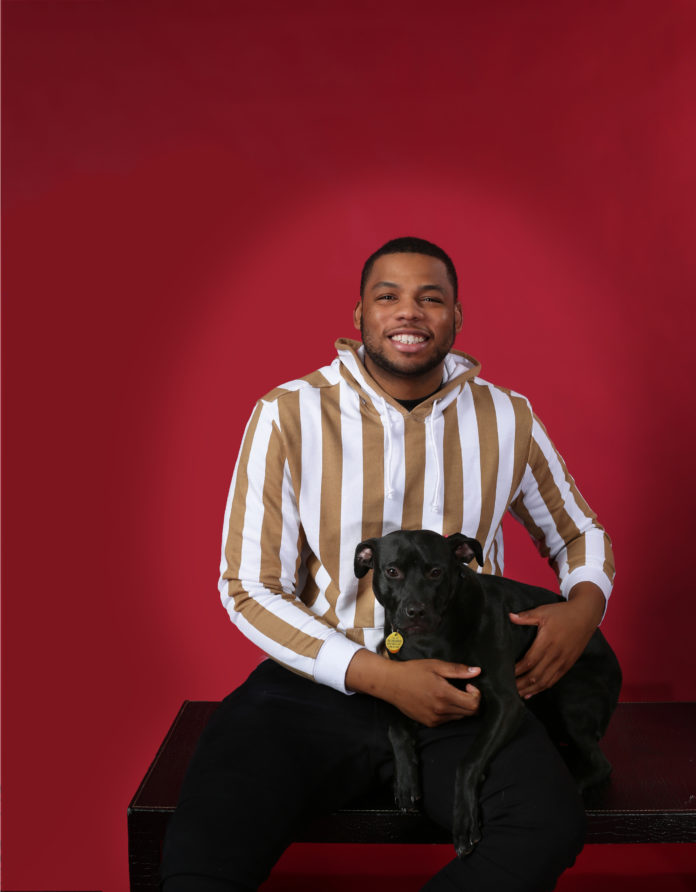 adjusting to Atlanta..
Written by Carl Danbury
Photos by Sara Hanna
It turns out that Milly and her owner, Atlanta Hawks rookie forward Omari Spellman, share more than a townhome. Spellman, the 6-foot-9-inch, 245-pound power forward fresh from another Villanova national championship, was selected in the first round by the Hawks.
Shortly after his move to Atlanta and his 21st birthday, Spellman brought Milly home, and her boundless energy, constant companionship and endearing expressions of love tugged at his heart, despite her "turnovers" on the clean floor after the pair had just returned from hour-long walks.
"Like others who are single dog owners, I would get frustrated with some of the things she did," Spellman says. "It's a learning experience. I am actually thinking about getting a second dog, now that I have the hang of it and know what I am doing."
But like Milly, Spellman admits he has made his share of rookie mistakes too.
"Early in the season with John (Collins) being out and Vince (Carter) being in his final season, I was playing a lot of minutes," Spellman says.
When Collins returned to the lineup, Spellman's minutes decreased. He saw just 15 minutes of action in December and was sent to the Erie BayHawks of the G League to rehab a hip injury and receive a much-needed dose of confidence.
"I was struggling with some things personally and with my weight. I had to work my way through the adversity, and I still am," he says. "Being a professional is an adjustment, a big learning curve. I thought I could come in and average a doubledouble (points and rebounds) and turn the league on its head. Sometimes, things don't go as you planned." Spellman believes true character comes when one hits adversity.
"I won't lie, I hit it early on, and I crumbled," Spellman says. "I have been working through it and trying to become mentally tougher than I was in college. I have learned to try to improve step-by-step and day-by-day."
Milly has provided emotional stability during Spellman's adjustment to the pro ranks. "It is truly rewarding to have a companion that is with you all of the time when we are home. She is always super excited to see me, always jumps on me. Wherever I go, she follows. She helps me put things in perspective. Things may be rough right now, but they could be worse. I am grateful for her. It is reassuring to have her. She loves me, and I love her."