unleashes motivation
Written by Courtney O'Neal-Hill
Photos courtesy of Tomas Espinoza
Cuba native E. Vincent Martinez came up with an idea more than a decade ago when he was teaching fashion at Midtown Atlanta's Grady High School. "I wanted my students to get involved in some philanthropic way, and as a dog lover, Doggies on the Catwalk just made sense," he says.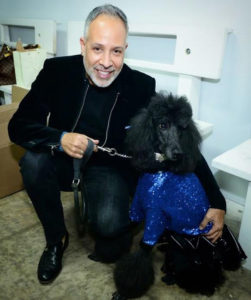 When he left Grady, Martinez took Doggies on the Catwalk with him. Now in its twelfth year, the annual fashion event that mixes pups and posh is a city favorite, raising funds for local animal welfare causes. Emceed by Martinez's friend and Atlanta television media royalty, Monica Pearson, the event also features notable area personalities and professional models in haute couture while walking the runway with a dog.
For years, the event only included rescue dogs on stage with hopes the event's spotlight would get them adopted. Now, it features service dogs through the Milton, Georgia, organization Canine Assistants. The nonprofit educates and provides animals for children and adults with physical disabilities and other special needs.
Currently a fashion design instructor at the Art Institute of Atlanta and publisher of fashion blog "fashionado," Martinez and his fiancé, Alex Page, are owners to Yorkies Barrett, 8; Bixby, 9; and 10-year-old standard poodle Simone, who was gifted to him by a former Grady student.
"We're like the Brady Bunch," Martinez says of his blended family, as Barrett and Bixby belonged to Page when he and Martinez met years ago.
"They're our babies," he says. "I enjoy making a special concoction of dog food for them every day. They count on us and love us unconditionally. More than anything, they're always happy to be with us, even when we're in a bad mood. And they can read our minds, which is really creepy!"
Around the signature event's 10th year, Martinez launched the Doggies on the Catwalk Foundation that raises funds for pet-based nonprofits providing assistance to individuals with special medical needs and funds for organizations giving homes to animals who need them.
Canine Assistants and Pets Are Loving Support (PALS) are two of the foundation's beneficiaries. "Fix Georgia Pets, which provides spay and neuter services, is another nonprofit that we've raised funds for," he says, adding that the foundation has donated $185,000 over the past few years.