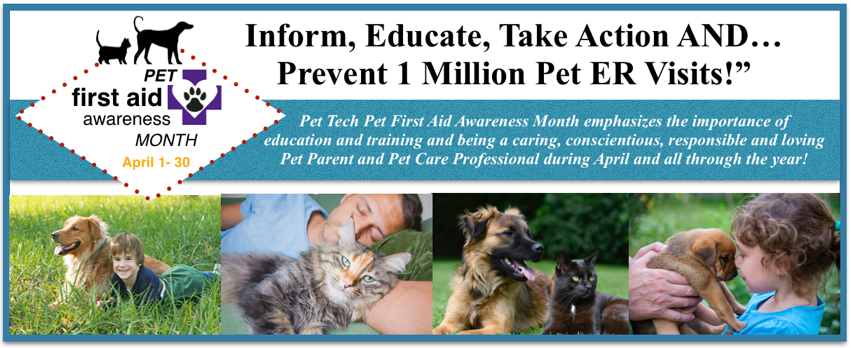 A dog poisoned because workers forgot to close the paint bucket.  Another dog having seizures as a result of licking pesticides sprayed around the house.  A cat rushed to the veterinary ER in pain because no one recognized her symptoms early enough to intervene. Sadly, some of my Pet Tech students only learn about pet first aid when they have already lost a beloved dog or cat, and it is heartbreaking to hear their stories. Losing a furry family member is even harder to accept when pet parents realize that most of these emergency cases or deaths could have been prevented.
To raise awareness of this important issue, Pet Tech is celebrating April as the Pet First Aid Awareness Month every year. With a network of over 1,000 instructors, Pet Tech is the only organization dedicated to CPR and first aid on dogs and cats. What differentiates Pet Tech's classes from others is that valuable data on first aid performed in the field is collected. This ensures that students learn the most up-to-date and effective techniques, such as CPR and rescue breathing.
In these hands-on classes, you will also learn about choking management, bleeding and shock treatment, care of bites and stings including insect and snakebites, treatment of heat or cold injuries, responding to poisoning and much more. Classes are about five hours in length.
In an emergency, minutes, even seconds, count. I can't overemphasize the importance of first aid education and training that increases your chances of becoming a true lifesaver. It is the best gift that we can give our pets. There are more than one million veterinary ER visits made in the U.S. every year: Don't wait until you have an emergency; educate and empower yourself by signing up for a class. Take advantage of the $20 discount for the whole month of April when you register at dobiemom.com/first-aid-classes/ and use code "april20off."
Here's to a happy lifetime of tail wagging!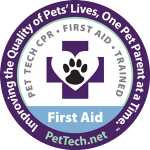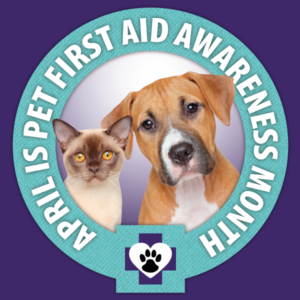 Nicole Essawy grew up in Germany and immigrated to the U.S. in 2003. She is a certified Pet Tech Instructor, giving classes on first aid techniques for dogs and cats. Nicole is also a Pet Food Nutrition Specialist and teaches pet parents and industry professionals alike in the Atlanta Area. See class schedule and more information at www.DobieMom.com or email questions/comments to
Nicole@DobieMom.com.