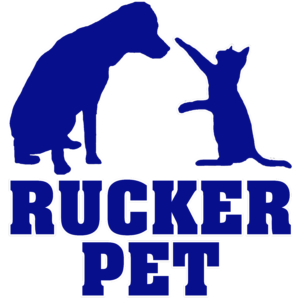 Rucker Pet isn't exactly a mom and pop shop. Make no mistake, it has a mom and pop – Scot and Cindy Rucker, the two people that turned Rucker Feed, an equestrian supply shop, into the pet supply store it is today. With three locations in north Atlanta and a fourth on the way, Rucker Pet is something of a mom and pop chain. Sporting a cat habitat showcasing rescue cats for adoption and a saltwater dog pool, Rucker Pet has features you won't find at most pet chain stores. The Rucker Pet is successful, but it's noteworthy for more than that. Rucker Pet is part of an ongoing effort to improve the lives of pets and people in north Atlanta through education and service. Some of the best work the folks at Rucker Pet are doing is providing education on proper pet nutrition. Nutrition is a major part of keeping pets happy and healthy. The flashpoint for transforming Rucker Feed into the dog- and cat-focused Rucker Pet came in 2008 alongside massive recalls of pet food. In 2008, startling quantities of pet food were recalled for containing melamine, a toxic chemical. The last ten years have also shown growing awareness among pet owners of just how unhealthy certain fillers such as corn and other cereal grains can be for dogs and cats.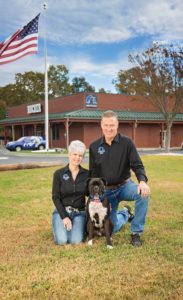 Scot and Cindy, two people with decades of entrepreneurial experience, saw the opportunity to use their business to better the lives of north Atlanta dogs and cats by making better food available. But they knew making good pet food available wasn't enough on its own. Knowing what a pet needs to eat isn't something people are born with, so Rucker Pet makes pet nutrition a pillar of employee training. The results have been one of the best parts of their jobs. As Cindy Rucker put it, "people will bring a dog with a bad diet into the store. We'll get their diet fixed and they'll come back into the store energetic and happy."
Since their initial 2015 Doggiepalooza event, Rucker Pet has been a contributor to the north Atlanta pet festival scene. Rucker's largest event of the year, their Ruff & Tuff festival, was held in November and focused on raising funds for K9's for Warriors, a charity dedicated to providing service animals at no cost to returning servicemen from the U.S. armed forces. Not many people know that it costs almost $30,000 to train a dog to be a true service animal. In spite of this, the 2017 Ruff & Tuff festival is looking to put four animals through training.
There's always something going on for people and pets at Rucker Pet. In addition, to their two major annual events, they have smaller events throughout the year. Dogs can come and test their dock jumping skills in the store pool during the warm months of the year, and there are regularly scheduled puppy play dates in the store's fenced-in yard. The holidays are coming up and Rucker Pet will be doing pet pictures with Santa on the first three weekends of December. At Rucker Pet, it's not just about selling quality food, it's also about creating opportunities for animals and their people to bond and build memories.
Find out more about Rucker Pet at ruckerpet.com.