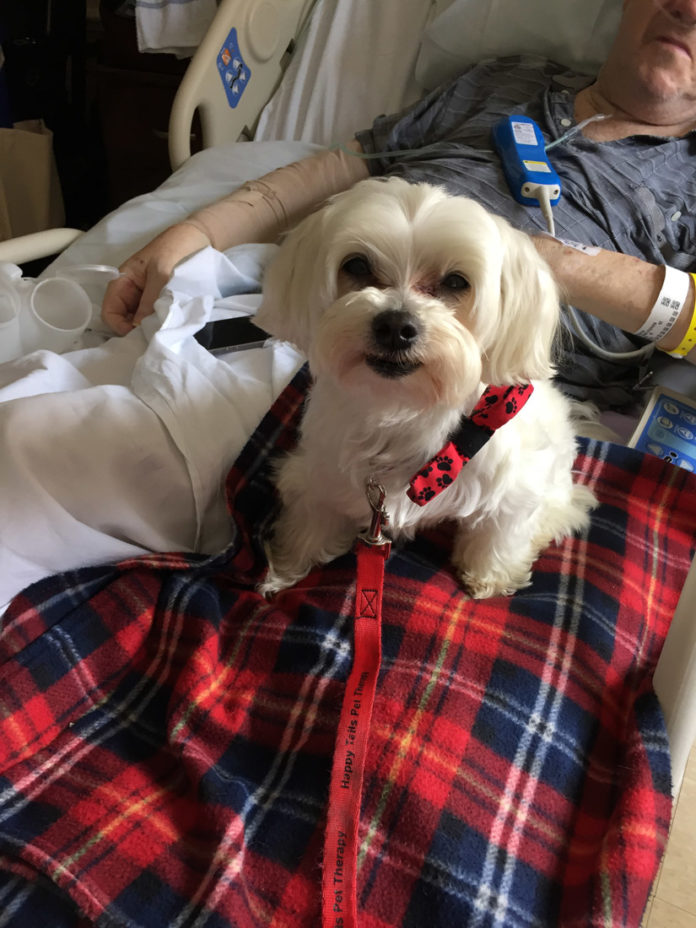 Four-legged therapists work wonders
Written by Mickey Goodman
Aiden Carnig of Buckhead, a Maltese therapy dog, brightens the bleakest days for people dealing with grief, illness, rehabilitation and recovery. But according to his owner, Arlene Sinanian, Aiden has a unique talent. With a nudge from his cold nose and a swish of his feathery tail, he coaxes non-verbal kids and adults to speak after long periods of silence.
"I call it his superpower," says Sinanian, a 12-year volunteer with Happy Tails Pet Therapy, an organization that provides animal-assisted activity and therapy to people of all ages at medical and therapeutic institutions. Except for a paid administrator, the organization is comprised entirely of volunteer owners, their family members and certified therapy pets. They always work with two or more teams that sometimes include certified cats and bunnies.
The teams meet briefly prior to each visit, but once they arrive, Aiden and the other pets go right to work. "The animals are a bridge between us and the patients," says Sinanian, a past president of Happy Tails. "It's extremely fulfilling. Aiden and I visit five to seven times a month, so we get to know our clients, and they get to know us. I receive as much out of it as they do."
Aiden's superpowers work on young and old. One day when Aiden and Sinanian were visiting Kate's Club, an organization for kids who have experienced the loss of a loved one, the talented pup sidled up to a young boy who was stretched out on the floor. When Aiden put his nose against the child's, Sinanian asked, "Would you like to read to him?" The child picked up a book and began whispering to the dog. After a time, he turned to Sinanian and said, "I feel better now!" Then he jumped up to interact with other children for the very first time. "That's what pet therapy is all about," she says.
On another outing, they were visiting Emory Rehabilitation Hospital when the daughter of a patient asked Sinanian if she would put Aiden up on her father's bed. Suddenly, he began talking to the pup. "The daughter was in tears," said Sinanian, who is the owner of Pupcakes Playcare, daycare for small dogs and boarding and grooming in Buckhead. "She told me he hadn't spoken to anyone since he'd been hospitalized."
On the way out, Sinanian saw a young man in a wheelchair. He asked if Aiden was a Maltese, and they stopped to visit. After a few minutes, the young man's mother tapped Sinanian on her shoulder. "Those were the first words he has spoken in the six weeks since his injury," she said.
Aiden's charm has worked on seniors in the Lenbrook Memory Care unit, children at Laurel Heights private behavioral and psychiatric treatment center and families of ill children staying at the Ronald McDonald House. Aiden even brings relief to stressed out college students taking exams at Georgia Tech and Kennesaw State University.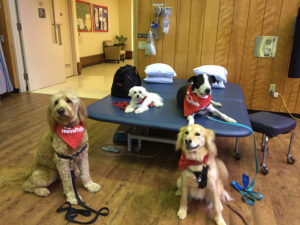 Want to become a Happy Tails volunteer?
Here's how to get started.
• Attend orientation for handlers (without your pet).
• Get a medical evaluation from your pet's veterinarian.
• Demonstrate how the pet will react in crowds and noisy environments.
• Review and agree to uphold the Happy Tails Code of Conduct, such as observing confidentiality (HIPAA), not feeding your pet raw protein, to minimize patient exposure to substances associated with raw proteins and maintaining your pet's health records.
• Attend a two-hour handler training (without your pet).
• Complete at least one observation visit (without your pet).
• All complete? Congratulations, you're a certified Happy Tails member.
For more details, visit happytailspets.org.