Written by Claudine Wilkins, founder of Animal Law Source
Our pets are part of the family, so why not take them along when you travel? Of the many ways to get to your destination, flying is the trickiest when traveling with four-legged friends. Lately, traveling pets have gotten a bad rap.
For instance, a woman on a Frontier Airlines flight made news recently when passengers jeered her for bringing an emotional support animal onboard. Allegedly, when she made the reservation, she failed to mention it was a squirrel. She refused to leave the plane, so all passengers were forced to disembark, and the police were called to escort her and the tiny companion away. The airline responded publicly, saying squirrels are considered rodents and not allowed.
Earlier this year, a passenger wanted to bring her emotional support peacock aboard a United Airlines flight. In this case, birds of a feather couldn't flock together because the peacock didn't meet the guidelines. What about snakes on planes? More than the title of a bad movie, the reality could happen if someone claims to get comfort from a pet snake. People might wrongly assume that their amphibians meet emotional support animal guidelines, but they're not on the list of animals allowed for this kind of travel. The examples can go on and on.
The government estimates two million animals fly commercially every year. Many airlines allow small pets to travel in portable kennels under seats, where the owners are responsible for their safety. In general, only four animals are allowed in the cabin per flight. When folks make reservations online, they may be disappointed when they get to the airport because they've been assigned to another flight if the one they booked is at capacity for in-cabin animals. Larger pets travel in cargo holds, where they can be exposed to extreme heat or cold and loud noises from plane engines.
After an 84 percent uptick in animal-related instances that include urinating, defecating, biting and attacks on flights, Atlanta based Delta Airlines announced new restrictions to curb the abuse of its once-flexible policy, including bans on certain breeds. Earlier this year, Delta announced that customers must provide 48 hours advance notice and submit three pieces of supporting documentation to bring an animal on board. United, American and Southwest have adopted their own policies on support animals in the last year as the number of "comfort" pets on flights continues to increase.
A close friend of mine has been wheelchair-bound for 53 years, one of the longest recorded times for any person living today. As a pet owner himself, he likens having a service animal to someone who relies on an oxygen tank: The animal goes wherever the person goes. While the American Disabilities Act (ADA) applies to people everywhere in the U.S., the moment you step on the plane, the Air Carrier Access Act takes over. For example, the ADA's definition of service animals includes only dogs or miniature horses that are individually trained to do work or perform tasks for people with disabilities. The Air Carrier Access Act allows people with mental disabilities to fly with their emotional support animals free of charge in the cabin.
If a passenger doesn't want to be seated close to a service animal, flight attendants will not instruct the service animal owner to move. Instead, they will try to move the person affected by the animal, since forcing the person with the service animal to move would be considered discriminatory.
To find a balance, those who abuse the system should be stopped, and those traveling with animals should be considerate of others. Whether you're on a plane with a service or emotional support animal or just bringing your pet for fun, there are ways to make it work.
In a plane, animals generally must remain in their soft carriers under the seat, not on a lap or roaming the aisles. Even if your pet is well behaved, remember that other passengers may have allergies, be fearful or may just not like pets. Start by talking to the passengers around you, let them know you have an animal and thank them for their understanding. Some experts recommend lightly covering your carrier with a blanket because dark places can keep pets calm. Give treats or place toys inside the carrier to occupy our pet. Whether you're traveling with your pet or sitting next to someone who is, be courteous and remember the law allows for pet travel with certain restrictions. Educate yourself about the rules so you can follow them and enjoy the journey.
Claudine Wilkins is the founder of Animal Law Source and an attorney specializing animal-related issues in Georgia. Learn more at animallawsource.org.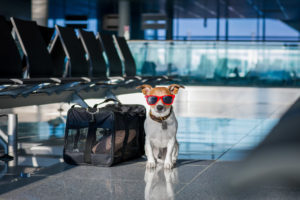 Owner Rules and Responsibilities
Keep these important things in mind before you travel.
• Schedule a vet visit to confirm your pet can handle the stress of in-cabin or baggage compartment flying.
• Request a copy of your pet's health records. Most airlines require paperwork documenting current vaccinations and a valid veterinarian-signed health certificate.
• Affix a current picture of your animal to its carrier and attach a tag listing your phone number to its collar.
• Get your pet microchipped. If your pet already has one, make sure that your information — including a cell phone number — is current in the database.
• Purchase a carrier that meets airline carry-on specifications and gives your pet room to stand up and turn around comfortably.
• Confirm the location of designated pet-relief areas at the airport and make sure your pet gets some exercise before placing him in a carrier.
• Try to fly direct, which will shorten travel time and minimize handling by airport employees.
• Act as your pet's advocate: Let airline personnel know that you're traveling with a pet. Ask them to check on your pet if there are delays.
• Review restrictions, including quarantines, placed on pets traveling to certain destinations. Most restrictions apply to international travel, but states such as rabies-free Hawaii have strict rules about admitting animals and can quarantine for up to 120 days.
• Confirm what kind of carrier your airline allows on its planes. If you must ship a dog, it's up to you to make sure your pet is on the plane every time you take off. Ask a flight attendant for confirmation from the baggage handlers that the dog is on board or talk to the baggage handlers yourself. Be polite, but persistent.