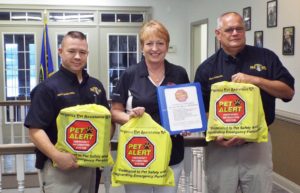 Major Abritton and Captain Sakelarios of Richmond Hill Police Department received four Pet Alert Emergency Pet Assistance Kits (EPAKs) from Camy Thumwood, founder of Pet Alert. Camy donated the Pet Alert EPAKs to help Richmond Hill Police Officers help animals involved in auto accidents, and assist pets suffering from heat exhaustion until they can be treated by a veterinary.
Each EPAK contains first-aid supplies, slip leads, collapsible water bowl, beach towel for cooling down a dog or cat, or to transport an injured pet or to contain an aggressive pet. The EPAK's manual has instructions and information on how to provide proper first-aid to dogs or cats suffering from heat exhaustion, needing CPR, and how to handle and move an injured pet, plus other pet safety information to help educate pet parents about hot asphalt, vehicle safety and other safety concerns.
Chief Reynolds will issue an EPAK to each shift supervisor's patrol car which will cover all shifts in Richmond Hill, in case one is needed.  Richmond Hill is the first police dept. to receive the Pet Alert EPAKs. Camy donated the EPAKs as a thank you to Richmond Hill Police Dept. for their service and to help protect their police officers when dealing with pets involved in an emergency.
Camy Thumwood and her company Pet Alert is dedicated to pet safety and fire life safety education that focuses on safeguarding first responders, pets and animals during all types of 911 emergency situations. Richmond Hill Police Dept. supports Pet Alert's mission and the Pet Alert Emergency Information System Kit that provides proper information at hand for first responders, for more information visit petalert.com or call 912-459-1617.