Dog Show Quality Grooming at Puff n Fluff in Johns Creek/Alpharetta
If dogs could talk they would say, "puff me & fluff me please!" and who better to accommodate than Johns Creek-based Puff n Fluff Pet Spa (www.puffnfluffpetspa.com).
"The experience is like having your own personal pet groomer" says Kirk Puffenberger, half of the husband and wife team that own Puff n Fluff.  "Our clients are treated to professional grooming featuring everything from breed cuts to teddy bear cuts that are stylish and match the pet's lifestyle"  although Kirk is quick to explain that it is not just about the groom.  "Pets are treated safely and kindly and we work with pet owners to recommend the best products and services that will promote healthy skin and coat."  Kirk and Candice are confident that when your pet leaves their pet spa, people will ask 'Where did you get them groomed?'
Puff n Fluff welcomes all breeds whether they are mixed or AKC registered.  Other than grooming, services include a massaging spa bath using premium shampoos and conditioners that are formulated for your specific dog's coat and skin condition.   In other words, one product is never used for all clients.  There is also an A la Carte service that includes your choice of extras such as nail trimming, de-matting, medicated treatment or even toenail painting.  "We also treat sensitive skin, geriatric dogs, arthritis, or skin that needs special healing," says Candice.

Kirk and Candice Puffenberger are animal lovers who have been married for over 25 years.  They started the business in 2006 out of their home. In late 2015 they moved into to the Johns Creek location.  Candice is a professional groomer and Kirk handles the business side of things.  One of the things that makes Puff n Fluff different is that their grooming is influenced by the top show handlers.  Candice spent years with her daughter showing dogs around the country and continues to attend shows to keep up with the latest trends in grooming by the top handlers in the business.  She attended the International Pet Design Academy and apprenticed at VCA Veterinary.  She is also a member of many organizations that include the National Dog Groomers Association of America and Creative Groomers Association.  She continually attends courses and hosts seminars to improve her craft.
"Grooming is a passion for me, not just a job," Says Candice.  "Providing our customers the best experience possible with quality, safety and style is my goal."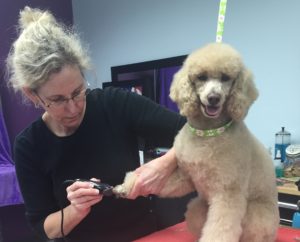 And the name Puff n Fluff?  "It's a play on our last name, Puffenberger," says Kirk. Appointments can be made by phone or on line.