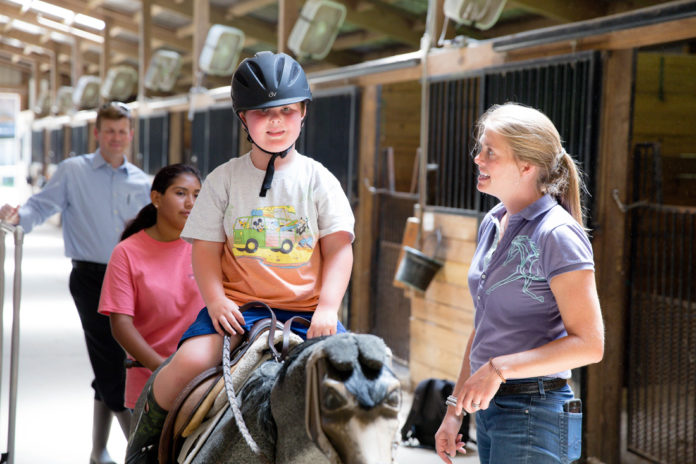 Back in the 1940s — long before Atlanta turned into the bustling metropolis it is today — the stables that would become the modern Chastain Horse Park sat outside Atlanta.
Written by: Niko Berry | Photographer: Vicki Cox
Years passed, and Chastain fell into disrepair before the founders of the current Chastain Horse Park – many of them people who rode at Chastain when they were young – worked on restoring the park. As they rebuilt and expanded, the founders decided that they wanted to share their love of Chastain Park, horses, and the sport of horseback riding with people who don't usually get the opportunity. Now, Chastain's inclusive community is one of Georgia's premier centers for therapeutic riding and hippotherapy.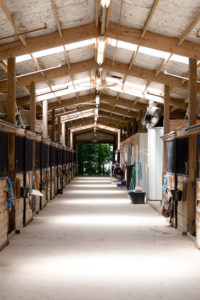 Sharing horsemanship with people with physical, psychological, or developmental impairments is a key aspect of Chastain Horse Park's mission. "Therapeutic riding has to be flexible and instructors customize lessons for individuals with various disabilities and needs. For some students, a successful lesson may be sitting balanced on the horse holding the reins for thirty minutes — that's a big achievement for some of our riders with low muscle tone, poor coordination and balance," explains Kelcy Rainer, Therapeutic Program Director, "for others, it might mean demonstrating more advanced techniques such as a posting trot." Regardless of what happens in the lesson, Chastain Horse Park focuses on safety and the emotional bond between horse and rider.
As a part of helping individuals of all ability experience the benefits of horses, Chastain hosts My Heroes Therapy as their on-site hippotherapy provider. Having nothing to do with Hippopotamuses and everything to do with the Greek word for horses, 'hippos,' hippotherapy uses the movement of a horse as a foundation of sensory inputs to help physical, occupational, and speech therapists improve outcomes for their patients. "I really became a true believer in hippotherapy because of how fast it was delivering results," says Brent Applegate, head of My Heroes Therapy, "one of my earlier patients couldn't walk when he arrived for his first lesson — by his third, he was walking in with his dad's help. In traditional physical therapy, that would take much longer."
Chastain has a unique location inside of the Atlanta perimeter and they take full advantage of it to bring equestrianism to underprivileged and at-risk kids as well as people facing disabilities. Riding has a stereotype as a sport of the independently wealthy, but Chastain's outreach program works with other organizations such as Agape Youth and Family Center, an organization that empowers and supports underserved families within its community to discover and embrace their full potential, to provide horsemanship experiences to at risk youths in Atlanta's inner city.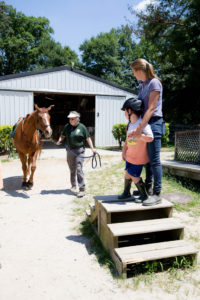 Chastain Horse Park is a Professional Association of Therapeutic Horsemanship International (PATH) Premier Accredited Center and hosts over four thousand therapeutic riding and hippotherapy sessions and 320 unique outreach students each year. What lies ahead is expanding and tying these programs together. "Our goal is to support people at all level of abilities under our roof. Some of our clients started in hippotherapy, moved to therapeutic riding, graduated to our public lessons program, and now compete at typical horse shows," says Kelcy, "What makes Chastain distinct is our inclusive environment and broad programs range that feed into each other and grow with each other — it's about being accessible to everyone."
The Therapy Horses of Chastain Park
The linchpin of Chastain's Therapeutic Program is their team of expert therapy horses. Coming in a wide variety of breeds, sizes, colors, shapes and ages, the therapy horses at Chastain all share one critical quality — an unflappable calmness and a saint-like patience. Many of the riders in Chastain's therapeutic program have neurological or developmental conditions which can result in seizures, outbursts, or other emotional meltdowns and the horses in the program are able to deal with it happening right on their backs while barely batting an eyelid.
What's the difference between Hippotherapy and Therapeutic Riding?
Even though there's overlap between the two, Hippotherapy and therapeutic riding seek different outcomes. Hippotherapy is a medical treatment aimed at delivering medical results in the same way as traditional physical therapies. By comparison, therapeutic riding is adaptive horseback riding with adjustments made to accommodate riders with disabilities. Its goals are less targeted, and it also focuses on other, less tangible things like self-confidence, camaraderie, and wholistic personal growth.
Chastain Horse Park | 404.252.4244
4371 Powers Ferry Road Atlanta, GA 30327
chastainhorsepark.org
lessons@chastainhorsepark.org
therapeutic.lessons@chastainhorsepark.org
My Heroes Therapy At Chastain Horse Park
678.984.7774 | myheroestherapy.com
brentapplegate@myheroestherapy.com