Whether you're flying, driving or staying in town, traveling with your pet is fun
Written by Jennifer Bradley Franklin
Our four-legged friends are part of the family, so it's no wonder that more travelers than ever are choosing to hit the road — or take to the skies — with their pets. According to a recent survey by Rover.com, the nation's largest network of pet sitters and dog walkers, 37 percent of pet parents travel with their animals, and nearly 40 percent say they've skipped a trip to stay home with their fur babies.
Those trends ring true for Diane Murray, the Alpharetta-based owner of Sparkles, an 8-year-old Shih Tzu. The pampered pup, that has more than 50,000 followers on her @sparklesthediva Instagram account, has traveled in style on planes, trains and automobiles to destinations around the Southeast and beyond, both for fun and for "work" fashion events and pet conferences where she's invited to appear. "Traveling with Sparkles has definitely enriched my own travel experience," Murray says, adding, "Even for fun, I normally only pick pet-friendly travel destinations."
Here are a few places that will treat your besties like the VIP — that's very important pet — they are.
STAYCATION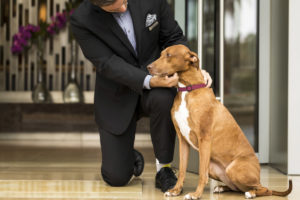 Whether your pet is a seasoned world traveler or has never ventured outside your home, an Atlanta-area staycation could be just what you need to indulge in some relaxation or to see how your four-legged friend might do on a farther journey. Four Seasons Hotel Atlanta (fourseasons.com/atlanta) welcomes furry guests before they even step through the door with a welcome sign and water bowl outside. They'll feel cozy in the five-star Midtown property with a plush dog bed, complimentary bottled water and chef-made biscuits in the guest room. Looking to venture out? The team is happy to recommend pet-friendly restaurants within walking distance.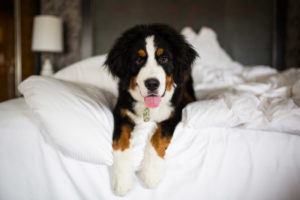 While most travelers think of bringing their pup along, the Loews Atlanta Hotel (loewshotels.com/atlanta-hotel) goes out of its way to make sure dogs and cats are comfortable. The "Loews Love Pets" program, which has been offered nationwide since 2000, includes a room service menu developed by a licensed veterinarian. Standouts include the "Cat's Meow" salmon filet and the "Bow Wow Tenderloin" of beef with eggs and rice. Each pet receives a personalized welcome letter from the hotel's general manager and a list of local pet services, and the concierge is happy to arrange pet sitting and walking services.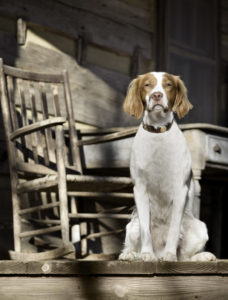 Just an hour and a half drive northwest of Atlanta, Barnsley Resort (barnsleyresort. com) is a getaway for those who want to explore the great outdoors without traveling far. The dog-friendly 3,000-acre property — the centerpiece of which is a ruined manor house dating back to the 1840s — features miles of hiking trails and lush gardens to explore with your canine best friend. When booking, look for the special Pampered Pets rate that waives the standard $75 pet fee (which includes pet beds, bowls, bottled water and treats) and makes a donation of the same amount to PAWS, a nonprofit that cares for orphaned animals.
TRAVEL NEAR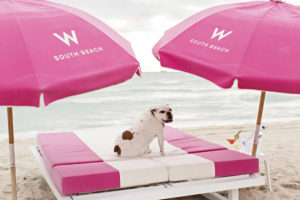 If a vacation doesn't feel complete without sand and surf, there are plenty of places within a manageable driving distance from Atlanta that will quench your desire for the beach and welcome your pup. For instance, W South Beach (marriott.com) lets your pup rub elbows with the beautiful people in Miami's most famous neighborhood and pampers him with a special cozy dog bed, plush toy upon arrival and a W Hotels pet tag. Ask the concierge for the best scenic walks and dog-friendly beaches nearby.
The Westin Cape Coral Resort at Marina Village (marriott.com) on Florida's southwest coast not only welcomes four-legged guests but even has a dedicated menu with treats of berries and bacon and grilled filet mignon just for them. Don't feel like dining in your room? The resort's dockside restaurant, The Nauti Mermaid, offers "yappy hour" so you to enjoy a meal together.
Self-catering a beachside stay is another popular option, and according to Rover.com, 14 percent of guests traveling with pets opt for a short-term vacation rental, as opposed to staying with friends or family or in a hotel. Shore Dreams Vacation Rentals (shoredreams.net) has a variety of properties spread across Florida, from quaint condos overlooking the waves to larger, golf course-adjacent cottages that can feel like an upgraded home-away-from-home.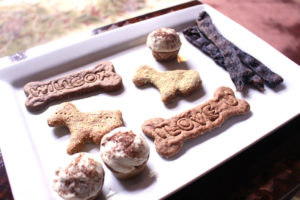 Perhaps a taste of old-world luxury fits the bill for your vacation. Two-and-a-half hours east of Atlanta lies The Wilcox (thewilcox.com), a historic property in Aiken, South Carolina, that dates back to 1989. While you're taking part in the area's many equestrian opportunities, shopping, boating, golf and historic tours, your pet can enjoy pampering in the form of freshly baked treats, turkey jerky turn down service and even pet photography sessions. Each furry guest receives a Wilcox pet tag for extra security.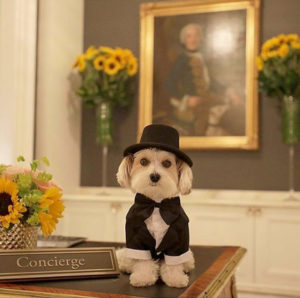 History meets luxury at The Jefferson (jeffersondc.com) in Washington, D.C., where the five-star hotel's in-house historian, Georgetown University fellow Susan Sullivan Lagon, Ph.D., offers curated "Famous Dogs and Animals in American History" itineraries to explore together. The Beaux Arts building dates back to 1923 and will appeal to both history buffs and luxury aficionados. While pups aren't welcome in the Michelin-starred Quill restaurant, they won't feel left out, thanks to their own soft doggy bed and decadent in-room treats.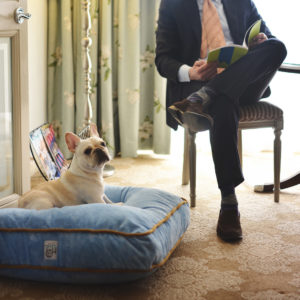 Whether you're a foodie on the hunt for New Orleans' famous Creole fare or a jazz fan hoping to hear some live music, the Bayou's most famous city is just a six and a half hour drive from Atlanta. When you arrive, check into Windsor Court (windsorcourthotel. com), two blocks from the French Quarter. Before you arrive, the hotel's dog-loving staff will ask for your pet's name and breed to create personalized treats and surprise amenities.
FLY AWAY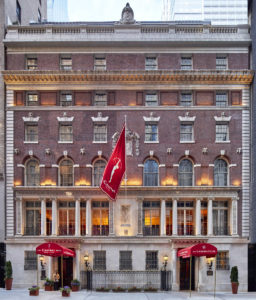 Sometimes the destination is worth a flight (be sure to check out "Traveler's Toolkit" on page 28 for tips on flying with your pet). Being willing to brave an airplane with your pet opens up all manner of exciting places. Fashionistas craving big city style can find their haven at New York City's The Chatwal (thechatwalny.com). While you're giving your credit card a workout at human stores in Midtown Manhattan, engage the hotel's "Pet Wardrobe Supervisor" to create a personalized collection for your dog, including a Chatwal-red faux fur jacket, booties and a bowtie. The cute, themed amenities don't end there: Keep an eye out for a plush yellow taxi cab toy, a menu of puppy treats printed as a Playbill (Broadway's most famous theaters are just a few blocks away) and shiny red food and water bowls.
Hilton Chicago (hilton.com), located on Michigan Avenue, welcomes well-behaved pups. With the "Fur Mama" package, pet parents will score a keepsake Tshirt emblazoned with "My Babies Have Fur" and amenities, including banana granola bar turn down treats and a "doggy bag" picnic — complete with a watermelon "pup"sicle — to enjoy in adjacent Grant Park. While you're in town, explore the concierge's list of pet-friendly restaurants, boutiques and groomers.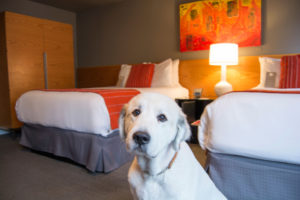 Beyond the somewhat expected toys, tags, beds and recommendations for local groomers and pet sitters, Provenance Hotels' (provenancehotels.com) four luxurious properties in Portland, Oregon, get creative in welcoming both dogs and cats. Now, four-legged visitors' owners can schedule in-room pet massages, acupuncture and reiki treatments, all by licensed area practitioners. The forward thinking properties also offer pet spiritual menus for guests that include books on pet psychology and recommendations for the best area hikes for you and your dog.
Baha Mar in the Bahamas has been one of the Caribbean's most anticipated resort openings, and the Grand Hyatt (hyatt.com) there features dedicated pet-friendly guest rooms for you and your pampered pup. The oceanfront resort in Nassau has people-centric activities, including a 100,000-square-foot casino and entertainment space, an 18-hole Jack Nicklaus-designed golf course, pristine beaches and pools. However, there are plenty of things you and your fur-baby can do together, including visiting the beachside food truck, the Sandy Dog. The Airstream trailer dishes up all kinds of gourmet hot dogs that both humans and canines are likely to find irresistible.
Plan Ahead
Embarking on a trip with your four-legged traveler requires a bit of extra forethought and planning. Here are some tips to make your vacation a success.
• When you book your stay, inquire about costs for having your furry best friend stay. Most charge either a nightly or per stay fee to cover extra amenities and cleaning.
• Make sure your pet meets the hotel's weight limit.
• If you're traveling with more than one pet, make sure to confirm what your hotel allows. Some properties cap the per room capacity at one or two pets.
• Know what to expect from the property. As outlined here, many pet-friendly hotels provide pet beds, food and water bowls and even toys.
• Create a quick packing checklist to include basics like your pet's usual food, a treasured toy and any other comfort she can't live without.