Pups & Pints
Dec. 6
135 Maple St., Avondale Estates
Raise a glass to pups and support PAWS Atlanta at Wild Heaven Brewery. Bring your dogs and enjoy Emergency Drinking Beer or any brew of your choosing, and the brewery will donate 25 percent of proceeds to PAWS. Drinks and pups? Cheers to that.
Holiday Decor Market
Weekends through Dec. 9
1860 Sandy Plains Road, Marietta
Good Mews is one of the few no-kill cat shelters in Georgia. Show your support while getting into the holiday spirit. The market features gently used items including decor, ornaments, collectibles, tree trimmings, party platters and more. You can also donate to the nonprofit on site. Funds raised help defray Good Mews' operating costs.
The Fast and the Furriest 5K
Dec. 8
1147 Rome St., Carrollton
On your mark … get set … go! Throw on your sneakers, do some stretches and head to Hobbs Farm in Carrollton, and race against fellow supporters in the Fast and the Furriest 5K. You can even run with Fido! Proceeds benefit the Carroll County Humane Society's Angel Fund that provides financial resources to help ensure no companion animal is denied medical care because its caretaker can't afford treatment.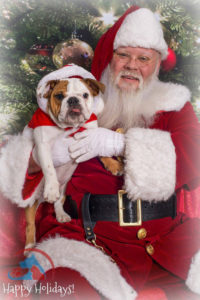 Pictures with Santa
Dec. 8
1176 Alpharetta St., Roswell
Here's a fun two-for-one event: Support Angels Among Us Pet Rescue and get your pet's picture taken with Santa. Your two-legged loved ones can also get in on the fun and have their pictures taken with Santa, too. Dress your pet up in the holiday garb, pick your favorite backdrop and get ready to make a sweet memory.
Best Friends Mobile Adoption Vehicle
Dec. 22
2323 Defoor Hills Road, Atlanta
Head to Atlanta Brewing Company on the Westside and treat yourself to pint and a best friend for life. Best Friends Animal Society, the nonprofit determined to "save them all," will be on the premises with an adoption mobile. You never know, your new pal could be waiting for you. If you see the mobile around town, snap a pic and tag @bfas_atl #MAVSavesThemAll and you may win a prize.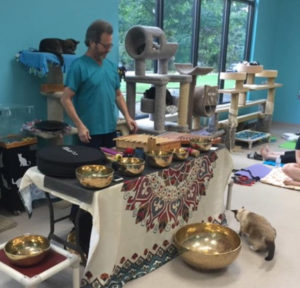 Sound Journey Classes
Ongoing
3805 Robinson Road, Marietta
Feel the "vibe" at Sound Journey classes (typically three or four are offered per month) benefiting Good Mews. The ultra-relaxing classes are led by Michael Murphy Burke, a certified Vibrational Sound Therapist (VST). During the intimate, one-hour sessions, Burke uses Tibetan singing bowls and other sound instruments to create a deep sense of peace and relaxation for the cats and 18 human participants. Each class is $20, and 100 percent of the fee goes to Good Mews' mission. Bring a yoga mat or blanket. No experience necessary.
facebook.com/GoodMewsAnimalFoundation/
Dog Adoptions
Starting Jan. 5
5938 Roswell Road, Sandy Springs
You can find Furkids, the largest, cage-free, no-kill shelter in the Southeast, at Petco in Sandy Springs every Saturday. Swing by and see if your new best friend is waiting to meet you. If not, he or she may be there next week. You can also visit the shelter in Alpharetta seven days a week.
Atlanta Wiggle Butt Strut & 5K
March 2
4770 Peachtree Road, Dunwoody
Atlanta Boxer Rescue invites all humans and their pups to come out for a fun afternoon in Brook Run Park. Take a leisurely stroll, strut or run in this timed 5K. The race is a Peachtree Road Race qualifier, so if you're feeling competitive, then on your mark, get set, go. Nick English from 97.1 The River will emcee the event.
Day of Giving for Atlanta's Animals
March 7
981 Howell Mill Road, Atlanta
The Atlanta Humane Society takes care of thousands of animals throughout the year. On March 7, it's asking supporters to donate online. The day will include celebratory activities and raise awareness about what animals needs exist in the Atlanta community. This is a great way to connect with other animal advocates in town.
Joining Hands & Paws
March 9
933 Lee St., Atlanta
Ahimsa House works to ensure that human and animal victims of domestic abuse find a safe place together. Join the crew at Monday Night Brewing on March 9 to celebrate 15 years of working towards the organization's mission. The soiree features a DJ, silent auction and an open bar of beer, soft drinks, wine and a signature cocktails. Tickets start at $85.
Rescue Dog Olympics
March 10
500 10th St., Atlanta
Celebrate rescue dogs and their humans at the Rescue Dog Olympics, an interactive day of competitive games, an interactive dog art project and a doggy fashion show. Additionally, folks can mingle with different rescue organizations to find their new best friend. Park Tavern will have a food and a beer garden with refreshments for purchase.
Fast & Furriest 5K (Angels Among Us)
April 19
4770 Peachtree Road, Dunwoody
Runners, walkers and joggers are invited to join Angels Among Us Pet Rescue at their fourth annual 5K. Lace up your sneakers and get moving. Your pet can even join the fun. Proceeds benefit Angels Among Us' work rescuing dogs and cats from kill shelters throughout the state. This race is also a Peachtree Road Race qualifier.