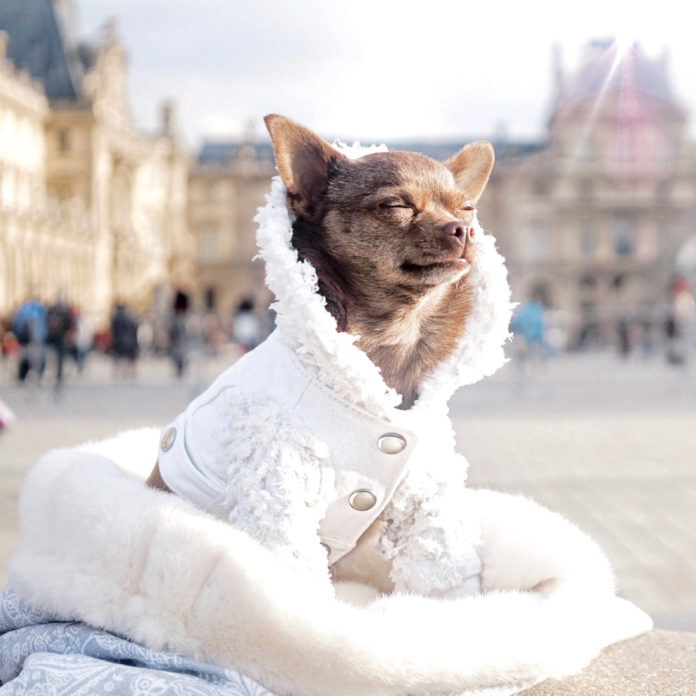 From canine couture to easy styles you can create from your own closet, here's everything you need to know for your canine companion to be on trend.
Written by Laura J. Moss
When Atlanta resident Kathi Welch first began dressing her dogs, Lucy and Holly, she did it out of necessity, zipping them into sweaters and coats during the winter and fitting them with life jackets when they were out on the water. But soon Welch developed a passion for canine fashion, and she wasn't the only one.
"As a puppy, Lucy showed an interest in wearing apparel, and she would proudly sashay about when dressed, as if showing off," Welch says. "Holly came along and also jumped on the pet fashion bandwagon with great ease and comfort."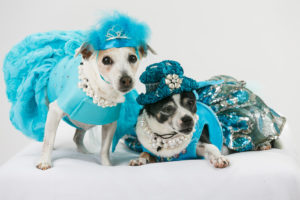 Today, Lucy and Holly — a Jack Russell terrier and a rat terrier, respectively — are well known for their sense of style. They attend fashion shows and pet-charity fundraisers and can be found modeling the latest in canine couture on Instagram at @lucyandholly_atlgirlzclub. And they're often in good company with countless other classy canines such as Sparkles, a stylish Shih Tzu in Buckhead who boasts more than 50,000 Instagram followers (@sparklesthediva).
"Fashion is a positive way to express yourself and your pet's personality," says Diane Murray, Sparkles' owner. "Fashion is whatever you want it to be, from fancy to casual to everything in between. To us, it's not about what you wear; it's how you wear it. And it's a fun bonding experience."
Pet owners say it's this shared experience that inspires them to dress up their pups, and they emphasize that pet fashion isn't about objectifying an animal.
"There's a sense some people have that putting clothes on dogs makes them into a fashion accessory," Welch says. "I totally disagree. It humanizes them because there is something about clothes that are uniquely human, and when you put them onto a pet companion, it makes you regard them as more than just an object."
Four-legged fashion
While many pet owners are familiar with the bedazzled harnesses and adorable Halloween costumes widely available in pet stores, fashion for pets is also a serious business inspired by the very runways that two-legged models walk.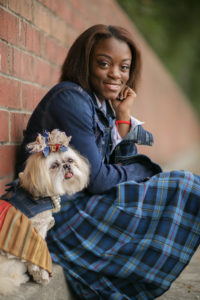 Barbara Merrifield, Atlanta-based owner of Bark N Boujee, which she describes as "a glamorous lifestyle brand for the fashionable pooch in your life," first got involved in the pet fashion world by crafting clothes for her Maltese, Zoey. It didn't take long for Merrifield's work to catch the eye of other pet owners and lead to the creation of Bark N Boujee.
"I take patterns straight from the runway, whether they're florals or stripes, and I take that runway couture and turn it into canine fashion," she says.
Merrifield is especially well known for the exquisite evening gowns she creates, which often involve a removable piece, allowing pets to wear the frock as a short dress or a long gown. She says these elegant designs will certainly be in vogue this season, allowing your furry friend to accompany you to parties and upscale events in style.
"People are bringing their pets everywhere, so I think you'll see more party wear for pets who are attending events with their owners," she says.
Welch echoes this sentiment: "Cotillion, black tie and formal wear for pets is similar to people fashions, in that classically elegant couture designs seldom, if ever, go out of style."
Puppy, it's cold outside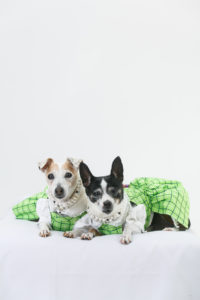 But fall fashion for your furry friend isn't only about the formal wear. Just as there are a variety of trends on the human runway, the same goes for pets.
Fashion is often about function, so as the days grow shorter and the temperature drops, many pups may need to don a sweater or coat to fight off the chill.
"Coats are a huge market because they keep dogs warm, especially small dogs that don't have as much fur," Merrifield says.
Dog owners can look for warm flannels and tartans in harvest shades, as well as tweeds, herringbone and houndstooth. Sweater vests, graphic sweatshirts and quilted vests are also cozy and cute, and there's no shortage of options available.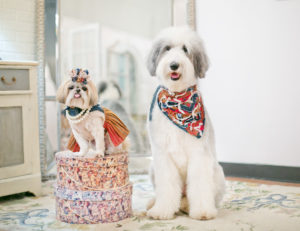 If you're looking to spend a little more, Sara White, founder and editor of the design and lifestyle site StyleTails.com, suggests one-of-a-kind items such as patchwork dog sweaters made by hand using unique fabrics.
Finding the right fit off the rack can be challenging because there's no standard size for dog clothes, and breeds can range from one pound to well more than 100. Experts advise that you choose clothes for your pet based on the animal's measurements instead of by label size. And if you really want a fashionable fit, White suggests using a tailor. "A number of brands are now offering made-to-measure coats and jackets," she says.
Going green and wearing jeans
Denim is always in style for both humans and their four-legged friends, and designs by Tucker-based Mister Migs studio are a much-loved choice for furry fashionistas.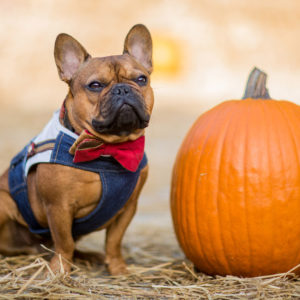 "Fall is our favorite season, and we always turn to local designer Mister Migs for some great new looks," Murray says. "Mixing denim with tweed, plaid and pleating gets Sparkles and me in the mood to enjoy a crisp fall day."
Mister Migs has a variety of collections perfect for autumn outings. The Princeton Pup collection helps pets look polished in deep reds, vintage golds and touches of denim and leather, while the Tailored Sport line is designed to bring out the modern, aristocratic athlete in your pooch.
"Another trend for fall can be seen in our Tattered Collection," says Mister Migs Product Manager Rosemary Hopper. "Trend reports call this the 'new vintage look' where fabrics are repurposed through creative repair." Made from handcrafted fabric, these denim pieces are bright and colorful and have a lot of texture.
Mister Migs' clothes are fun and fashion-forward, but what makes them even more on trend is how eco-friendly the company is, employing recycled denim as the core material for all its products.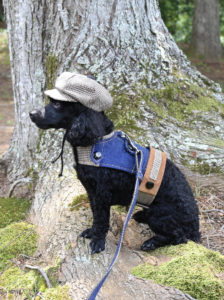 "The conscious movement around waste and sustainable fashion is also filtering into the pet market, with owners opting for products that are made to last and can be recycled and repaired as they age," White notes.
In addition to using sustainable materials, Mister Migs also works with locally sourced fabric. "We get materials and fabrics through donations from local schools and many other community partners who hold denim drives and other events for us," Hopper says. "We receive donations from many individual supporters who will drop off a bag of their discarded jeans, knowing that we will breathe new life into them."
The company is also a nonprofit social enterprise that gives back to the community in a variety of ways.
"We love how Mister Migs supports young adults with autism and developmental disabilities," Murray says. "Fashion for a cause is a fall must."
'Twinning' looks
Pet fashion often showcases the bond between human and animal, and one of this season's biggest trends does just that. Designs, fabrics and colors that allow pet owners to coordinate their outfits with their pets are everywhere, and they don't skimp on style.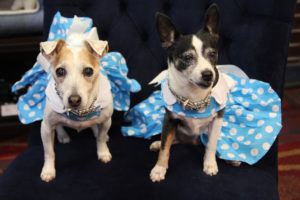 "Some designer brands are doing this in a really modern, stylish way, with matching prints and accessories so you can twin with your best bud," White says, noting matching pajamas from Fabdog and hip looks from Coucou Wear that include sweaters, raincoats and graphic tees. And you don't have to spend big bucks to capitalize on this trend. Pet owners can easily pair with their pets by wearing complementary colors or accessorizing with matching scarves or bandanas.
"We love fashion collections that complement all three of us, completing my and their looks," Welch says.
Fashion isn't just for Fido
While most apparel is intended for dogs, that hasn't stopped cat owners from dressing up kitties who are amenable to donning their own trendy threads.
"In general, cats aren't massive fans of clothing," White says, "But Sphynx cats are often known for sporting a warm sweater on account of their hairlessness. [I] have also noticed an increase in owners wanting to accessorize their cats in a more subtle way with bow ties, bandannas and collar charms, for example."
Of course, some felines are right at home in the world of kitty couture. Merrifield says she's designed outfits for cats participating in fashion shows, and Hopper has adapted Mister Migs styles to fit such fashionable felines as Coco the Couture Cat (@cococouturecat).
"I certainly have come across other animals that have a flair for fashion," she says. And that includes pigs. "I just recently made custom designs for Prissy and Pop (@prissy_pig), Instagram celebrities with almost 700,000 followers."
If you're looking to add a little panache to a pup or some flair to a feline, Welch says you don't have to rely on high fashion.
"For pet owners who prefer not to dress their pets, or if the pets simply do not like dressing, there are all sorts of terrific harnesses that allow owners to detach and interchange the fashion fronts," she says. "Those owners are now able to dress their pets for different holidays, formal events or birthdays just by switching the harness's front."
Shop local Looking to get your paws on the latest fall fashions? Check out these local businesses.
Mister Migs
mistermigs.com
Bark N Bougee
barknboujee.com
Bark Fifth Ave.
barkfifthave.com
Top Dogs
topdogs.net
Pooch N Paws
poochnpaws.com