Contributed by Eda Holt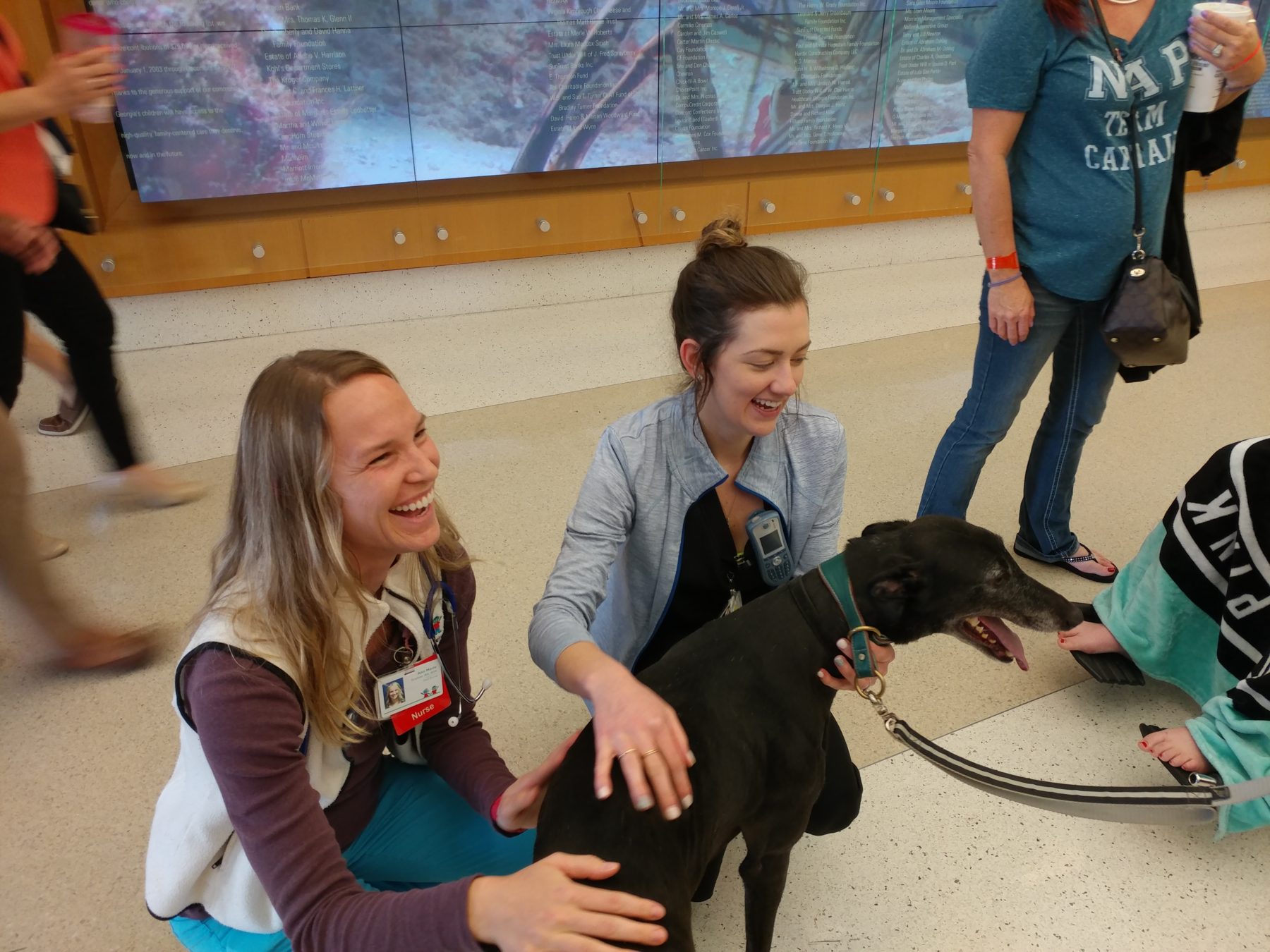 It's no secret that former racing greyhounds make wonderful companions and pets.  Since 1998, Southeastern Greyhound Adoption (SEGA) has been helping these magnificent athletes make the transition from a working environment to beloved family member. SEGA has placed over 2,000 greyhounds in loving, permanent homes.
While greyhounds do enjoy napping quite a bit, most owners find their greyhounds like to be active at times as well. These amazing dogs participate in agility, obedience, Noseworks, amateur racing and lure coursing. In addition to their phenomenal athleticism, many greyhounds enjoy the social aspects of promotional events (often referred to as meet and greets) where they help educate the public about greyhound adoption. SEGA adopters and their greyhound participate in a variety of monthly events such as the Marietta Farmer's Market and special festivals all around the Atlanta area.
In addition, some greyhounds have temperaments suitable for pet therapy. Many greyhound adopters are surprised at the impact their dogs have on others and how the greyhounds to know just what to do to lift someone's spirits or make a connection with a person. There are some misconceptions about greyhounds and many people have never met one up close. The driven, competitive athlete they may have seen at the track has a softer, gentler side that people cannot help but feel and notice. Their soulful eyes and elegant presence bring a calming influence wherever they are.
SEGA adopters participate in various forms of pet therapy throughout Metro Atlanta and the surrounding areas. Greyhounds visit libraries where they help children become more comfortable with reading. They help college students reduce stress and cope with finals by visiting them at university campuses. Greyhounds also visit assisted living facilities, memory care locations and nursing homes to bring cheer to senior citizens, many of whom have fond memories of their dogs but are no longer able to have pets of their own. They comfort weary and stressed travelers at Atlanta's Hartsfield International Airport and spread joy to special needs children and adults.
Perhaps one of the most rewarding pet therapy experiences is visiting a children's hospital. SEGA has the privilege of bringing some of our greyhounds to Children's Healthcare of Atlanta on Clifton Road each month for a visit. Volunteers must be at least 18 years of age and are encouraged to complete the hospital's volunteer program if they attend regularly.  Greyhounds need to be comfortable with slick floors, wheel chairs, wagons, IV poles and of course, children of all ages.
Each visit is unique and volunteers and the greyhounds interact with patients, parents and other family members, hospital staff and hospital volunteers. Sometimes the opportunity starts in the parking deck before the official visit even begins. One volunteer shared an experience that happened on one of her first visits: a man approached as she neared the elevator in the parking garage. He stopped and asked where the dogs would be and that he needed to call his wife.  Their infant son was in open-heart surgery and he said his wife needed to come spend time with the greyhounds to help her relax.
Although greyhounds don't have medical knowledge, sometimes they appear to have an ability to help heal those who are hurting. Another volunteer talked about a time a patient was waiting to go home. The child needed to be off pain medication before they could be released. The child had been complaining of pain and indicated they still needed the relief.  The family brought him down to visit the greyhounds. Toward the end of the visit, the mother approached our volunteer with tears in her eyes. She shared that for the first time in days her child was smiling and no longer in pain. The volunteer was told on the next visit that the child was indeed able to go home the day after the greyhound encounter.
One volunteer who had just turned 18 said he wanted to start visiting the hospital but did not know what to say. The advice he received was this: you don't have to say anything; the dogs will know what to do. Truer words were never spoken.  Somehow, they just know.