McKenna Farms offers hippotherapy to special-needs patients
Written by Tonya Layman
For someone with impaired movement, getting on a horse and feeling the movement while tapping into that connection and the warmth of an animal can be a real game changer. That's especially true for kids facing life-altering physical and mental challenges.
Since 2001, McKenna Farms Therapy Services has been incorporating hippotherapy – the use of equine movement as a therapeutic tool – into the treatment plan of its clients to improve coordination, balance and strength.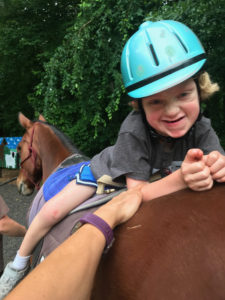 Located in Paulding County, this nonprofit serves special needs patients from birth to 21 who live throughout northwest Georgia and metro Atlanta. Patients include those with autism, sensory integration dysfunction, developmental delay, genetic/chromosomal disorders, cerebral palsy, spina bifida, Down syndrome, traumatic brain injury, stroke, scoliosis, fine motor delay, oral/motor feeding disorders, learning and language disabilities, auditory processing and coordination disorders.
In addition to hippotherapy, McKenna also offers occupational, physical and speech therapies both in a clinical environment and in an aquatic setting.
"Our therapists work as a team through comprehensive interdisciplinary services to provide therapeutic programs to individuals with special needs while greatly improving their quality of life," says Jessica Moore, executive director and founder of McKenna.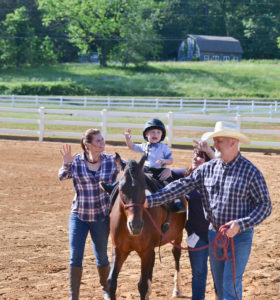 With a staff of 50, about half of whom are therapists, McKenna facilitates more than 800 client visits weekly.
The 38-acre site includes a therapy clinic and offices in a renovated Civil War-era farmhouse with eight therapy cottages, outdoor and indoor riding arenas, a sensory trail, wooded adventure trail and a barn that houses 17 horses, a pony and a miniature horse.
"These kids have to endure lots of doctors' appointments in very sterile environments, so to be able to come out the farm, which is serene and peaceful, is a nice change for them," Moore says.
At 3 years old, Amy Pitts' son, Jonah, began receiving hippotherapy there. She started volunteering during his sessions to clean out the horse stalls. It wasn't long before Moore recognized that Pitts, with her master's in special education, would be a great staff addition. Pitts welcomed the opportunity, especially since she saw how the treatment helped her son gain function and confidence. Today, Pitts is a full-time client resource manager.
"Initially Jonah was scared and intimidated to get on the horse. Even putting the helmet on was scary, but by the next visit he was confident and excited to have his disabilities addressed in a way that was different," Pitts says. "While on the horse, he was working those core muscles he didn't have the ability to work otherwise, and it didn't feel like work to him."
Today, at 7 years old, Jonah still enjoys working with the horses and continues to improve his function.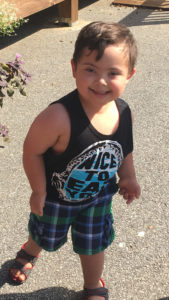 "It has been more than just therapy. It has been a community that was able to celebrate us when we had things to celebrate and been with us when we had setbacks," she says. "Hippotherapy has been one of Jonah's absolute joys."
Recently, McKenna Farms kicked off a capital campaign to fund a new oneof- a-kind therapy center that will house an indoor pool to provide onsite aquatic therapy, additional clinic and gym space, community rooms, a mock living space where clients can practice daily living activities and a coffee shop that will be run by young adults with special needs.
For more information, visit mckennafarms.org.