Atlanta Has Gone to the Cats!
Georgia native plans the launch of Atlanta's First Cat Café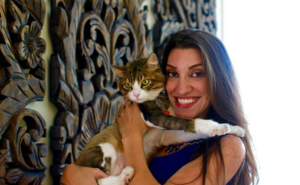 You may be surprised to learn that one of the hottest trends to hit the entrepreneurial world are cat cafés.  Yes, you heard right, a cat café!  These are establishments where patrons relax, eat, drink, read, and maybe even do some work alongside some purr-fect felines.
The concept began in Asia, specifically Japan, Taiwan and mainland China in 1998 and quickly spread throughout Europe and Canada, and is now cropping up in many large cities across the United States.  New York claimed the first cat café in North America in 2014 with its Purina One Pop Ups which were one day café events that serve to educate patrons on cat health and promote cat adoption.  Other cities have followed suit with permanent establishments but none have arrived in the South so far…that is, until now.
Happy Tabby Cat Café (www.happytabbycatcafe.com) will be Atlanta's first cat-themed café which will open late this summer.
What's the appeal you ask? Well, it's the cats!  Patrons will come to the café to interact with sweet tempered cats, drink coffee, read, or just mellow out, almost to a zen-like state.  Cats are proven stress relievers and provide the perfect relief to folks burdened by the daily stress of commuting and juggling multiple priorities.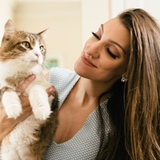 Happy Tabby Cat Café is the brainchild of the 28 year old Georgia native, April Hill.  A lover of animals, April's goal is to use the café to rehome homeless cats and educate the public on the importance of spaying and neutering.  She just found a really creative and totally paw-some way to do it!  April got the idea for the café after travelling to Austria, Slovenia, and Germany where she got to see first-hand how popular and successful these businesses are in Europe.
"Our cats will be rescues on loan from FurKids (www.furkids.org) which is Georgia's largest animal rescue and no kill shelter.  The cats will live at the café among cat houses and various scratching posts and toys.  They will roam free, without cages.  Customers can interact with the felines and if they choose, they can adopt any cat that they are interested in.  We will have Furkids adoption applications available.  My goal is to find responsible and loving homes for as many cats as possible," says April.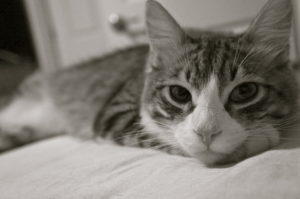 There are of course strict rules at the cat café to keep the felines happy and stress-free, such as patrons can't wake a cat that is sleeping.  Also, the furry residents can be picked up if they exhibit behavior that indicates that they are open to being cuddled, such as crawling into a patron's lap.  Happy Tabby Cat Café is part of the North American Cat Café Embassy organization which provides a strict code of ethics for its more than 51 members.
What can folks expect when they come to the Cat Café?
The café is separated into three areas.  One for coffee and merchandise and the other is a cat playroom and the third is the area where cats have access to their litter boxes.  Patrons can sit in the outer area and watch the cats playing through a large glass window or they can go into the playroom and relax with the cats. There is an hourly fee of $8 to enter the playroom and online reservations are highly suggested. The area can house up to 20 cats.
"We will be serving a wide variety of specialty flavored coffees from Atlanta Coffee & Tea.  Pre-packaged food items will be provided from North Highland Bakery, GiGi's Cupcakes, and Victory Sandwich Bar.  In the evening we will feature various events such as art shows, yoga or knitting classes.  We will have something for everyone," says April.
April, sole owner of the café, is currently scoping out a location for the café along the Atlanta BeltLine area and has launched a Kickstarter, which will hopefully raise $10,000 to pay for fun stuff like toys, cat bridges and fun cat furniture.  Visit www.happytabbycatcafe.com to learn more about the launch.
Cella Nelson is the owner of Georgia Horseback (www.georgiahorseback.com) and a Marketing/Volunteer coordinator at www.savethehorses.org
Photo courtesy: Jeff Walton Photography