The Nose knows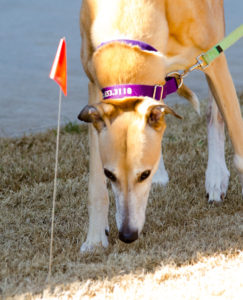 Up until 2006 dogs trained in scent detection were for the sole purpose of detecting drugs and bombs. Ron Gaunt, Amy Herot and Jill-Marie O'Brian, trainers for K9 detection, decided this would be a great sport that could be a great benefit to all dogs. They began the National Association of Canine Scent Work (NACSW).
Nose work also known as scent work is  a fun, activity  that promotes teamwork and relationship building between dog and handler, resulting in a deep and rewarding relationship. This sport is perfect for all dogs to pick up quickly, and it builds confidence and focus. It also provides a safe way to keep dogs fit and healthy through mental and physical exercise.  It's a great outlet for a variety of canine personalities, including reactive, shy, or hyperactive dogs, seniors, pets recovering from an injury or illness, retired service dogs and working dogs.
How does it work?
K9 Nose Work encourages dogs to use their natural hunting drive and unique talent for picking up scents and locating the source. NACSW's K9 Nose Work program uses three scents also known as target odors (Birch at level 1, Anise at level 2 and Clove at level 3). Drops of these essential oils are typically put on things like a Q-tip, then placed in a small container (such as piece of drinking straw or small tin with holes) to keep the dog from eating the Q-tip. This scent-laden item is then hidden wherever you decide to hide it. In actual NACSW competitions, there are four locations involved in searching: interiors, exteriors, containers, and vehicles.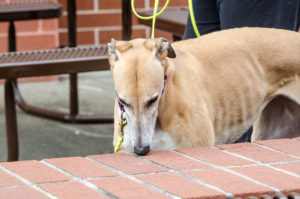 How do you get started?
K9 Nose Work starts with getting your dog excited about using his nose to seek out a favorite toy or treat reward hidden in one of several boxes, expanding the game to entire rooms, exterior areas, and vehicles. As your dog grows more confident with his nose, target odors are introduced, and competition skills are taught.
When practicing at home, always keep it fun and simple. Fun hides for your dog are those that are accessible. Self-rewarding is very powerful for the dog. If you're placing hides in boxes, make sure the dog can reach the boxes, and that he has a way in to self-reward.
Hiding food can be a self-rewarding find. It's important to learn what motivates your dog to hunt. Choosing the highest value reward for your dog in the beginning of your training will pay off down the road when the challenges increase.
Downtime! Dogs new to the activity of K9 Nose Work should spend no more than a minute or two working out a single hide, and no more than ten or fifteen minutes of practice at a time.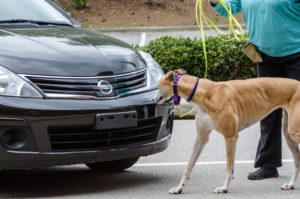 Think new objects. A pair of baby galoshes, a pockets, a toilet paper roll. Use simple searches to introduce your dog to as many new objects as possible.
Change the scenery. Use all the tips above at a friend's house, or at the park. New environments can be challenging, so be prepared to give your dog a super easy recovery hide. Above all, keep it fun for you and your dog!
Classes are ideal for learning and improving upon the skills needed to have fun and be successful in K9 Nose Work.
K9 Nose Work is an activity that uses real-world environments and can be done almost anywhere. Every search has the potential to be a dramatically different & highly stimulating experience for both dog & handler, just by changing hide placement, or searching under different weather conditions. By participating in K9 Nose Work with your dog, you're giving him the freedom to express and refine his natural talents, and he's giving you a glimpse into how he "sees" the world. Dogs easily burn lots of mental & physical energy doing searches Searches can be done anywhere you can take your dog No prior training is required and no obedience is needed Shy or fearful dogs build confidence and overactive dogs put their energy into fun searches Stronger bond between dog & handler as handler learns to observe, understand, and rely upon his dog
K9 Nose Work Classes:
Canton: Canine Ranch, Atlanta: Canine Ph.D, Alfaretta & Cumming: Atlanta Dog Trainer, Lithonia: Rock Solid Dogs Marietta: MerryMac Dog Training, Tucker: Beastie Darlings, Lawerenceville: Canine Country Academy, Chamblee: ADOG,
For more information on NACSW and K9 Nose Works go to: funnosework.com nacsw.net