Contributed by Cherese Cobb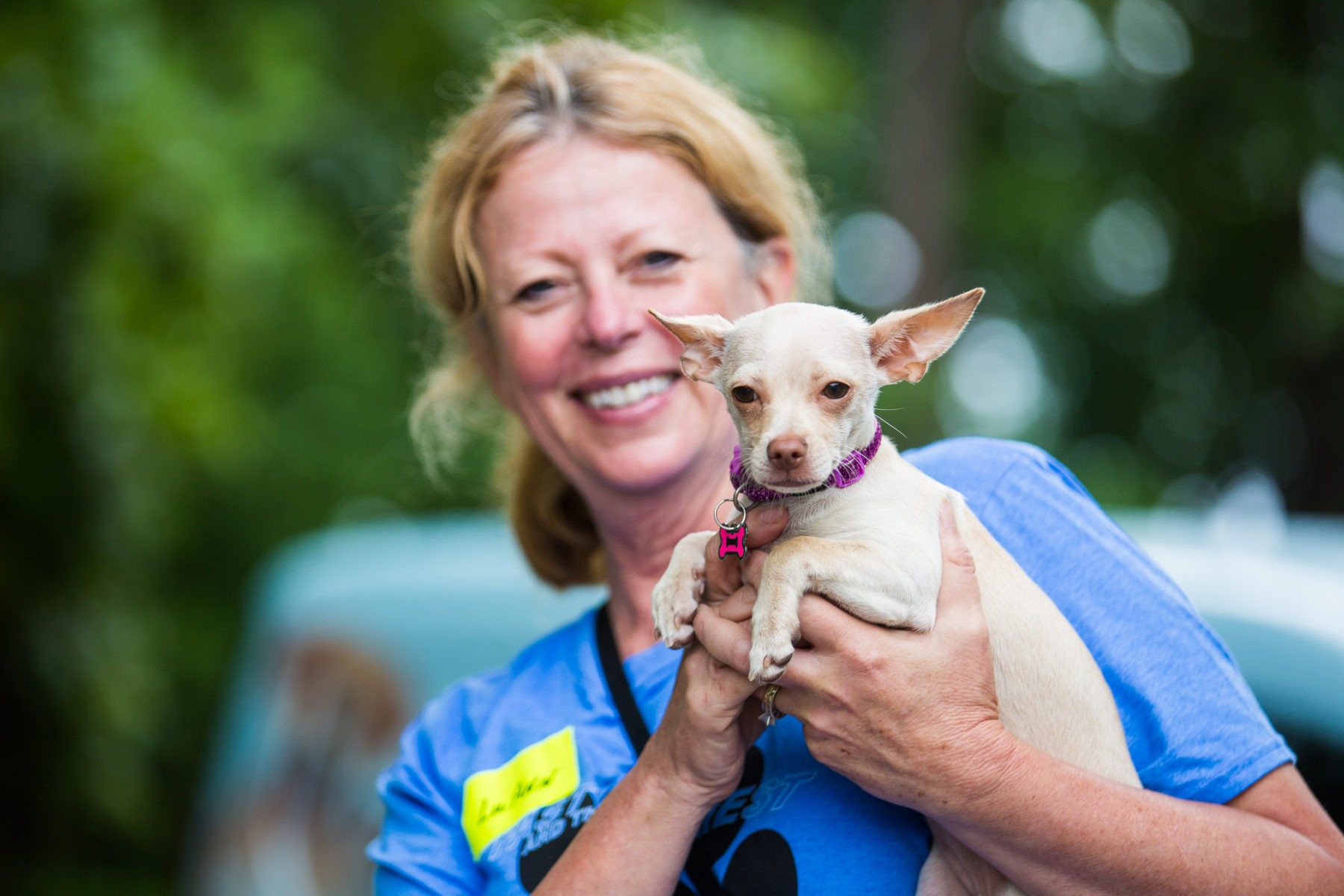 According to legend, God sent angels down to Earth in the form of dogs and cats with notes that say, "Don't judge. Just love." Of course, the dogs ate their notes and the cats batted theirs under the couch, but they're still trying to deliver the message with wagging tails, kneading paws, and slobbery kisses.
However, 6.5 million pets are dumped at shelters each year, according to The American Society for the Prevention of Cruelty to Animals. And every 13 seconds, an animal on death row is destroyed. "Georgia has one of the highest kill rates in the country," says LuAnn Farrell, the co-founder of Angels Rescue. "That's because most of the shelters out in the middle of nowhere have less visibility and fewer resources," says LuAnn Farrell, the co-founder of Angels Rescue.  So, after launching in 2009, the Alpharetta-based nonprofit began reaching out to rural shelters like those Tift, Fitzgerald, Dublin, Walker,  and Gilmer counties.
Angels Rescue's mission: "rescue one until there's none."  They don't shy away from the dogs and cats that aren't highly adoptable. "We'll take the ones that have been hit by a car, the black ones with one eye, and the ones that are three-legged," Farrell said.  The organization also foots all veterinary bills, using funds from fundraising events, grants, corporate partnerships, and individual contributions. Sans a brick and mortar building, this summer, they pulled their 13,000 animal (a cat named Arlyn) off of death row.  "The majority of our animals are in foster care," she told Atlanta Pet Life. At any given time, the rescue has a roster of approximately 350 fosters, who are caring for 450 dogs and cats.  "Once we get an animal, we'll list them on Petfinder and Adopt a Pet," she said. "We also have adoption events on Saturdays and some Sundays at pet stores, shopping centers, festivals, and malls."
While Angels Rescue primarily handles healthy, adoptable dogs and cat, they also tackle owner surrender, abuse, and neglect cases— an animal is abused every 10 seconds in the US.  So, it's no surprise that when Jill Williams spotted Mirkwood and Lorien, 10-month-old beagles named after forests in Lord of the Rings, that "they were basically skeletons." Before being abandoned in a kennel in East Atlanta, the siblings had been fending for themselves for months, according to animal experts.  Mirkwood, the weaker of the two, was so dehydrated and malnourished that he virtually had no muscle mass and was unable to stand on his own.
"This is one of the worst (cases that I've seen)," says Dr. Marcus Smith, the veterinarian that initially evaluated the pair.   Unfortunately, even after a blood transfusion and continuous fluids, Lorien's became "Mirkwood's angel watching over him from the Rainbow Bridge."  As her story took wing across the Internet, Angels Rescue and the Humane Society of the United States offered a $10,000 reward for information leading to the arrest of Lorien's former owner. (According to the Atlanta City Police Department, no serious tips have surfaced.)
In shelters, owner surrenders and abused animals aren't the only ones on the chopping block. "Puppies and kittens…the tiniest, fluffiest ones die just as quickly," Farrell said.  "So adopt. Spay and neuter." In a year, one dog and her descendants can produce more than 10,000 puppies while one cat and her offspring can produce 60,000 kittens — some cats, like the Siamese, reach sexual maturity at four months old, according to Monique Voelker, the founder of Animals Abused & Abandoned.
Angels Rescue actually shot to viral fame in 2015 after they posted a photo of two puppies, Kala and Keira, hugging hours before they were supposed to be euthanized on its Facebook page. The pups were saved a little over two hours later. The organization also made waves in the rescue community after it lent Kylie, a 10-year-old girl battling cancer, a kitten for comfort in her final days. As soon as Kylie spotted the kitten, Liza, her smile lit up the whole room. Sadly, that smile would be one of her last. During her final 48 hours, the kitten curled up inside of Kylie's arms, jumping back onto her whenever she was moved. Before Kylie got her own halo, she begged her mother, Robin, to adopt the kitten. "She told me to take care of Liza, but it's also like she whispered to Liza to take care of me," Robin said. Whenever Liza hears Robin crying, she curls up in her arms and purrs in her ears. "I've heard people describe animals like angels," Robin said. "I never really understood what that meant until now."
To learn more, volunteer, donate, or adopt your own angel with whiskers instead of wings, visit angelsrescue.org.