Pups bring pizzazz to Dance 101 Studios
Written by H.M. Cauley
Drop in to one of the 100 classes going on each week at the Dance 101 studios in Brookhaven or Alpharetta, and chances are good you'll be welcomed by more than just an enthusiastic staff member. At both locations of this dance and workout studio, the greeters often include Lola, Coqui or Pucci, the four legged friends of Chief Operating Officer Paulina de La Valette and her mom, owner and instructor Ofelia.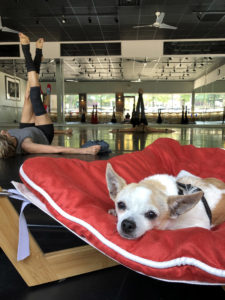 "My mom brings her chihuahua, Pucci, and mutt, Coqui, and they're so cute," says de La Valette, who manages the studio's teaching staff, plans events and handles the scheduling of the studio's two locations. "Pucci is probably 15 years old and weighs about six pounds, and she usually sleeps in a doggie hammock in the studio where my mom is teaching. But she'll let you pet her, and she brings a nice, calming presence to the space."
Coqui, a rescue who weighs in at about 14 pounds, is more of a recluse when it comes to dealing with the public. "You need to let her come to you," says de La Valette. But she definitely has some studio favorites who bring her a treat and give her extra attention. Otherwise, she'll just sit on our laps at the front desk."
De La Valette's pet, Lola, is the real scene stealer. The 13-year-old Papillon mix also tips the scales at about 14 pounds but likes to throw that weight around.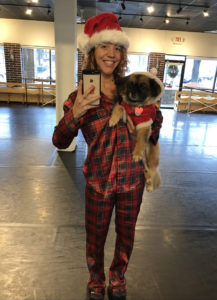 "She has the energy of a 3-year-old," says de La Valette. "In the morning, she sleeps behind the front desk in her own bed, and occasionally she'll walk out and greet someone who comes in. But at night, she runs around saying hello to everybody and welcoming them to class. She also has some favorites who bring her treats, and of course, she gives them most of her attention."
Lola has also developed a following by starring in the studio's newsletter that always includes a snapshot of the dog decked out in an amusing outfit.
"She has one person we call the Fairy Godmother who brings her clothes," says de La Valette. "She loves Lola, and we love showing off the costumes. They're usually seasonally-themed – something for Fourth of July, Thanksgiving or Christmas – and she'll wear it around the studio. People really look forward to seeing her dressed up."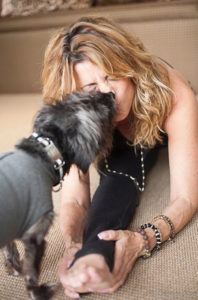 One outfit Lola doesn't have is a dance costume. "I'm kind of surprised she doesn't have a tutu or leotard," says her owner. "But I did just put her in human tap shoes for a photo contest I entered."
The pets do prefer to keep out of the range of kicking legs and swinging arms, though. "Once in a while they might wander into our open studio and sit on someone's mat, but that's about it," says de La Valette.
Since the classes each attract about 20 participants (all of whom must be 18 or older), the staff is conscious about possible pet allergies, says de La Valette. But that's never created a concern.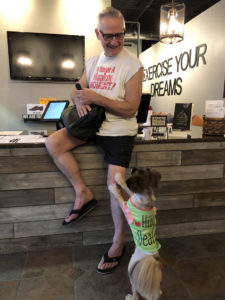 "The dogs don't shed very much, so that helps," says de La Valette. "What we have had is a few people who are nervous around dogs, so then we'll put [the pets] behind a doggie gate at the front desk. But even that hasn't happened that often. They're all very calm dogs. Of course, Lola doesn't understand how people can't like her."
Information about Dance 101 is online at dance101.org.