Follow Ryan, an Atlanta Humane Society rescue, on her adventures throughout pet friendly ATL
Written by Nicole Letts
Photos by Amber Martin Smith
I love fall. I always have. For me, fall is synonymous with friendly football rivalries, crisp morning walks and steaming coffee cups. It's when early morning tailgates turn into late night bonfires. It's when patios that have been nearly deserted during summer scorchers start bustling again with pets and people. There's no season like it.
As my trusty companion, Ryan has learned to love fall, too. I often find her lingering by the back door, staring longingly at her leash. She wants to be outside as much as I do, and I'm happy to oblige. In this edition, we're bringing you a few off-the-beaten path spots to enjoy fall and all of its advantages to the fullest.
Variant Brewing
Football season is upon us, and Saturdays are for good boys (and girls). Atlanta is full of pup-friendly breweries, and the West Side's Monday Night has several dogs on staff. However, Ryan likes to explore OTP too, which is why we sniffed out Variant Brewing. With a pet-friendly patio and several large televisions, we can see this spot being a go-to for pigskin fanatics this fall.
Ryan says: Variant Brewing in the heart of Roswell is a must-visit. If you have time, stop to see my friends at Gate City Brewing, too!
Variant Brewing
66 Norcross Street, Roswell 30075
variantbrewing.com
678.242.8189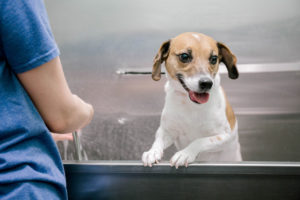 Perk-in-Pooch
A place where you can bathe your dog and imbibe in a cup of joe? It's a match made in doggy heaven. Perk-n-Pooch in Sandy Springs is the answer to all your grooming needs. Opt for DIY bathing or book an appointment with the pet-loving staff. They'll take care of your pup from nose to tail. While your dog gets fresh and clean, enjoy a variety of snacks and beverages from the neighboring coffee shop. DIY baths start at just $17 while a staff wash begins at $20. Prices scale from there based on your pup's weight.
Ryan says: While I despise grooming, the friendly staff at Perk-n-Pooch put me at ease and made me feel beautiful.
Perk-n-Pooch
6690 Roswell Road, Suite 360, Sandy Springs 30328
Perk-n-pooch.com
678.500.9237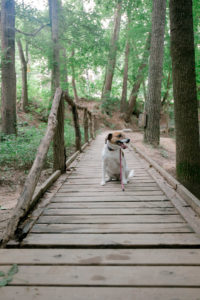 Blue Heron Nature Preserve
If you live in or around Buckhead, chances are, like me, you've driven past Blue Heron Nature Preserve more times than you can count. Recently, our curiosity piqued, Ryan and I piled into the car to sniff it out. What we found was a 30-acre dedicated green space with three foot trails to explore. By the end of the year, all three should be connected to create one 3-mile path. Plenty of shade, free parking and ample space to run, walk and enjoy the scenery await. Four paws up!
Ryan says: Filled with natural shade, this path is as pleasant for exploring as it is picturesque.
Blue Heron Nature Preserve
4055 Roswell Road, Atlanta 30342
bhnp.org
404.946.6394