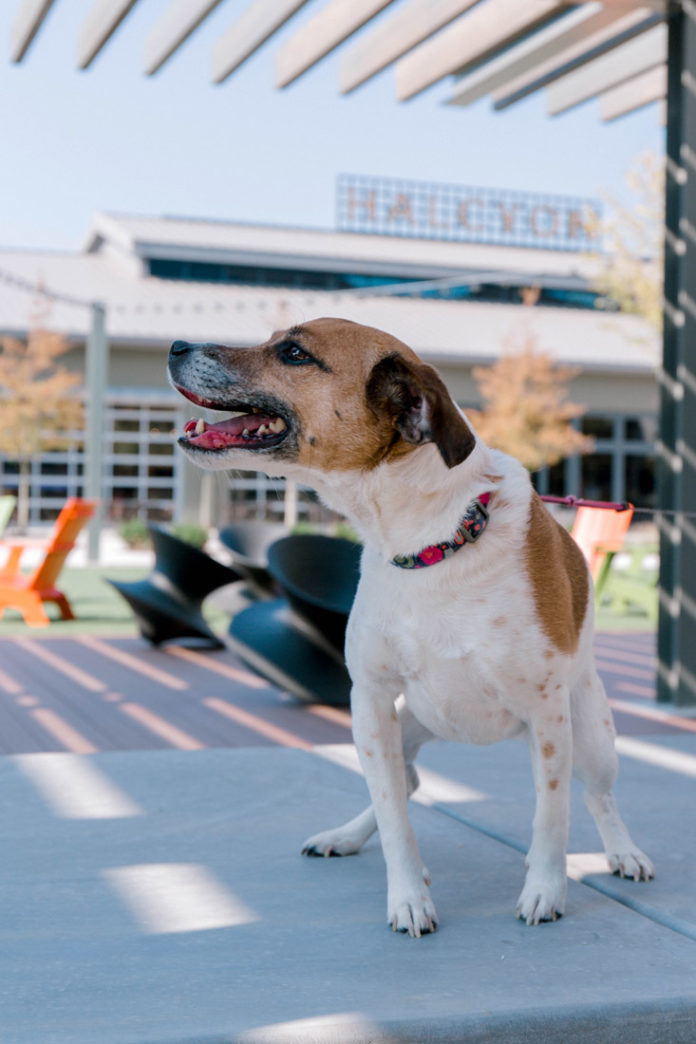 Follow Ryan, an Atlanta Humane Society rescue, on her adventures throughout pet friendly ATL
Written by Nicole Letts
Photos by Amber Martin Smith
Ryan's wellness is not something we take for granted in the Letts household. When Ryan was a puppy, she had a tendency to be mischievous, and that meant many tummy-focused trips to Peachtree Road Animal Hospital. I swear the front desk still knows my name (and hers!) because of all of our visits eight years ago. Since then, Ryan's stomach has calmed down, but as she ages, we're starting to notice a few changes. She's a wee bit sleepier these days. Her hips aren't as mobile as they once were, and she's slightly more sensitive in certain parts of her tiny body. However, she's as spry and happy as she's ever been, and I credit that to always putting her health and wellness first. She takes supplements, and she eats a higher quality food. She also enjoys healthy perks such as cold laser therapy and, recently, a dog massage.
This edition of "Where Ryan Roams" is written in the spirit of keeping your pup's health in mind in a well-rounded way. A happy dog is a healthy dog!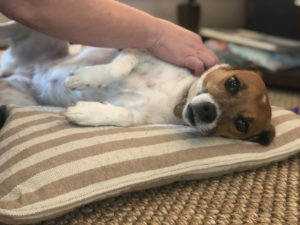 Noodle and the Pea
Meet Noodle and the Pea, Atlanta's premier in-home canine massage service. Certified by the Rocky Mountain School of Animal Acupressure and Massage, practitioner Shari Wenger comes to you to offer relaxing and therapeutic massage for your pup. Wenger's warm personality put Ryan at ease immediately. After turning on soothing spa tunes, Wenger spent the next 30 minutes gently and methodically massaging Ryan from nose to tail. She paused in places where Ryan felt a pinch tender, and she took note of spots to linger. If Ryan needed a break, she let her get scratches and water without hesitation. It was wonderful. In-home massages start at $30 for 30 minutes.
Ryan says: Shari may or may not be my new best friend. She was patient with me and made me feel relaxed. I can't wait to see her again!
Noodle and the Pea
noodleandthepea.massagetherapy.com
619.228.3235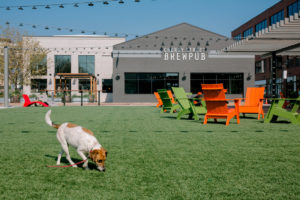 Halcyon Forsyth
A huge part of wellness is simply spending time with your pup. The newly opened Halcyon Forsyth is not just dog-friendly, it's also dog-encouraged. There are specifically designed canine fountains, several pup-approved restaurants, a reputable boarding and doggy daycare facility, and access to the Big Creek Greenway, a metro-Atlanta trail system. We wandered around the mixed-used development and took taking in the local businesses and lush grass. Check out the centrally located pergola for ample shade or walk over to the life-sized chess board and cornhole games for fun for the whole family, including your furriest members.
Ryan says: With shops and restaurants opening often, there are bound to be even more places to explore this winter and beyond.
Halcyon Forsyth
6500 Halcyon Way, Alpharetta 30005
Visithalcyon.com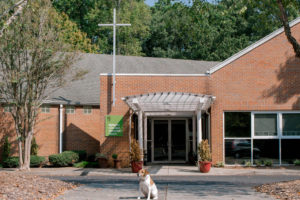 Highpoint Episcopal Community Church
When we think of health, we often focus on our the physical health, but as most dog-loving humans know, mental and spiritual health is equally as important for being and feeling well. Dogs are pack animals by nature. In fact, if I let Ryan roam without me, she'd surely find a squad of her own to hang out with. Highpoint Episcopal Community Church marries its love of pets with its passion for community. Every second Sunday of the month, all pets are welcome to attend the regular 10:30 AM a.m. church service and then linger for a pet-friendly post-service social. The gorgeous campus has a fenced-area for off-leash fun and a small, shaded walking trail, too.
Ryan says: This place gave me all the good vibes. I could feel (and smell!) the canine love.
Highpoint Episcopal Community Church
4945 High Point Road, Sandy Springs 30342
highpointepiscopalchurch.org
404.252.3324