Fall is such a great time in Atlanta. The heat and humidity begin to wane and fall festivals around town offer tasty treats or musical beats.
In my youth, I remember going apple picking in upstate New York with my family during the fall. We'd take a horse-drawn cart out to orchards with our empty baskets to return later in the day on the same cart with baskets filled with apples. For a girl who grew up in the suburbs, it was great fun to visit a working farm.
Today, farms are coming closer to our homes as the rise of chicken coops and exotic pets like pot-bellied pigs means the barnyard has moved into the backyard.
In the fall issue of Atlanta Pet Life, find out what it is like to care for chickens, pigs and horses as pets. Columnist Claudine Wilkins also delves into what some of the local laws are when it comes to having chickens and other barnyard pets in your home.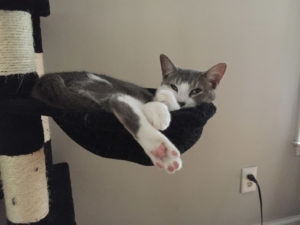 Want to know what your cat is trying to communicate with her chirps and purrs? Columnist Sparrow Marcioni provides some of the answers. I wonder what Naughty Scotty is trying to say from his perch on his cat tree?
We also offer some fun events to check out this fall, such as Putts for Paws at Chicopee Woods Golf Course in Gainesville on Sept. 21. The outdoor event benefits the Humane Society of Northeast Georgia. Instead of casual golf attire at Putts for Paws, get ready to dress to the nines for the 14th annual Aqua Vino event at the Georgia Aquarium downtown Oct. 4. Attendees can sip more than 150 different varieties of wine and food, and all proceeds benefit animal research and conservation.
Get out and have some fall fun!
Lisa R. Schoolcraft
Editor
Atlanta Pet Life