Summertime, and the living is easy. We're out and about with our four-legged friends, meeting on restaurant patios or at dog parks, or getting ready to set off on a well-deserved vacation.
Well, don't our pets deserve a little vacation too? Or at least a little pampering.
In the summer issue, Atlanta Pet Life looks at area pet resorts that go well beyond a typical boarding facility. Serenity Dog Retreat in Newnan offers dogs two acres to roam and romp. Rex and Roxy's in Decatur has bone-shaped kiddie pools for its canine clients, while Fido Fido Dog Daycare and Boarding in Sandy Springs has luxury suites with full-sized beds, floor rugs and TVs.
We also offer some fun places you can relax with your future feline rescue. Check out Java Cats Café Cat Yoga in Marietta on May 18. Or put your running or walking shoes on and participate in the Turtle Trot 5K at the Georgia Aquarium on June 1. Proceeds from the 5K race benefit the aquarium's research and conservation programs that benefit aquatic species, including sea turtles. Maybe later you'll want to head over to Publico Kitchen & Tap in Midtown where dogs have their own menu.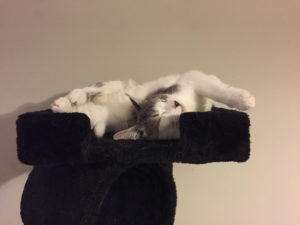 If you are thinking of introducing a new puppy or kitty into a household that already has older pets, contributor Sparrow Marcioni offers some tips on how to make the transition go smoothly. Claudia Wilkins, attorney and founder of Atlanta Law Source, takes a look at the very real problem of puppy mills.
While now is the time for summer fun, these are also the dog days of summer, when maybe we want to relax, too. As you can see, my Naughty Scotty takes his relaxing seriously. I can't quite understand how that is comfortable, though!
Lisa R. Schoolcraft
Editor
Atlanta Pet Life