Dog Care Business Pays Off!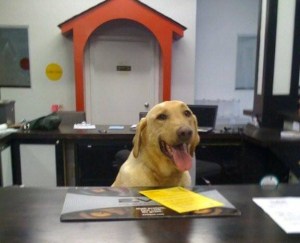 A true passion for animals propels a senior corporate executive to take the plunge.
By Cella Nelson
"Most people that speak about winning the lottery claim that the first thing they would do is to quit their job.  If I won the jackpot, I wouldn't do that.  I love my job!" enthused Robin Crawford, Owner of Dogma Dog Care in Smyrna, Georgia.  Robin then goes onto describe how if she snared the latest $1.5 billion jackpot, she would in fact expand her job, quadruple the size of Dogma's property, and turn the doggie day care into a rescue for homeless animals.  In short, she would keep running her business, but she would do it on a grander scale.  "Plus, day care clients would not have to pay!" says Robin.
This energy, enthusiasm, and pledge to care for animals is what has propelled Robin to move from her corporate executive positions at Coca-Cola, WellPoint and IBM (where she worked for 21 years), to realize her dream.  "After 30 years working for these fortune 50 companies as well as suffering through various layoffs, my ailing father made a point of telling me to do what makes me happy.  He knew I was not happy with my work.  Animals made me happy."  As a direct result, Robin explains that she 'stepped out on faith' and made the decision to start Dogma Dog Care and has not looked back.
The decision to start this business was a natural one as Robin has always loved animals and has been rescuing and caring for them since she was six years old.   An animal owner herself (her family includes three dogs, two horses and a cockatoo) Robin had always struggled with finding the best care for her animals when she traveled.  Now she is in the position to provide the service she always wished she could find to others.
What Makes Dogma Unique?
"What makes Dogma different from all other companies is the people.  I am passionate about animals and I hire people that share that same warmth, passion, and genuine love of animals.  Dogma wants to be part of our client's extended family and support system – we just support their dogs.  My employees (Robin has a staff of 20) genuinely love the dogs."
Housed in a newly renovated 10,000 square foot facility, Dogma Dog Care provides clients with every aspect of pet care under one roof including boarding, daycare, grooming, training, transportation, seminars & certifications, and natural and organic foods and products.  They just added an in-home pet sitting service where attendants will walk your dog, stay overnight, feed your fish, change your litter box, take your dogs for shots or anything else that they need.  "We are trying to anticipate clients' needs.  It's hard to come up with something that we can't do here," says Robin.
Is day care appropriate for all dogs?
"No", says Robin.  "We can't take animals that are people aggressive.  That would be unsafe for my staff.  But as long as your pet is up to date with their shots we can work with them."  Robin goes on to explain that not all dogs want to play with other dogs and that is ok at Dogma.  Many of them like to play with people and Dogma has many willing staff members that are eager to satisfy.
Dogma accepts other animals as well such as cats and birds, and they have even boarded a chinchilla in the past. Additionally, Dogma is one of the only kennels that will take all breeds of dogs (including pit bulls).  Robin does not believe in bad dogs – only bad people.  They also welcome dogs of all ages including ones that need to convalesce – offering them quiet time and quiet space.   Dogma gives back to the community by working with local rescues and helps by offering boarding space for their overflow.
What should you ask when visiting a dog day care provider, such as Dogma?
Make sure that they are licensed, insured, bonded and regulated by the Department of Agriculture.
Do the sniff test when you walk in the door. A kennel does not have to small like roses but should not smell foul.
Ask to see where your pet will be sleeping and where they will be playing.
Ask how long your dog will play. At Dogma, barring any physical limitations, your dog will be playing until it's time to eat or go to sleep.
Dogma provides clients with an extra piece of mind by providing access to webcams where clients can see their pets playing.
All of Dogma's employees that go into clients' homes have a criminal background check.
What can customers expect when they leave their pet for the first time?
First customers fill out a thorough questionnaire about the dog including pet peeves, emergency contacts, vet info and shot records.  Then customers are asked to leave their pet for 5 hours whereupon Dogma does a very extensive Temperament Test.  The test is intended to help dogs to get acclimated to daycare.  A handler will gradually introduce your dog to a small group of guests of different gender and sizes to assess their interaction with their new playmates and different situations.  Once the handler gives their ok – your dog will be ready to be introduced to the rest of the guests and can roam free with their new friends.  The results of the test will give Dogma all the information they need to provide the best possible care and play environment for your pet.
Robin, what is the secret to your success?
"I gave myself the freedom to fail.  If it does not work at least I tried.  Having never tried would be a major regret."
Dogma Dog Care | 770.436.4346 | www.dogmadogcare.com | info@dogmadogcare.com
Cella Nelson is the owner of Georgia Horseback (www.georgiahorseback.com) and a Marketing/Volunteer Coordinator at www.savethehorses.org.