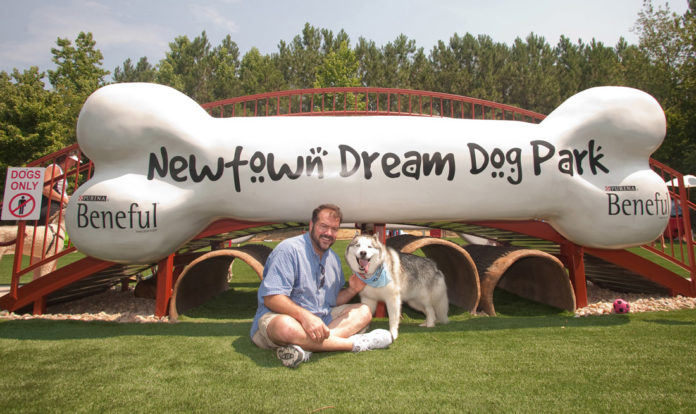 It's like Six Flags over Georgia for dogs.
Written by Cherese Cobb
Photos courtesy of the City of Johns Creek
While some dogs might daydream about nabbing slices of pepperoni pizza or stuffing five tennis balls into their mouths, others are dreaming about the Newtown Dream Dog Park in the north Atlanta suburb of Johns Creek.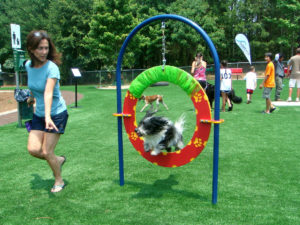 Opened on June 8, 2011, after local graphic designer Pat McNeely and his Siberian Husky, Koda, won the first Beneful Dream Dog Park contest, the $500,000 puppy playground, located at 3150 Old Alabama Rd. in Johns Creek. is mostly covered with AstroTurf and has winding rubber mulch paths and faux boulders.
"We come here a lot, and with the wet grass and the dirt, your dogs get a little dirty," McNeely says.
Nestled between mature pine and maples trees, the fenced in, one-acre space is split into two small, off-leash sections. The area designated for dogs more than 30 pounds has a full agility course with log steppers, hoop jumps and running tunnels. It also features a milk-white, bone-shaped bridge with hollow log crawls running underneath it.
"That was my son's [Walker's] idea," McNeely says. "All of our family threw out ideas."
The area designated for larger breeds has a red, fire hydrant shaped water fountain; a paw-shaped splash pad; kiddie pools and doggie-level drinking fountains that run year-round.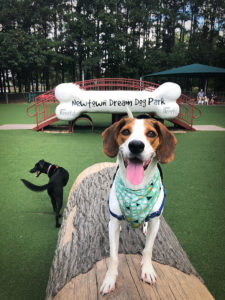 Dogs under 30 pounds can have their fair share of fun catching tennis balls from owner-supplied pitching machines, dashing through logs that look like fallen trees or splashing in a bone-shaped pool that uses an energy-saving, recirculating spray systems. Biodegradable poop bags and waste receptacles also are available onsite.
Play among the dogs is usually spirited, but rumbles are rare "even if there's a new dog," says Martie Berkowitz, one of the regulars. "My dogs love going up to new people as much as they love meeting new dog friends, so it makes me happy when I see them receive pets from everyone they go up to."
The people are a pack, just like the dogs. Residents gather under the picnic shelters to discuss doggie play dates, dog walking services and other local events such as Pup-a-Palooza. They curl up on 6-foot benches with paw-print cutouts and read books to their two- and four-legged children.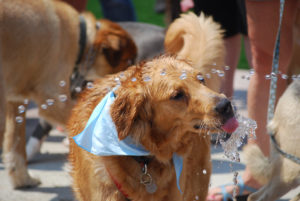 "We average around 400 visitors per week based on dog bag usage," says Parks Division Manager Robby Newton. "The dog park is never empty."
The dog park is open 8 a.m. to 9 p.m. Sundays through Tuesdays and Thursdays through Saturdays; 10 a.m. to 9 p.m. Wednesdays. Free. johnscreekga.gov.