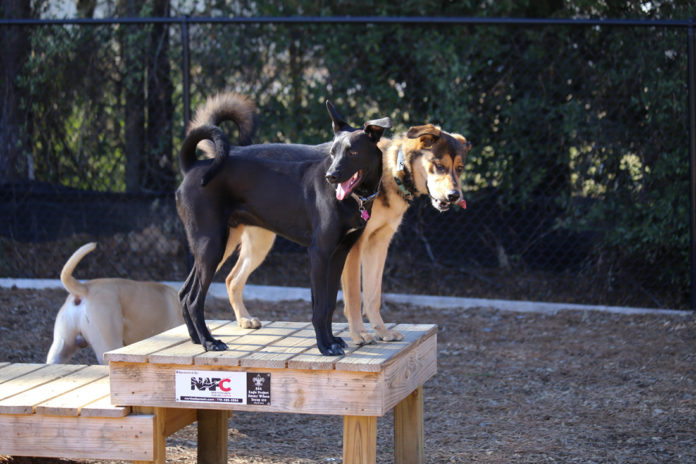 Former apartments become Woodstock's first dog park
Written by Tonya Layman
Over the course of several years, Woodstock has added amenities that make the city a great place to live, work and play for its residents. Development of a dog park shows the community also values its four-legged residents.
After a 2009 flood destroyed the Walden Chase apartment complex, the city stepped in to turn the property at 150 Dupree Road into a dog park.
With grant dollars from the Federal Emergency Management Agency, the city re-purposed the vacant land by building Woofstock Park in July 2013.
Open daily from 6 a.m. to 11 p.m., the park has become a fun and convenient gathering spot for residents looking for a place to spend time outdoors with their dogs, says Michael Huffstetler, Woodstock's director of Parks and Recreation.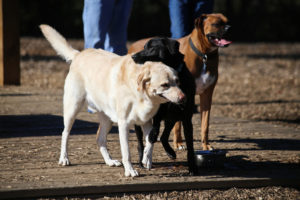 "My favorite thing at the park is that we have a group of older gentlemen who meet up there every morning and visit while their dogs play," he says. "There are a lot of groups that meet there at scheduled times."
The only public operated dog park in the city, Woofstock is five acres and offers two off-leash play areas, one for smaller dogs under 30 pounds and one for larger dogs. The park features open greenspace, public restrooms and water fountains, along with wooden agility structures for the dogs to enjoy during their play time and shaded seating areas for owners. It is lit at night for visitor safety, as well.
With a connection for Noonday Creek Trail and located conveniently to the Town to Creek trails, dog owners can let their furry friends play in the park before taking off on a longer adventure down a nearby path. Noonday Creek is part of the city's trail system and connects the dog park to downtown. Owners can take their leashed dogs on about a 10- to 15-minute walk to a nearby restaurant or brewery, many of which are pet-friendly establishments.
To avoid future problems with flooding in the area, the city implemented multiple design elements that aid water drainage. The asphalt parking lots were removed and replaced with a gravel surface, and the city recently placed new gravel in the lot and new mulch in the dog play areas.
"Our staff maintains the park on a daily basis, and it gets a lot of attention," Huffstetler says. "This park has come a long way and will continue to evolve. Everything there was hand-built by Scouts and staff, and we are always looking to add more."
Learn more at woodstockga.gov/773/Woofstock-Park