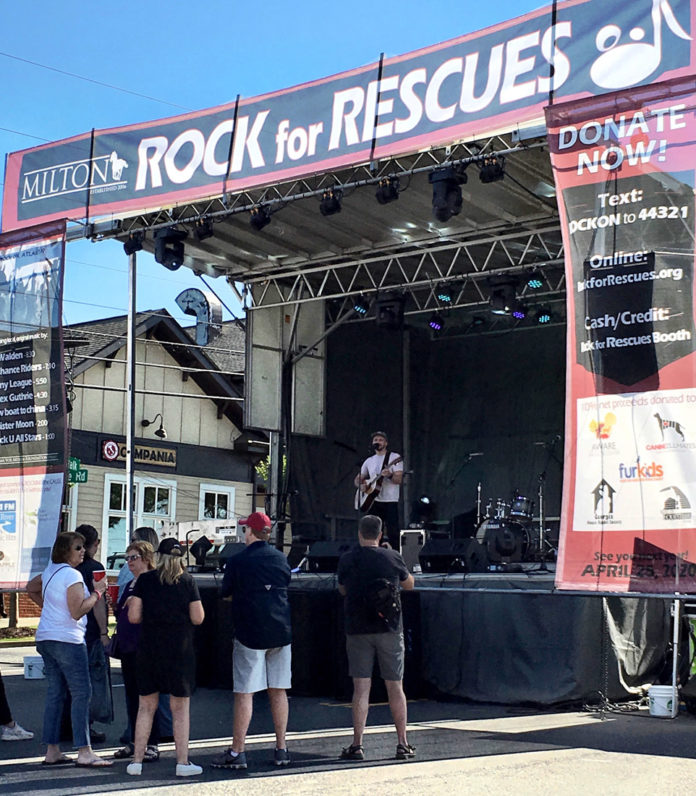 Rock for Rescues
Milton, April 27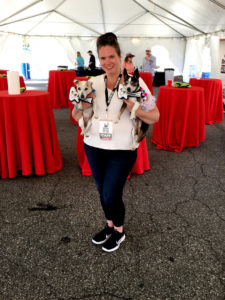 Music is one of the strongest forms of magic. The city of Milton, in partnership with the Vox Artium Foundation Inc., hosted Rock for Rescues, a magical one-day, pet and family-friendly music festival that benefitted local animal nonprofits. The annual day included food and fun, all in the name of helping animals. The event, which ran from 1 to 10 p.m., was free and donations were welcomed. This year's musical lineup featured Atlanta-based bands, including Sister Moon, A Slow Boat to China, Alex Guthrie, Pony League, Last Chance Riders and event headliner Walden. New for 2019, Rock U, an all-star kids band, opened the festival.
Atlanta GirlZ Club socialites Lucy and Holly were among the guest VIP pet influencers who enjoyed meeting the talented musicians and bands in the VIP area. The GirlZ and their fur-friends sashayed down the red carpet and enjoyed special doggie treats and snickety snacks. Two-legged guests enjoyed bar beverages, appetizers, barbeque and a host of other delectables from local restaurants.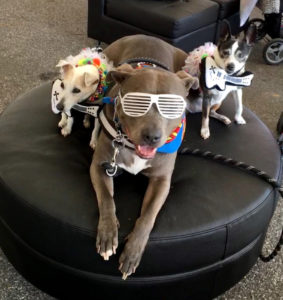 "We worked with our community partners to expand this year's festival, both literally and figuratively," says Laura Jesseph, Rock for Rescues program manager and director of Vox Artium. "We added a wildlife charity based on feedback, extended our festival times and expanded the lineup, and Milton enlarged the festival footprint along Crabapple Road to grow opportunities for vendors and sponsors."
Tax-deductible donations from the event equally benefitted five local nonprofit animal rescue organizations, including AWARE Wildlife Center, Canine CellMates, Furkids Animal Rescue and Shelters, Georgia House Rabbit Society and Special Equestrians of Georgia. In just one year, Rock for Rescues has become a signature event and a natural extension of the community's volunteer spirit and shared love for animals. And who doesn't enjoy a spring festival filled with great local musicians!
Information: rockforrescues.org
---
Bark in the Park — Atlanta Braves
SunTrust Park, April 7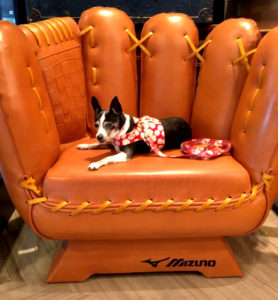 "Take me out to the ballgame!" barked hundreds of Atlanta puppers! On April 7, the Atlanta Braves hosted Bark in the Park, presented by WAG-A-LOT, as some very special four legged friends filled SunTrust Park. A number of tickets and seats were reserved for people attending with their dogs. Packs of fans and their pets cheered on the Braves as they took on the Miami Marlins. Ticket holders enjoyed the game from the Xfinity Rooftop. With seating in selected sections of the Grandstand Reserved, fans could watch the game from either location.
Dogs, excluding service animals, were only allowed in the areas specifically designated for Bark in the Park. Food options and restrooms were available within this area. Every dog, including "PaWty Animal" Holly, received a Braves/ WAG-A-LOT co-branded water bottle and travel bowl.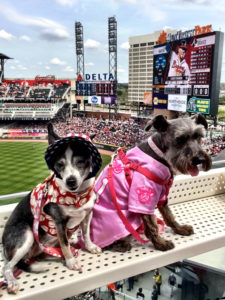 Tickets for Bark in the Park are limited and must be purchased online in advance. At least one human ticket must be purchased for every dog ticket, and fans with two or more dogs must have an additional "owner" accompanying the additional canine. Dogs must remain on a leash at all times. Wading pools and drinking water are always provided.
The next Bark in the Park is Sunday, Sept. 8, when the Braves take on the Washington Nationals.
Information: mlb.com/braves/tickets/specials/bark-in-the-park
---
C
anine Collectables Trunk Show Event — Unexpected Pooch
Alpharetta, June 20
Unexpected Pooch Bistro & Boutique in Alpharetta is where Pet Nutrition Meets Canine High Fashion. That's what happened June 20, when the store hosted Celebrity Pet Stylist Lola Teigland, fashion designer and owner of Lola and Pooch, for a Canine Collectables Trunk Show. Pet influencers and celebrities throughout Atlanta, including Lucy and Holly of Atlanta GirlZ Club, attended.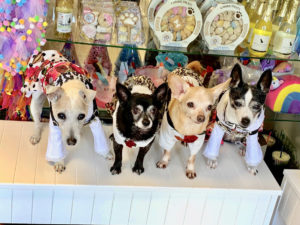 Guests enjoyed an impromptu fashion show, keepsake paWty favors, sequined sunglasses, pawtinis and snacks while playing flower power bingo for canine couture prizes. Future events will include general pet nutrition seminars, home cooking for pets workshops, local dog adoption events and various meetups in partnership with local restaurants and various local retailers.
Through these fundraising events, Unexpected Pooch has raised money for The Atlanta Humane Society. Many upcoming events will include a charity element to mix with fashion to provide pet owners a venue to connect and learn about healthy living with their pets in a whimsical, fashion-forward environment.
Information: unexpectedpooch.com
---