Whiskey Blue
Buckhead, October 20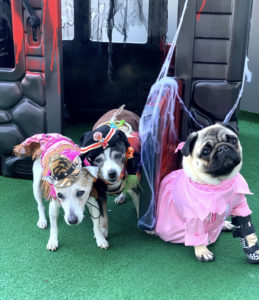 The second annual Howl-O-Ween Boos & Barks was held at Whiskey Blue, Buckhead's trendy, chic indoor/ outdoor rooftop cocktail lounge perched on top of the modern boutique hotel W Atlanta-Buckhead. Known for serving craft cocktails amid city views, this Woof-Top event is quickly becoming a favorite Howl-O-Ween activity for pet lovers.
PaWty Animals Lucy and Holly enjoyed dressing up in costumes, along with other pet pals and their owners, for a costume contest and gift basket prizes. Neal Reddy, from Queer Eye on Netflix, emceed the event. Admission included a specialty dog-toberfest beer or wine and a hot dog bar. Adoptable puppies were present from Furkids Animal Rescue and Shelters.
wbatl@gerberbars.com
Hooray for Hollywood Gala & Auction
Buckhead, October 24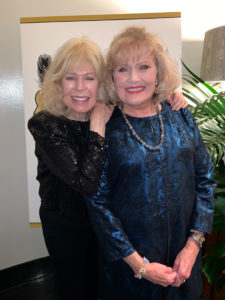 Old Hollywood glam and new southern charm came together at Fix Georgia Pets' Eighth Annual Gala at the Buckhead home of Guy and Ginny Millner. Among the guests were Atlanta Pet Life's contributing writers Kathi Welch and Claudine Wilkins. Special guests this year were legendary Hollywood insider and film critic Rex Reed and television star Loretta Swit. The event was co-chaired by Tom Abrams and Lisa Rayner Catherall.
Guests mingled with friends dressed in Hollywood chic attire and enjoyed an evening of vintage cocktails, dining on old-school fare and bidding in live and silent auctions for exclusive trips, jewels and one-of-a-kind experiences. The evening was emceed by Christine Pullara Newton of 11Alive's Atlanta and Company and auctioneer Steve Hightower. Fix Georgia Pets is a nonprofit organization whose mission is to end pet overpopulation in Georgia.
Costumes on the Woof
Atlanta, October 30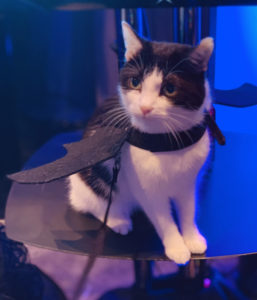 HOWL-O-Ween in Atlanta began by celebrating at the Ninth Annual Costumes on the Woof, a fundraising gala held at Loews Atlanta Hotel to benefit LifeLine Animal Project. Pet parents dressed up with their favorite pooches to strut their stuff on the runway for a good cause and a fun-filled night. Ticket prices included two Halloween-inspired cocktails and cash bar, hors d'oeuvres, complimentary goodie gift bags and a photo booth, plus access to silent auction bidding and discounted hotel valet parking.
Dressed in bellbottoms, disco divas Lucy and Holly joined their costumed furfriends for a doggie runway show and the chance to win prizes. Guests enjoyed pooch cocktails and small bites, and striking a pose at the photo booth. Co-hosts were Kristin Klingshirn of The Bert Show and radio and television personality Mara Davis, alongside celebrity guest judges Cassie Young and Blake Eason of The Bert Show and television personality Nikky Williams. Founded in 2002, LifeLine is a nonprofit organization based in Atlanta that works to end the euthanasia of healthy and treatable dogs and cats in metro Atlanta shelters.
Reindog Parade
Atlanta, December 7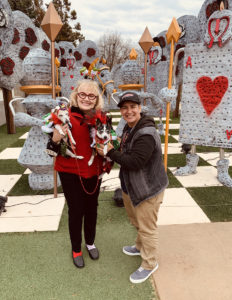 Reindog Parade at the Atlanta Botanical Garden marks the beginning of HOWLiday fun. What better way to get pets in on the magic and festive fun than dressing them up in their finest holiday finery and showing them off on the costume runway! Held annually, rain or shine, the Reindog Parade is the only day of the year when four-legged family members are allowed to set their paws in the gardens. "PaWty Animals" and Santa's Elves, Lucy and Holly, were on hand to cheer everyone on.
Guests enjoyed connecting with local canine enthusiasts and businesses in the Doggie Expo, and having their photos taken with Saint Nick. Reindog is one of Atlanta's most popular holiday favorites. Pooches of all breeds and sizes arrive dressed in their holiday attire and parade before a panel of judges to compete for prizes — or just to show off for fun.
Parade hosts and emcees were Victoria Stilwell, star of Animal Planet's hit TV series It's Me or the Dog, and Vincent Martinez, owner of Fashionado and founder/ manager of Doggies on the Catwalk Foundation. Parade judges included Grace Hamlin, founder, The W-underdogs; retired veteran Atlanta news anchor Monica Kaufmann Pearson; Kimberly Lace, co-host of HGTV's Curb Appeal; and Rodney Ho, AJC columnist.