Doggy Con
Atlanta, August 17
Atlanta's scorching August heat did not stop Atlantans and their furry friends from dressing up for the second annual Doggy Con, a pet parade and costume contest inspired by Dragon Con, one of the world's largest pop culture, sci-fi and fantasy conventions that attracts thousands to town each Labor Day weekend. Doggy Con at Woodruff Park downtown drew more than 100 pets and their owners and spectators for their own small cosplay convention, all dressing up like fictional characters from video games, movies and other corners of the pop culture universe. Wonder Woman Lucy of Atlanta GirlZ Club was on hand to meet and greet everyone.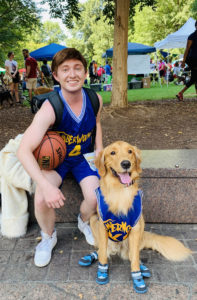 "It's everybody coming together for just pure cuteness and joy," says Ansley Whipple, Woodruff Park project manager.
The Doggy Con event signals the approach of the internationally known Dragon Con pop culture convention. For more than 30 years, Dragon Con has attracted thousands of cosplay devotees and others to its annual costumed fandom events. Paige Sullivan, marketing manager for Atlanta Downtown, says the Doggy Con celebration is a small-scale convention organized with the locals in mind. "Doggy Con kind of kicks off Dragon Con season downtown," Sullivan said. "I think that's very unique to our city."
Drool-worthy prizes were doled out for the best dressed-up dogs and human companions. The event also featured a vendor village of dog-centric goods and activities, a yappy hour social, a photo booth and plenty of pup culture. From Harry Pawter to BatDog and Robin, there's room for everyone at Doggy Con.
Costume contest judges were Dr. Will Draper and Dr. Fran Tyler of The Village Vets, Atlanta-based comic book artist Jarrett Williams, Tiny Doors ATL, artist Karen Anderson of tinydoorsatl.com and Punk Rock Milo, doggo-in-residence at The Masquerade. Local media personality Mara Davis served as emcee.
---
Party for the PAWS
Atlanta, September 21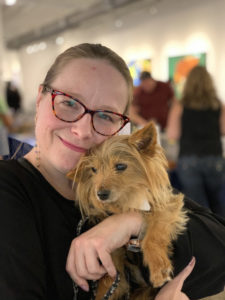 Founded in 1966, PAWS Atlanta is a nonprofit animal-welfare organization that provides love, nutrition, medical care and basic training to homeless animals until permanent homes can be found. Held at Mason Fine Art, organization's eighth annual benefit gala featured cocktails, delectable catered cuisine, music, mingling, adoptable puppies, a photo booth, online auction and upscale raffle items. This year's gala also featured PAWS Atlanta's own doggie runway styled by Unexpected Pooch Bistro & Boutique in Alpharetta. It was a night to benefit shelter pets.
---
Atlanta International Fashion Week — Pet Fashion Night
Atlanta, September 27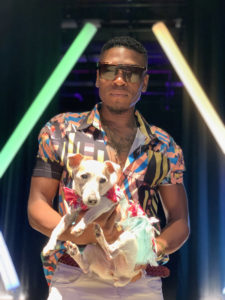 Now in its 13th year, Atlanta International Fashion Week was held in September at Antebellum Aztec Warriors Studios. This year, AIFW included a pet fashion element with celebrity pet stylist Lola Teigland, owner of pet fashion design house Lola & Pooch. Known for changing the face of pet fashion by building the act of dressing pets into a social experience, Lola uses her skill set as a 7th Avenue designer (Nipon and Dior) and writer for more than 10 years to amplify the beauty and power of America's pets.
Socialites Lucy and Holly, along with other Atlanta pet influencers and elite doggie models, participated and modeled Lola's elegant canine couture.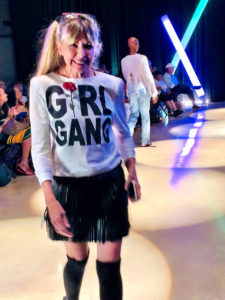 Upscale, elegant pet fashion events continue to grow in popularity across the U.S. and internationally, and almost all have an element of fundraising for animals in need, which is the centerpiece and philanthropic mission of Atlanta GirlZ Club.
AIFW raises fashion awareness about Atlanta's vibrant retail market and arts community. It aims to grow the vitality of the Atlanta fashion arts community and promote the arts through fashion and entertainment. The annual event is attended by hosts of corporate buyers and industry professionals, as well as anyone who loves fashion.
AIFW connects continents through fashion, including pet fashion! The week also included Tour de Atlanta, a five-day adventure through Atlanta's premier locations showcasing the retail, art and cultural communities.
---
Pet Parade at Sandy Springs Festival
Sandy Springs, September 28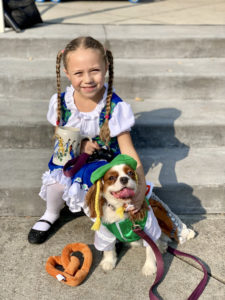 Dogs dressed as goats and alpacas? No, that was real goats and real alpacas in costumes, along with more than 100 dogs, cats and other pets that attended the 34th Pet Parade presented by Angels Among Us Pet Rescue with Heritage Sandy Springs at the Sandy Springs Festival. Proceeds from parade participants' $5 tax-deductible registration fee benefited Angels Among Us and the work it does for homeless pets around Georgia. The first 50 registered participants received a swag bag filled with promotional items, gifts and goodies courtesy of parade sponsors.
Prizes were awarded for Most Unusual Pet, Owner/Pet Lookalike, Best Group Costume and Best of Show. Kathi Welch, owner/founder of Atlanta GirlZ Club, emceed the event again this year.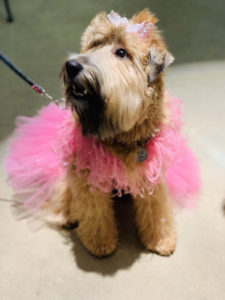 Pet Parade Grand Marshals were actor siblings Lexi and Logan Rabe and their dog, Oreo. Teddy the Spaz Man and his human dad, along with @adventures_of_foxy_and_luna and their human mom, were judges for the costume contest.
Angels Among Us Pet Rescue saves dogs and cats from shelters in Georgia. It operates through a network of volunteers and foster homes in the metro Atlanta area. Its efforts are funded by contributions from compassionate people and organizations that care and want to help make a difference, one pet at a time.