Somepawdy to Love
Atlanta, February 9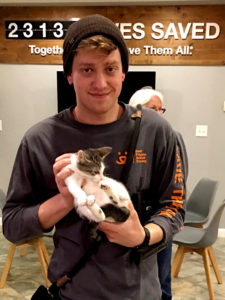 Forget about crowded restaurants and movie theaters for Valentine's Day. At the Somepawdy to Love event, many people found the loves of their lives at Best Friends in Atlanta pet matchmaking event. Guests of the adoption center enjoyed complimentary drinks and snacks, while expert cupids helped them find the pet of their dreams. Plus, for one night only, falling in love was free: All adoption fees were waived.
Best Friends in Atlanta works with area shelters, animal welfare organizations and individuals to save the lives of shelter pets and to combat euthanasia practices.
Best Friends Animal Society is a national animal welfare organization with the same mission. It teams with more than 2,500 national animal welfare groups and operates one of the country's largest no-kill shelter for companion pets.
Information: bestfriends.org.
---
National Love Your Pet Day Celebration
Atlanta, February 27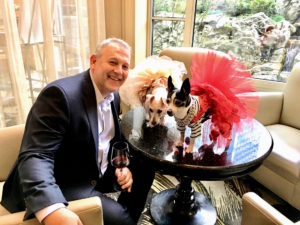 The Grand Hyatt Atlanta in Buckhead continued its Meet the Maker series by hosting a National Love Your Pet celebration for two- and four-legged friends. Fur-friends, cocktails and specialty treats from Executive Chef Jesse McDannell and Pawprints Atlanta made for a memorable evening. Hotel guests and Atlanta locals, including pet influencers Lucy and Holly and several of their furry pals, were on hand. Everyone enjoyed mingling and visiting the doggie kissing booth with proceeds benefiting Georgia English Bulldog Rescue.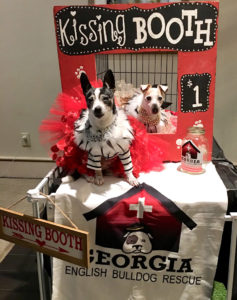 The Grand Hyatt Atlanta is known for its large pool deck and tranquil Japanese Zen garden, favorite spots for a bit of relaxation for Lucy and Holly. The hotel is also pet-friendly, welcoming traveling canines under 50 pounds with hypoallergenic pet beds, pet bowls, welcome treats and an in-room dining doggie menu.
Information: grandhyattatlanta.com; georgiaenglishbulldogrescue.org; pawprintsdogco.com
---
Rescue Dog Games
Atlanta, March 10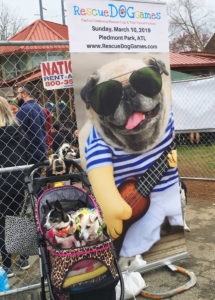 Rescue Dog Games and Park Tavern co-hosted a dog festival and party in Piedmont Park to shine a light on the importance of pet adoption. Rescue Dog Games also focuses on playing.
Hundreds of people got out and played with their dogs for an interactive, fun-filled day of silly and competitive games for dogs and their humans. Rescue Dog Games celebrates rescue dogs and their forever families, and also encourages owners to spend quality time with their best four legged friends. Jill Waddell and her team of volunteers and supporters planned one of Atlanta's top outdoor pet events.
Human/dog teams that pre-registered enjoyed dog play areas, vendors, pet rescues, music and festivities, including a dog costume contest and disc dog show.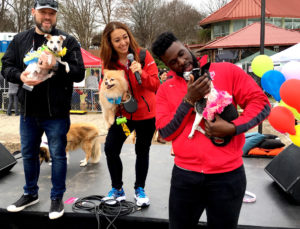 For those pre-registered for the VIP ("Very Important Puppy") area, a pet fashion show featured adoptable doggies with pet-influencer guest judges, socialites Lucy and Holly and their fur-friend ,Teddy Takes the City. Proceeds went to a variety of pet partners. The VIP area included music, beer, food, festivities for dogs and humans, dog interactive art projects, dog and human photo booths, adoptable dog cuteness corner, doggie relaxation stations, lure chases and lots of swag for all dogs. Many people met their next best friend and helped Atlanta spread the importance of pet adoption.
Atlanta Rescue Dog Games brings pet rescues and organizations together to raise awareness around the need to "to adopt, not shop."
Information: rescuedoggames.com.
---
Angels Among Us Fifth Annual Gala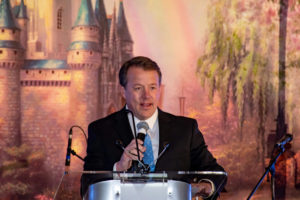 Atlanta, March 23, 2019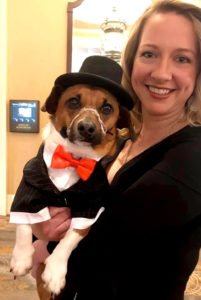 Atlanta Pet Life's Bill Garst and contributing writer Kathi Welch were among the guests at Angels Among Us Fifth Annual Gala at the InterContinental Buckhead Atlanta for an evening of dinner, signature cocktails, dancing, live and silent auctions and more. Entertainment was provided by the Celebrity All Star Band, and the emcee was Russ Spencer of Fox 5 Atlanta.
This year's theme was Happily Ever After. The fundraising event celebrated the 10-year anniversary of the rescue. The Happily Ever After Angels have given to more than 15,000 pets in need since 2009.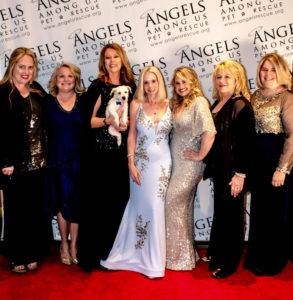 This year's For the Love of Paws event was sponsored by Atlanta Pet Life, Simply Buckhead magazine, BluePearl Veterinary Partners, Enhance Floors and More, VCA Animal Hospitals, Joey D's Oak Room, Kroger, Greens Beverages, Tito's Handmade Vodka, Hollywood Feed, , Belle Isle Moonshine, Simon D. Fine Jewelry and Paper Daisies Stationery.
Angels Among Us Pet Rescue is a nonprofit dedicated to saving dogs and cats from high-kill shelters in north Georgia.
Information: angesresuce.org.
---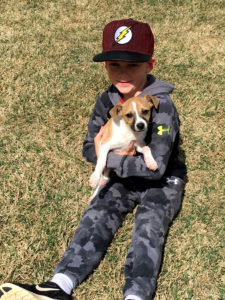 Pet Adoption Day at the Georgia Governor's Mansion
Atlanta, March 30, 2019
Georgia's First Lady Marty Kemp proved she has a big heart for animals by hosting a public Pet Adoption Day at the Governor's Mansion. Kemp partnered with humane societies, shelters and rescues from across the state to find forever homes for dogs and cats in need.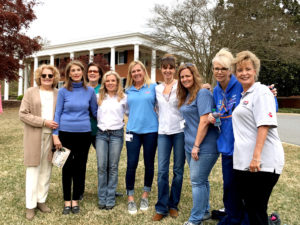 Atlanta Pet Life's Kathi Welch was on hand with fellow animal advocates Ginny Millner, Claudine Wilkins and Victoria Stillwell, among many.
Adoption fees were handled by the participating rescue groups and pet shelters. Many individuals and families took home a new addition.
Information: gov.georgia.gov/events/pet-adoption-day-governors-mansion.