Atlanta's best dog pool party
Written by Cherese Cobb
Photos courtesy of OldSpeaks Creative
From doggos fetching balls in mid-air and landing in a big splash to pupperinos passing by in the most adorable floatation devices and life vests, Piedmont Park's Splish Splash Doggie Bash is typically a sold-out event.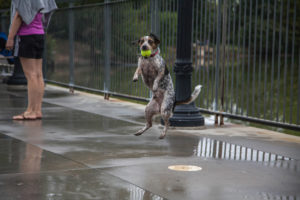 Nine hundred dogs — and their owners — come for an hour and 15 minutes throughout the day, starting at 11 a.m. and ending at 3:15 p.m. Canines of all shapes, sizes and breeds "doggie paddle" to Top 40s and 80s music piped in via intercom. "Some dog owners hover their dogs over [the pool], and their feet start kicking before they ever hit the water," says Amy Dietrich, Piedmont Park's Director of Communications, Marketing and Public Relations. "Water-shy dogs that aren't comfortable in the pool typically just run around on the green space and play with other dogs."
Vendors offer smoothies, coffee, paninis, ice cream and adult beverages (excluding the Sunday morning session). They sell bone-shaped dog treats and a rainbow of plastic frisbees. Dog park sponsors like Dog Days and Bark Atlanta host information tents. They give stuff away on a smaller level like dog bowls, leashes and doggie poop bag holders. "Sometimes, we'll get bigger giveaways like doggie daycare stays and grooming sessions," Dietrich says.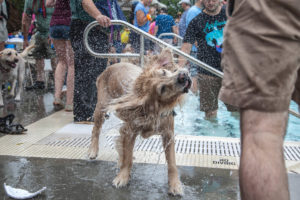 The 10th Splish Splash Doggie Bash provides Instagram-worthy photo ops for fur-parents. "Most people bring their own smartphones [in waterproof phone cases and Ziploc bags] and selfie sticks," Dietrich says. "OldSpeaks Creative takes photographs of the event for our Facebook and Instagram pages." There are some rules dog owners have to follow: no aggressive dogs, only dogs can swim, dogs can't be left unattended, no human food on the pool deck and only two dogs per human.
Atlanta's autumnal pool party benefits the Piedmont Park Conservancy, the nonprofit that maintains a three-acre, off-leash canine haven with separate enclosures for large (30+ lbs) and small (<30 lbs) dogs. This year, Piedmont Park raised $24,000. "We're the only park [in the nation] that has both off-leash dog parks and a pool," Dietrich says. "When you experience the joy that all of the dogs have when they get this once-per-year opportunity and you feel the splashing of wet dogs, you can't help but smile. They're just so excited."
If you missed this year's Splish Splash Doggie Bash, mark your calendar for October 5 and 6, 2019. Learn more about the Splish Splash Doggie Bash at piedmontpark.org.
Piedmont Park
400 Park Drive N.E.
Atlanta 30306
404.875.7275
piedmontpark.org 
Twitter: @PiedmontPark
Facebook: @PiedmontParkATL
Instagram: @PiedmontPark