Follow Ryan, an Atlanta Humane Society rescue, on her adventures throughout pet friendly ATL.
Written by Nicole Letts
Photos by Amber Corbi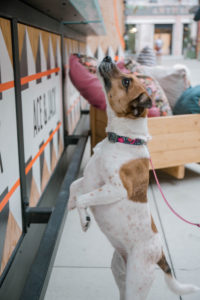 Ryan doesn't seem to notice winter's chilly temperatures. She loves being outside, sniffs the air, explores her domain and finds a cozy spot to enjoy the sun's limited warmth. During rare winter precipitation, she's even been known to bound in the snow. She loves it all, thanks to her naturally warm coat and spunky attitude. If your dog is anything like Ryan, you'll both enjoy this edition of "Where Ryan Roams." Whether you're wrapping-up holiday shopping or seeking a toasty cup of joe, you'll love these three pawsitively dog-friendly spots.
Make your list and check it twice
Pups on the nice list deserve a treat, and Ace & Jack is the place to find it. The compact, freestanding shop in Ponce City Market offers trendy pet supplies and gifts.
It's the brainchild of The Daniel Richards Group, the same company behind The Merchant, Archer Paper Goods and Collier Candy Company. Leashed visitors and their owners will find Harry Barker accessories, Bocce's Bakery biscuits and a wide selection of bully sticks for even the pickiest companion. The staff shows pooch patrons plenty of attention. It's canine customer service at its finest. Ryan says: I'm pawsitive you'll enjoy sniffing out treats from Ace & Jack.
Expert tip: The Foggy Dog squeaker bones promise hours of entertainment.
Ace & Jack
675 Ponce De Leon Ave., N.E.
Atlanta 30308
404.228.2372
aceandjackpet.com
Get in your WOD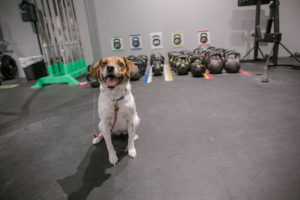 The start of a new year is usually synonymous with lofty resolutions of getting back into shape. Instead of ditching your daily dog walks in favor of the gym, bring your pup to your workout. Buckhead's CrossFit 404 encourages members to do just that. As one of Atlanta's premiere gyms, the amenities of CrossFit 404 are hard to beat. And dogs are welcome during any of the classes. There's a leash hitch and communal doggy water bowl under the complimentary coffee station. Want to see how pups are treated at CrossFit 404? Find their dedicated @Dogsof404 Instagram handle for behind-the-scenes shots and fellow furball-adoring fitters.
Ryan says: CrossFit 404 goes out of its way to make us pups feel welcome.
CrossFit 404
674 Miami Circle
Atlanta 30324
404.841.0904
crossfit404.com
Coffee with your canine
After checking your workout off the to-do list, scoop up your pup and head to nearby Karma Daisy, where you'll be greeted by a pooch or two. It's a proud member of Bring Fido (bringfido.com), a nationwide, pet-friendly directory, so furry friends are almost always nearby. Owners get plenty of perks, too. The restaurant's menu offers a selection of healthy, palate-pleasing dishes including avocado toast, egg scrambles and breakfast wraps. Intelligentsia Coffee mirrors Karma Daisy's focus on sustainable food and beverage practices. This dog-friendly spot where you can feel good and eat well gets Ryan's stamp of approval.
Ryan says: Nothing beats a patio where I can people watch, earn a few scratches from strangers and mingle with new friends!
Karma Daisy
30 Pharr Road, N.W.
Atlanta 30305
404.373.8527
eatkarmadaisy.com