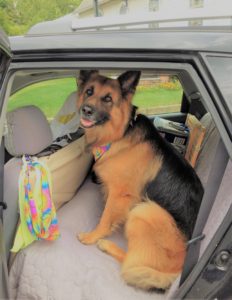 Traveling with Fluffy can be an incredibly rewarding experience, or a trip you want to forget. Kolby, my German shepherd and I, have logged thousands of miles in the past nine years. When we travel, I am always trying to present a good impression on behalf of all travelers and their pets. Here's what we've learned in our travels: A successful trip starts long before you pack your suitcases. Planning ahead can make all the difference for you, your pet and other travelers you meet along the way.
All dogs, especially those who travel, benefit from obedience training. Reliable command skills make for a safer, more pleasant traveling experience. You don't want your precious pooch jumping out of the car before you have time to attach a leash during a rest stop break, so his knowing "Sit" and "Stay" are invaluable. "Come" is crucial in case he should dart away. "Go Potty" tells him that although this isn't his backyard, it is where he should go at that moment. Being "quiet" is much appreciated by fellow hotel guests at 2 a.m.
Review and update your dog's ID tags and microchips before you leave home. Be sure all contact phone numbers are current, using cell numbers when possible. For ID tags, consider inscribing them with "$$ REWARD $$" instead of the pet's name to encourage a quicker return. Make sure your dog is wearing his rabies tag and bring his current vaccination and medication records along with a few clear, current pictures of your furry co-pilot.
Microchips are only useful if they are registered. Often, dogs are lost in unfamiliar surroundings, eventually found and then scanned at a shelter or veterinarian where a microchip is detected but has either never been registered or the contact information is out of date. Now is the time to update that information.
While on the road, your pet will be safest in a travel kennel. If this isn't possible, your pet will be most comfortable in his own space, not cramped between the kids or the luggage. Frequent stretch and bathroom breaks are good for everyone. If traveling with more than one person, alternate your breaks so someone is always with the dog. Walk your dog in designated areas, away from traffic. And of course, always clean up after your pet.
Whether you're camping, staying with friends or relaxing in a five-star hotel, a well-groomed dog is a more welcome dog.  Pay special attention to nails so they are less likely to scratch floors or new friends; trim footpad hair, to keep from dragging in mud or snow; and private areas, to make clean up after potty breaks easier. A thorough bath and brush shortly before you leave will help keep your dog, vehicle and temporary accommodations fresher, cleaner, and hair-free. Using an effective flea and tick preventative is critical at this time. You don't want parasites or diseases to be the souvenirs your pet brings back from his vacation.
If you're staying in a hotel or motel, request a room in a low-foot traffic area. End-of-hall rooms are excellent; your dog will be less likely to bark if he doesn't hear other guests. Alert the housekeeping staff that there is a pet in the room and insist they wait for you to open the door. Tip generously when departing. If the accommodations allow the pet to be left alone for a short time, notify the front desk when you go out and leave your cell number so that you can return immediately if there are any problems. After your trip, take the time to go online to review and thank the businesses that made you and Fluffy feel welcome.
Traveling with a furry co-pilot can be a pleasure, but it is also a great responsibility.  Planning ahead will make the trip more enjoyable for you, Fluffy and everyone you meet along the way.
Happy Trails!
A travel bag reserved for your pet's essentials on the road makes for a smoother trip.
Be sure to include:
Water and food bowls

Water – for during the trip and possibly throughout the stay. If your dog is sensitive to changes in his water, you can bring a supply from home, a portable filter, or purchase bottled water when you arrive.

Food – if you feed kibble, consider portioning every meal into zipped plastic bags. Pack a few extra days' worth–just in case!

Extra leash

Brush, comb, nail trimmers, blood stopper, tick puller

Paper towels and baby wipes

Extra towels – especially useful after a wet walk

Bed sheet – so Fluffy can sleep on the bed with you

Potty break cleanup bags

Favorite toys

Portable crate, bed or mat – a home away from home

Health, vaccine and medication records from your vet

Any medications that will be due while you are on vacation

Benadryl capsules for insect bites or allergic reactions

Pepto-Bismol tabs for upset stomach due to changing food or water (ask your vet for correct dosages)
Contributed by Lorrie L Leickl- Koch