Barkatcha furBelles and furBeaus! LadyBelle Michelle here with my nose to the ground and tail in the air to sniff out the best furry furiendly places to take your pawrent! What's the best the way to spend a Saturday? Touring the town with mommy in tow! Just two road dogs hitting the highway! First stop? Back to school I go, headed to Athens to bark on my fellow DAWGS and bestest bulldog UGA!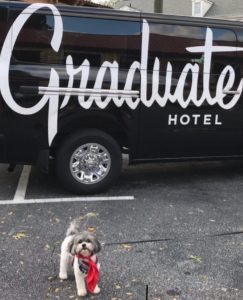 Of course, I had to choose a canine divine hotel that is paw-rent furiendly and LadyBelle approved! No bones to pick–the Graduate Athens Hotel caters to canine connoisseurs like myself!
Prancing into the hotel, I was im-paw-ressed by the eclectic décor, and furiendly staff. Emily was there to greet us and after a short check in (and a lot of human chatter) I had the key in my mouth and led mommy to the room.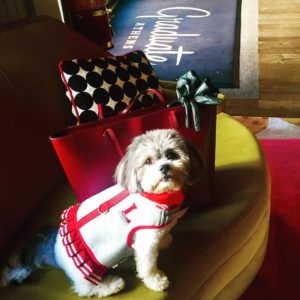 Hopping from bed to bed I did a double back flip and snuggled into a soft pillow, but not for long. My canine instincts kicked in – ALAS! – I discovered the coveted Bark Box! My fellow canine connoisseurs know this is the box to make you chase the mailman, wait patiently at the mailbox, or stake out the big brown truck. I could barely contain my excitement while mommy opened the box. My tail was wagging so fast! What would I find this time? My favorite noisy toys? Homemade snacks? Or a delicious doggie bone just for me? I couldn't wait to get my paws on each one as mommy handed them to me.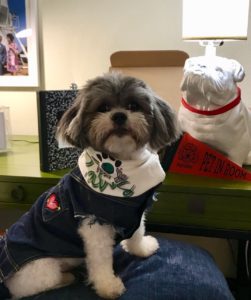 My back to school BarkBox had everything I needed to be head of the class! A squeaky apple for my teacher (a.k.a mommy), a composition notebook just for me and yellow no. 2 pencil to match, my own gourmet dish (with my name of course), and plenty of mouth-watering, good tasting, healthy treats and snacks!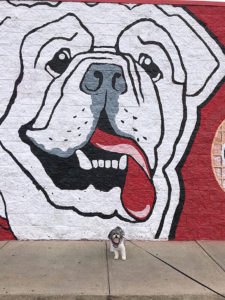 After munching on the treats, snacks, and chasing squeaky toy or two, I sat mommy at the desk with notebook and pencil to make out our schedule:
12:00 noon – 12:30: Arrival and Check-In at The Graduate Athens Hotel.
1:00 – 2:00: Tour of Athens
2:00-2:30: Back to hotel for a quick groom and brush and blow out! Cheerleader ready!
2:30-3:00: Photoshoot Time
3:00: Off to the big game!
3:30: Kick Off – Sanford Stadium
So glad mommy and I were here to cheer on my Bulldog bestie UGA and the team to a 24-10 victory against South Carolina! Thanks to Graduate Athens for the pawsome hospitality and puppy amenities! Final Review? This pup gives the Graduate Athens 2 Paws Up!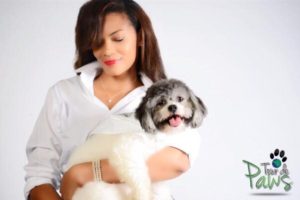 The Pawrent Perspective: Whether planning a wedding at the famous Foundry, catching a game at Sanford Stadium, or for a quick getaway to the collegiate town of Athens, Graduate Athens Hotel is the perfect place to stay! With no pet fees, a complimentary BarkBox, and a variety of pet friendly restaurants, you can be sure your FurBelle or Beau will have a pawsome time! For more of LadyBelle's adventures, please look for her in upcoming issues of Atlanta Pet Life Magazine. Follow Tour de Paws and The Most Interesting Belle in the World, LadyBelle Michelle, for more 'Divinely Canine ExPAWriences', pawrent friendly locales, and tips on how to be a Tour de Paws Healthy Dog! Website: www.tourdepaws.com Instagram: instagram.com/tourdepaws Facebook: facebook.com/tourdepaws Website: www.tourdepaws.com