Follow Ryan, an Atlanta Humane Society rescue, on her adventures throughout pet-friendly ATL
When it comes to getting out and about with your pup, it's important to make sure that both of you are enjoying the day. For Ryan, sometimes that means a day of dog parks and dog-specific activities, but other times, it means tagging along on errands. However, when we do take Ryan on errands, we make sure that she can come with us for the entire trip — no hanging out in our car while one of us runs inside. That's not fun (or safe) for anyone!
Spring often means getting outdoors more, tackling home improvement projects and even hitting the road for some much needed R&R. If you find yourself in need of any (or all!) of the aforementioned tasks, Ryan and I have you covered.
Home Depot
At our hometown hardware store, The Home Depot, dogs are welcome. Spring is the time when home projects really kick-up, so owners, feel free to tackle all of your errands at once without having to worry about dropping the dog off at home. Service dogs are, of course, always able to freely move throughout the store with their companions. Other pups are at the discretion of store managers, but as long as your dog is leashed and well-behaved, it shouldn't be an issue. We visited the Sidney Marcus location and were encouraged to shop throughout the store, and Ryan loved it!
Ryan says: After getting a few pets from the store manager, I was on my way for shopping!
The Home Depot
2525 Piedmont Road NE
Atlanta 30324
homedepot.com
404.841.5608
Sheep and Meadow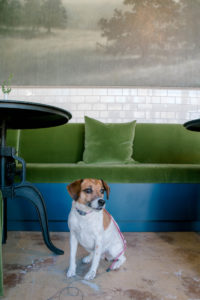 What's not to love about a coffee shop named after sheep, which are historically one of canines' best friends? After all, many a good boy has guarded sheep for hundreds of years. Sheep and Meadow is a quaint coffee shop in the heart of Peachtree Hills. Unsurprisingly, it's guarded by a good girl of its own, Stella, the black Labrador. Without fail, Stella will come to greet your pup and will probably linger by your feet, too. Sheep and Meadow welcomes dogs to order a beverage with their parents inside before making their way outdoors to linger on the cozy pea gravel patio. It's an ideal place to take in spring's sunny days while enjoying one of the barista's Methodical Coffee made concoctions.
Ryan says: Don't miss the unofficial dog park in Peachtree Hills Park across the street. There's plenty of room to roam along with a playground for tykes, too.
Sheep and Meadow
345 Peachtree Hills Ave. NE Suite 100
Atlanta 30305
sheepandmeadow.com
800.446.5526
Wag-a-lot, Upper Westside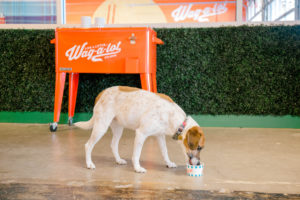 Spring break is coming in quickly, and summer will be right on its heels. As such, you've may have booked at least one, unfortunately, not-so-dog-friendly vacation. If that's the case, trust the team at Wag-a-lot Upper Westside for your boarding and doggy day-care needs. This location opened just a few months ago and is already a welcome addition to the neighborhood. It's easily accessible without being in the thick of Atlanta traffic. Plus, the facility is stunning, with two indoor play areas as well as an outdoor one, a giant picture window for watching your pups play, a retail space complete with small-business-made treats and toys, and a refrigerator filled to the brim with chef-created canine noshes. Overall, there is so much to see and do! Even better? There are two other Wag-a-lot locations around town!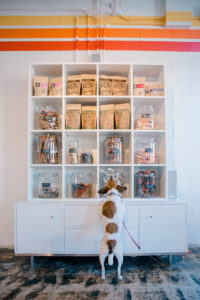 Ryan says: My review is four paws way up for Wag-a-lot. Since my mom works from home, I haven't been to doggy day care in years, but I'm secretly hoping she'll drop me off for some playtime fun soon!
Wag-a-lot Upper Westside
1919 Hills Ave. NW
Atlanta 30318
wagalot.com/locations_upper-westside.html 
404.795.8346