Follow Ryan, an Atlanta Humane Society rescue, on her adventures throughout pet friendly ATL.
Written by Nicole Letts
Photos by Amber Martin Smith
An Atlanta spring is tough to beat. We're defrosting from winter's last breath, watching temperatures steadily rise and enjoying longer days. As a result, Atlantans are beckoned outside, and that means making our way to the plentiful outdoor establishments. Parks are packed, the Beltline is bustling and courtyards are canine-filled. With patio weather upon us, it's a prime opportunity to plan a date with your pup. To get in the springtime spirit, Ryan and I have a few recommendations for dog-friendly, sun-drenched spots to add to your spring adventure bucket list.
Canines for kombucha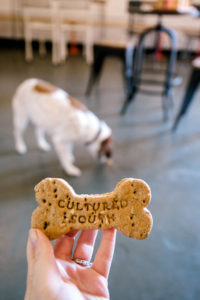 Head to Atlanta's first kombucha taproom that's completely dog-friendly. Cultured South is located off the buzzing Westside Trail of the Beltline at Lee & White, one of the city's foremost food and beverage districts. At the fermented food epicenter, there are ample picnic tables outside for pets and their people to enjoy water and kombucha, respectively.
Even better? Dogs are welcome inside, too. Large garage doors allow the outdoors in, and tons of seating create a relaxed, hospitable vibe. What's better than a flight of locally made kombucha and a few hours with friends in the spring sun after a trip down the Beltline?
Ryan Says: Cultured South's branded treats by Big Daddy Biscuits were the highlight of my tap room trip.
Cultured South
1038 White Street SW
Atlanta 30310
culturedsouth.com
404.549.8314
Delicious doggy bags
A Sandy Springs restaurant that offers a complete doggy dining menu is our kind of place. The restaurant's quaint, shade-filled patio is canine cordial. Owners can request doggy bowls of grilled chicken, bacon or rice, and can even take home a complimentary doggy bone, too.
We ordered ours to-go for a pup-approved picnic. Ryan enjoyed her bowls. If you really want to make your dog's day a great one, throw her a doggy birthday party at Southern Bistro. Dog-centric parties are one of the restaurant's pet-friendly offerings.
Ryan says: Bowls of bacon and chicken give the phrase "doggy bag" an entirely new meaning.
Southern Bistro
4920 Roswell Rd
Atlanta 30342
southernbistroatl.com
404.705.8444
Outdoor dining digs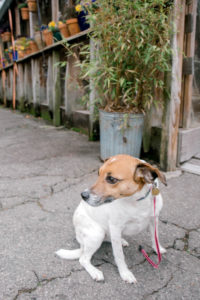 A Buckhead institution, Peachtree Hills' Treehouse Pub is always brimming with pooches. Visitors are encouraged to bring their dogs to any of the outdoor tables around the restaurant. Pups are provided with water bowls along with plenty of love and undying attention from the staff.
While the restaurant encloses the patio for cooler weather, spring usually signals the tin roof's removal. Once the umbrellas are up and the misters are on, it feels like a garden oasis in the middle of a bustling city. Head to Treehouse to celebrate the dawn of spring with your furry BFF.
Ryan says: There are always friends to see at Treehouse. Employees welcome us with open arms, water bowls and lots of attention.
Treehouse Pub
7 Kings Circle NE
Atlanta 30305
treehouseatlanta.com
404.266.2732