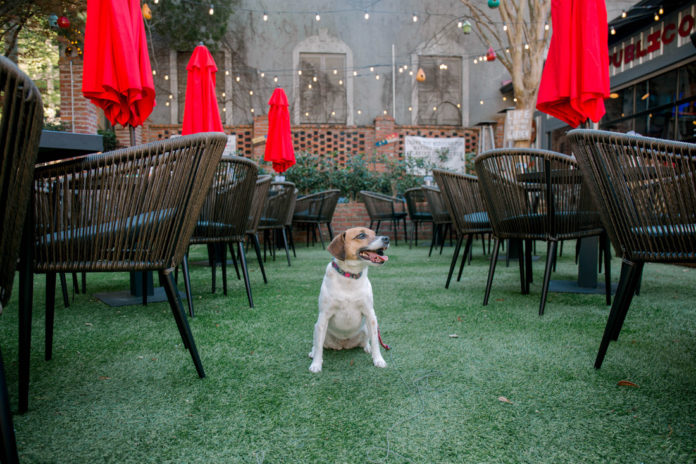 Follow Ryan, an Atlanta Humane Society rescue, on her adventures throughout pet friendly ATL.
Written by Nicole Letts
Photos by Amber Martin Smith
There is no better way to embrace the dog days of summer than with a local staycation, and Midtown Atlanta offers some of the best spots to make it happen. With a variety of pooch-filled patios, several pet-friendly accommodations and more than enough official (and unofficial) dog parks to go around, our city has an abundance of getaway and dayaway options. Here, we dish on the best Midtown has to offer, so you can plan a relaxing vacay without the stress of leaving town. Pack your overnight bags and head down Peachtree for a summer staycation with your pup.
Renaissance Atlanta Midtown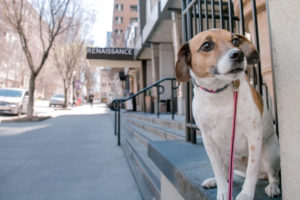 Treat yourself and your four-legged BFF to a night away at one of the neighborhood's pet-friendly hotels. Midtown hotels such as the Loews Atlanta Hotel and the Moxy Hotel Atlanta Midtown offer canine guests first-rate service. Providing perhaps the most extravagant experience of their fellow pet-friendly hotel peers is the Renaissance Atlanta Midtown. Upon arrival, dogs are given special treats, including water and homemade biscuits, but the real five-star treatment comes when your pup is presented with a complimentary personalized dog tag. Up the ante and book a pet massage for your pooch. No request is too much for the hotel that does everything it can to make all guests — including those with fur — feel like family.
Renaissance Atlanta Midtown
866 W. Peachtree Street N.W
Atlanta 30308
marriott.com/hotels/travel/atlbd-renaissance-atlanta-midtownhotel
678.412.2400
The Fed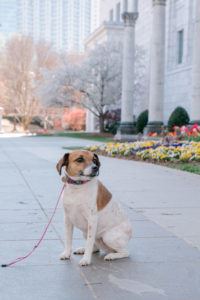 Meet Atlanta's most unlikely unofficial dog park: the Federal Reserve Bank of Atlanta. Known by locals as simply "The Fed," the goings-on within include providing bills to banks, overseeing electronic money transfers and clearing checks. But it's the expansive grassy area outside that piques Ryan's interest. With generous shade and oodles of benches, you could easily spend hours under the shadow of the White Cherokee marble structure. The Fed has embraced puppy pals without question, too. The bank regularly features dogs through its #DogsOfTheFed Instagram hashtag. We scoped out the Fed's greenspaces and have to say, this shade-filled plaza gets four paws way up.
Ryan says: There were so many friends at The Fed and ample shady spots for greeting each other.
The Federal Reserve Bank of Atlanta
1000 Peachtree Street N.E.
Atlanta 30309
Frbatlanta.org
404.498.8500
Publico Kitchen & Tap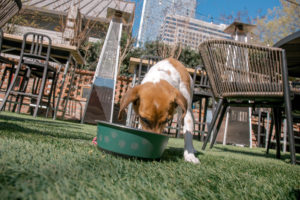 Within walking distance of the other two spots, Publico Kitchen & Tap is a casual, Latin-Asian fusion restaurant with a pet perfect patio. Dogs can sniff out a prime spot on the turf while their parents select snacks from the VIP (very important puppy) menu that donates proceeds to the Howell Mill location of the Atlanta Humane Society. Ryan devoured three bone-shaped, peanut butter bacon biscuits without a moment's hesitation and polished off a bowl of ice-cold water, while the humans snacked on freshly fried chicharrones. Undoubtedly, Ryan's favorite part was giving an avalanche of kisses to the adoring, attentive staff.
Ryan says: As a Howell Mill rescue myself, I am always happy to support anything that benefits our local Humane Society.
Publico Kitchen & Tap
1104 Crescent Avenue N.E.
Atlanta 30309
publicotapandkitchenatl.com 
678-745-5230