Follow Ryan, an Atlanta Humane Society rescue, on her adventures throughout pet friendly ATL
Written by Nicole Letts | Photos by Nicole Letts
Atlanta is flush with BYOD (bring your own dog) spots waiting to be sniffed out. In fact, you might say our city is pawsitively dog friendly. This fall, my pup, Ryan, and I scoped-out a few places worth exploring. We ventured from bars and restaurants to parks and paths, in search of our top recommendations. Grab your leash and your canine companion, and bound around town!
Discover a new place to call the Dawgs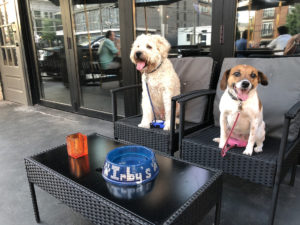 A Buckhead up-and-comer, Irby's Tavern is our preferred place to catch a game with your canine this fall. Self-proclaimed as "Atlanta's hometown sports bar," the restaurant is rooted in history and is situated just minutes from where Henry Irby founded a tavern and grocery store in the mid-1800s. Now, this pup-friendly watering hole hopes to continue Irby's legacy while creating a community of its own. Visitors can nosh on dishes of pimento cheese corn dog bites or chicken and waffle sliders, while pups lap-up community water and chew a variety of toys. Whether you're supporting the Dawgs or rooting for the Dirty Birds, Irby's Tavern is a sports sanctuary where enthusiasts are invited to pull-up a piece of the pooch-proof patio and cheer-on local teams.
Ryan Says: My friends and I were especially appreciative of the branded water bowl and spare deer antler. Thanks, Irby's, for looking out for me and my pawsse!
Irby's Tavern
404.293.1713
322 East Paces Ferry Rd., N.E.
Atlanta 30305
irbystavern.com
Lift your spirits at Oakland Cemetery
When you think of dog-friendly paths and parks, Oakland Cemetery might not come to mind, but we're here to tell you it should. Oakland is not quite a mile from the heart of downtown and serves as the final resting place for many famous Atlanta residents, including author Margaret Mitchell and golfer Bobby Jones. It also happens to be dog-friendly: Any pup on a leash is welcome to explore the grounds. During your walk through this garden cemetery, you'll find grassy knolls, paved walking paths and plenty of dog receptacles. Self-guided tours are free, and there's easy parking along with room to roam. Visit Oakland Cemetery for festive fall fun with Fido.
Ryan says: The grass is crisp at Oakland Cemetery, which is perfect for sunbathing and fall friend frolicking.
Oakland Cemetery
404.688.2107
248 Oakland Ave., S.E.
Atlanta 30312
oaklandcemetery.com
Take in Fall Foliage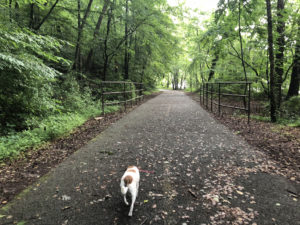 Beyond the shifting temperatures, one of the many perks of fall for pets and their humans alike is witnessing the leaves change colors (and probably pouncing in them, too). While the most dramatic pigments are found in the North Georgia Mountains, Atlanta is home to picturesque nature walks of its own. If you're in the mood for a short drive, head to Sweetwater Creek State Park in Douglas County, where you'll find a wooded trail and the enchanting ruins of the New Manchester Manufacturing Company. To experience a fall palette a bit closer to town, we like the Paces Mill Park and West Palisades Trail near Vinings. Your pup will enjoy the moderate hike and paved path that meanders along the banks of the Chattahoochee River. Benches along the way are ideal for resting while taking in scenic views of the river and wildlife. With plenty of parking and a plethora of pooches, the West Palisades Trail gets four paws way up.
Ryan says: This shaded, tree-filled trail offered a lot to see, but I was most curious about the Chattahoochee River (and the overpass above it!).
Paces Mill Park and West Palisades Trail
3444 Cobb Pkwy.
Atlanta 30339