At Fetch Park and Ice House, Atlanta's first full-service dog park bar, a trip to the pet park can now be an excursion for both you and your canine companion.
Written By Laura J. Moss
Serving food, cocktails and coffee, and featuring plenty of open space to run and play, it's a "pawsome" destination for humans and their furry friends alike.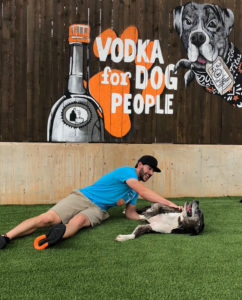 "I always found myself debating between going to the park after work or going to grab drinks with friends, so I asked myself, why couldn't there be a spot where you could do both," says Stephen Ochs, founder of Fetch.
Located at 520 Daniel St. SE in Old Fourth Ward, Fetch is an off-leash dog park and bar. A full service restaurant, The Ice House, featuring human-only seating and a dog-friendly patio, is scheduled to be open late fall, featuring what Ochs calls "high-end bar food with a Texas twist" and will be open for lunch, dinner and weekend brunch. Also set to open is The Shipping Yard, a large on-leash dog-friendly patio with a shipping container bar. In addition to the food, beer, wine and signature cocktails, Fetch has a dog-bathing station, outdoor TVs and WiFi throughout the park.
Ochs established Fetch with the help of former Atlanta Falcons player Garrett Reynolds and Ochs' own dog, an 11-year-old boxer named Oakley, who holds the title of Fetch CEO, which stands for "Canine Enjoyment Officer."
Safety was a key concern, so Ochs ensured that Fetch has a separate space for small dogs to play on their own, as well as adequate lighting, so the park can be enjoyed from 7:30 a.m. to 10 p.m.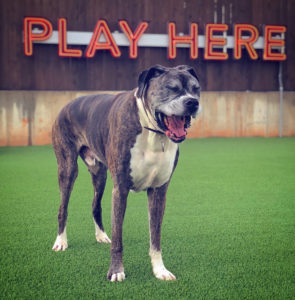 "One of the big things I wanted to make sure of when I started this was to create a space where people didn't have to worry about their dogs," he says. "Too many times, you go to dog parks and see bad owners, unsocial dogs and aggressive dogs. At Fetch, all owners have to sign a liability waiver stating their dog is friendly, social and up-to-date on all shots, while also accepting liability for their dogs. Fetch also has bark rangers walking around the park at all times, making sure the pups are playing nicely, and the park is being kept clean."
Learn more about Fetch Park & Ice House at fetchparkatl.com.