Festival focuses on dog and family-friendly activities, games, contests
Written by Beth Reese Cravey
Photos by Rescue Dog Games
One of the organizers of Atlanta's upcoming Rescue Dog Games is a small, 3- to 4-year-old mixed-breed canine named River.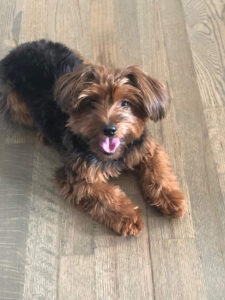 Founder Jill Waddell, who adopted the "unique combo" of heritage in 2018, calls River her best friend and business partner. The dog has been her co-pilot as she planned the past festivals that started in 2016 and celebrate rescue dogs and their families.
"I value the love and positive life lessons that a rescue dog brings to a family," she says. "It's an unconditional love and presence in life that is unmatched."
Waddell hopes the games, to be held this year on March 15 at Piedmont Park, will provide impetus for more people to experience those positive life lessons. She founded the event, she says, to bring people together to support Atlanta dogs, advocate adoptions and encourage people who already have dogs to get outside and play with them.
"I want to make a positive difference for dogs — to create enough community awareness around rescues working together to make adoption the only consideration in getting a dog. We need to work together as a community to be the voice for dogs' best interests," she says. "We also want the focus on play, to create more gratitude in people for their dogs."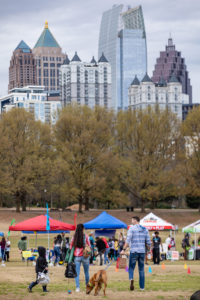 The Midtown site provides the outside gathering place, along with Park Tavern and Beer Garden. The games have a long list of dog and family-friendly activities, including interactive art project and dog game stations, disc-dog demonstrations, an agility course, a kissing booth, a rover relay and a "doggie splash party." Canines and their owners can enter a costume contest and dance-off, and have their smiles captured in a photo booth and new this year is a dog food drive.
Adoptable dogs from area rescue organizations will be on site, with some of the canines showcased in a fashion show.
"We want people to adopt dogs," Waddell says. "They display such deep gratitude and love."
Since the first year, thousands of humans and their dogs have attended the games. Angela Settles and other volunteers helped craft the experience, and the 2020 event will be Settles' third as a volunteer. She helps manage onsite registration and VIP tickets, and her dog, Piper, has been a model in games advertisements.
"I love rescue dogs. I like being a part Rescue Dog Games of an event that is fun and supports the Atlanta pet rescues," she says. "This is a festival like no other. There are goofy, fun activities to participate in. You do not have to be a pro; anyone can play."
Like Waddell, Settles hopes the event will bring together adoptable dogs and people who want a "new best friend."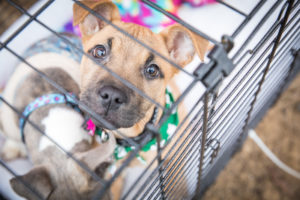 "There are so many beautiful dogs in these shelters who need a second chance at life. We need to see the people in Atlanta step up and adopt to end the overpopulation in these shelters," she says. "We adopted our sweet Piper after the first year of working at Rescue Dog Games. She comes everywhere with us and is a bundle of energy. You can always count on dogs for unconditional love."
In addition to activities and adoptable dogs, the event will feature dog-themed vendors and "pet partners" such as the Atlanta Humane Society, Furkids AnimalRescue, LifeLine Animal Project, Angels Among Us and the Piedmont Park Conservancy and Dog Park.
IF YOU GO
The event is 1-6 p.m. March 15 at Piedmont Park. General admission is free, but a $10 VIP — "Very Important Puppy" — Experience ticket is available. VIPs can participate in all of activities, indulge in beer garden samples from various breweries and pick up vendor prizes and the chance to choose which Pet Partner organization will receive the proceeds from their tickets.
To register, get VIP tickets or more information, visit rescuedoggames.com