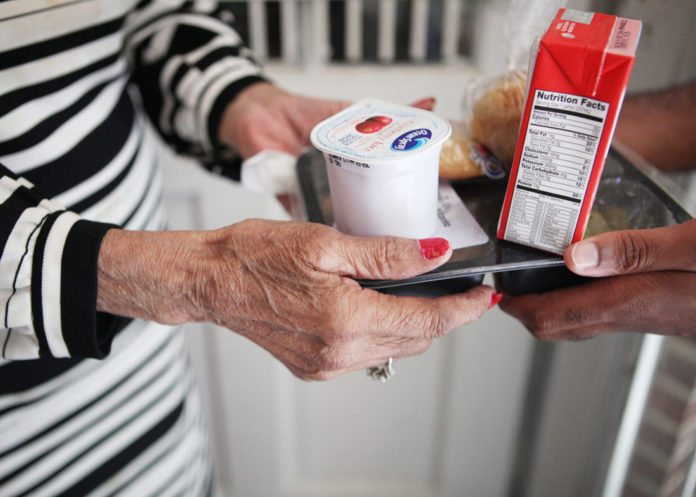 Meals on Wheels Atlanta creates pet pantry
Written by Beth Reese Cravey
Photos by Meals on Wheels Atlanta
The Meals on Wheels Atlanta volunteers who delivered about 900,000 meals to area seniors in 2019 often found that the food was being diverted to other furry family members.
Some of the seniors, the volunteers reported, were sharing their meals with their pets.
That came as no surprise to Hillary Baker, who runs the nonprofit's marketing and partnerships, as well as its gourmet food social enterprise, Purposeful Gourmet Foods, and its gourmet garden.
"I totally get that because I'm a big dog lover. I have two dachshunds and would do anything for them," she says. "So we decided that we would start delivering nutritious pet food as well. It's better for our seniors and definitely better for their pets."
In 2019, Baker established a pet food pantry in Meals on Wheels' offices at 1705 Commerce Dr. in Atlanta, with the entry graced by a painting of two dogs and a cat by local pet artist Lisa Gleim-Jonas. The pantry houses donations of pet food and toys, as well as the pet food it purchases.
"The response has been overwhelming," she says. "Pet food has been pouring in. It's been a good opportunity to tell our story about senior and pet hunger."
And part of the pet hunger story is that the agency welcomes pet food donations but prefers financial donations to be able to purchase the appropriate food.
"For us, it costs just $8 a day to feed a senior, $9 if they have a pet. It's really better to donate the money instead of pet food. This way, we can ensure that we have the right pet food for the right type of pet," Baker says. "For example, sometimes we end up with food that isn't appropriate for an aging dog, or we get too much of one type, and it will expire." To help distribute pet food to needy seniors, the agency has partnered with the Atlanta Humane Society. Helping tackle pet hunger is one of the society's many outreach efforts that also include free vaccination clinics and a low-cost spay and neuter program, says Karen Spaulding, director of community outreach.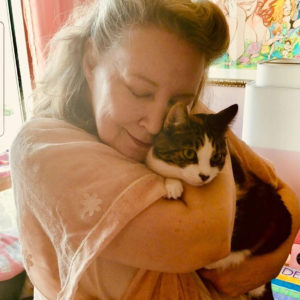 "We're growing our relationships with key partners in Atlanta like Meals on Wheels to help reach pet owners in need," she says. "Pet owners in our community struggle between feeding themselves and feeding their pets, and we're working to provide free pet food for these owners who already receive food for themselves through program partners, so that's no longer a decision they have to make."
For Meals on Wheels senior clients, the volunteers who bring them food are a lifeline to the outside world, Baker says. But the seniors who have pets feel less isolated.
"For many of our senior clients, they are alone all day. The delivery can sometimes be their only human contact for the day. We understand isolation," she says. "We love when we hear that a senior client has a pet because we know that they don't feel alone, and they feel loved and needed."
Another initiative to help end senior hunger in Atlanta is "Pitch In For The Kitchen," which will be a "state-of-the-art" community kitchen with classrooms, demonstration kitchens, a volunteer hub and an area for chefs to prepare fresh, nutritious meals for seniors.
"It's going to enable us to really enhance our ability to serve the need of seniors in Atlanta," Baker says. "We currently have over 330 seniors on our 'can't wait' list. It's heartbreaking to think that mothers, fathers, grandparents are literally waiting to have someone knock at their door to provide them food."
TO HELP
Meals on Wheels Atlanta receives no government funds and relies on community support. To donate, volunteer or get more information, contact Meals on Wheels Atlanta at 1705 Commerce Drive NW, Atlanta; 404.351.3889, mowatl.org.