Written by Nicole Letts
Photography by Annette Joseph
Some might say Annette Joseph is the embodiment of the phrase "the hostess with the mostest." An Atlanta based photo stylist, Joseph is also an editor, author and instructor. When not living and working as a stylist stateside, she's in Italy renovating a home, writing books and teaching classes through Annette Joseph Workshops and Retreats (annettejosephstyle.com). And she does it all with her chic Dachshund, Vivian ("Vivi"), by her side.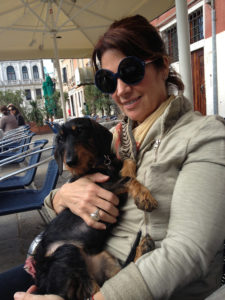 Joseph has been traveling with Vivi across the pond since she was a pup. Last year, Vivi spent April through October living in northern Tuscany at La Fortezza, Joseph's Italian home, photography studio, workshop space and vineyard. It's safe to say Vivi is living la bella vita.
Seven-year-old Vivi is at home overseas. "She truly loves Italy. In the States, she's more reserved, more anxious, and clearly likes Italy better," says Joseph. Perhaps that's because Vivi is practically a dual doggy citizen. She was born in Italy and spends summers exploring the Lunigiana countryside. Joseph describes Vivi as a farm dog who "runs, hops and even smiles" when she arrives at her Italian home.
Throughout the year, Joseph hosts a series of intimate creative workshops for students across a range of ability levels. Attendees can master skills from canning to abstract painting and from food to interiors styling, all under the roof of Joseph's newly renovated 15th century home. Workshops are generally taught by Joseph and her team of guest instructors from around the world. Vivi hovers nearby. "Vivi is my shadow, and she does everything with me," Joseph explains. "Everyone loves her. She thinks that she's part of the host committee."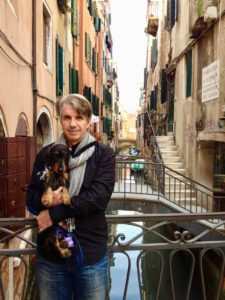 Beyond frolicking among the vines, greeting guests for their morning coffee and keeping countryside critters at bay, Vivi's day-to-day life at La Fortezza is best described as busy. "First thing [in the morning] she has breakfast and runs to the commercial kitchen to say hello to everyone. She hunts lizards, checks out the grounds and sniffs all over the garden. She rarely naps here; she's on the go all day." At the end of a long day, if she does find herself in need of a snooze, Vivi's favorite spot to curl up is beside her owner on a pillow on the sofa.
Are there plans to host pet-inclusive workshops? Joseph says you never know. "That's a great idea. Vivian and I need to talk about it, but it is a definite possibility in the future."