Nonprofit gets at-risk kids off the streets and into rescuing dogs.
Written by Cherese Cobb
Photos courtesy of The W-Underdogs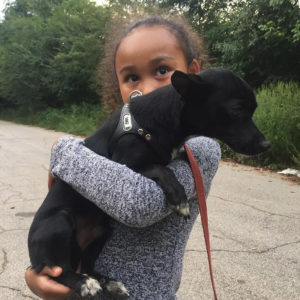 The idea for W-Underdogs (pronounced "wonder dogs"), a grassroots nonprofit that pairs at-risk youth in Peoplestown and South Atlanta with dogs and cats in need, began on a on a spring afternoon in 2013. Army veteran Grace Hamlin was gardening when she noticed a group of crying kids pass by. She was concerned, so she followed them to a park where the children were fighting, enclosed by a circle of adults goading them on.
Hamlin, 44, who says that her buzz cut and tattooed forearms make her look like a cop, broke it up. "I realized that there wasn't anything for kids to do or anywhere for them to go," Hamlin says. "Their parents often locked them out of their houses while they worked, forcing kids as young as four years old to be protected by their older siblings on the streets."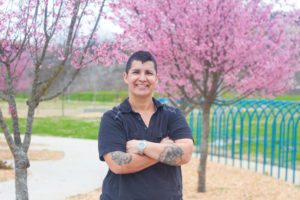 After an injury took her away from her job as a wheel mechanic, she asked some kids to help her walk her dogs. By the fall of 2013, nearly a dozen kids started hanging around her house, playing with each other and the dogs.
"Right now, a dog on a chain with no access to food, water or shelter is normal [to these kids]. Until someone teaches them differently, that will continue to be normal," Hamlin says. "Bring education to these kids about compassion and kindness to animals, and it will slowly ripple into their own lives."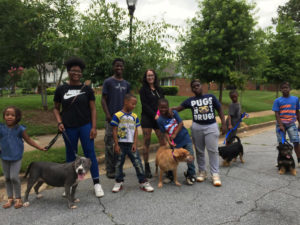 Nearly 20 children, ages 5 to 15, have earned the privilege of joining the program by writing an essay about what it means to be a "w-underdog." The youngest clean up after the animals and walk them. As their skills improve, Hamlin takes them "on the road" to earn money for veterinary care, pet supplies and college tuition by doing odd jobs such as landscaping, hauling brush, dog sitting or poop scooping. "No job is too small. We'll take anything we can get," Hamlin says.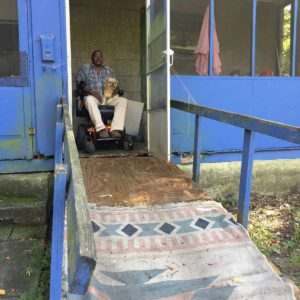 After 100 hours of community service, the kids earn a spot on the rescue team where they rehome dogs like Nitro, a pit bull who was found tied to his homeless owner, who had died of a drug overdose. In the last four years, the W-Underdogs have rescued 400 dogs, delivered 26,000 pounds of food and donated 65 dog houses built from materials salvaged from the neighborhood.
The nonprofit is currently fundraising $500,000 through GAgives to construct a 5,500 square foot building in Fulton County to serve as its headquarters. The front of the building will house veterinary services where kids can learn about dog wellness and grooming. An adoption center will introduce Atlantans to animals in need of a home, and an education center will serve as a place for youths to partner with tutors.
W-Underdogs
650 Banks Ave. S.W.
Atlanta 30315
404.246.1916
w-underdogs.org
Facebook: @wndrdogs
Instagram: @thewunderdogs