Lori Trahan, intrepid volunteer
Written by Mickey Goodman
Dagoba is one of nine rescue cats that greet Lori Trahan at her front door at the end of a long but productive day. "Despite being named for an organic chocolate bar, she's not the sweetest in the household, but she's certainly the feistiest," says Trahan, president of Good Mews, a no-kill, cage-free cat shelter in Marietta where no cat is ever euthanized to make room for another. The organization celebrates its 30th year of operation with a gala at the Hyatt Regency on November 10.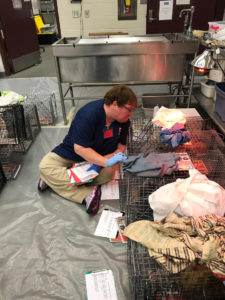 Trahan rescued Dagoba and her siblings at the request of a friend who found the cats in a box on her porch. "I thought they would be adopted quickly," she says. "That didn't work out as planned for Dagoba."
The orphaned kitten's future was forever altered when a volunteer put her hand in the cage to clean it out during Dagoba's obligatory two-week quarantine to prevent the spread of disease. Terrified of humans, the frightened kitten bit the volunteer hard enough to require a trip to the emergency room.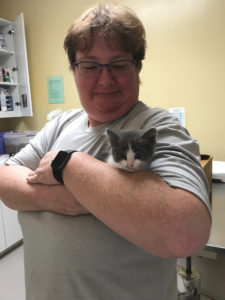 The next step was placement in foster care, but that was also short-lived. Once again, it was Trahan to the rescue. She retrieved Dagoba and took her home to join her growing family of cats — all Good Mews rescues.
Adopting Dagoba is vintage Trahan. A volunteer at Good Mews since 2000, she came up through the ranks. She was elected to the board in 2003, then served as secretary before becoming president in 2016. Through the years, the associate director of career planning and development at Kennesaw State University has helped countless families select a forever feline, served on the building committee of the 5,000-square-foot facility, and co-chaired several fundraisers. She currently co-chairs the Disaster Recovery committee.
The veteran volunteer helps care for an average of 350 cats sheltered annually. About 150 are in residence at any given time, with another 30 to 40 in foster care. "At Good Mews, they have a home for life," she says.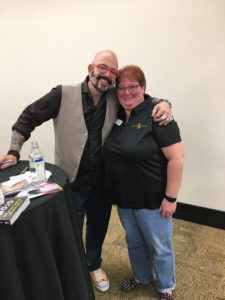 Trahan's love affair with cats began when her dad brought home a tiny kitten in a coffee can. Through the years, her ardor has increased 100-fold. In addition to working with Good Mews, she volunteers in the monthly Operation Catnip at the College of Veterinary Medicine at the University of Florida, where vet students spay/neuter 200 cats in a single day. "It's held on the first Sunday of every month and is free for county residents," Trahan says.
RedRover, an organization that helps animals rescued from disasters and extreme neglect, is another of Trahan's pet projects. When alerted, she travels where needed to respond to emergencies such as the discovery of a puppy mill where animals were abused, or to help out in a case of extreme hoarding. "In one instance, animal control found 700 pets at a single residence, far more than the already crowded facility could rescue and handle," Trahan says. "Scores of volunteers helped the staff care for the large influx."
Finding enough hours to guide students at Kennesaw as they plan their futures, and volunteer as much as she'd like, is always a challenge. "The key is time management, and loving what I do," she jokes.
To donate or volunteer: goodmews.org