Canines are Atlanta tech startup's code for success
Written by Ellie Hensley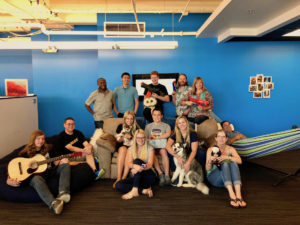 Working for an innovative tech startup can mean a lot of pressure, but employees of Atlanta-based Clean Hands Safe Hands have found the formula to blend success with stress relief: their canine companions.
One of the company's animal evangelists is Christine Emerson, director of partner success, who brings her lab mixes, Willow and Addie, into the office at least once a week.
"We have a puppy calendar you sign up for in advance, and as long as no other dogs are signed up, you're allowed to bring your dog in," Emerson says. "When I don't bring the girls in, I can count on my coworkers to ask me, 'Where are the dogs?'"
Clean Hands Safe Hands began as a research consortium of the Atlanta based Centers for Disease Control and Prevention, Emory University, Children's Healthcare of Atlanta, Georgia Tech and the Georgia Tech Research Institute. It focuses on reducing hospital-acquired infections by reminding clinicians to sanitize their hands regularly.
After seeing early success in 2016, the company graduated out of the Advanced Technology Development Center at Georgia Tech and now subleases space from another tech company, Kabbage, at 730 Peachtree in Midtown.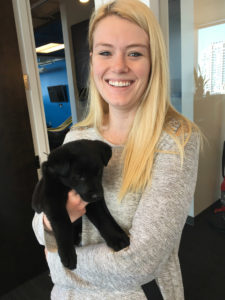 "It's purely coincidental that we have the ability to have dogs in the office," says CEO Chris Hermann. "Kabbage has unusual terms in their lease that allow us to have up to two dogs at one time. They'll come in, say hi and then curl up in a corner and nap."
Though they're both more than 70 pounds, Addie and Willow are known for being lap dogs who are always good for a cuddle when team members need a boost.
"We have a massive bean bag right outside my cube, and Willow will cuddle up in it," Emerson says. "Addie is usually lounging on the couch or harassing Willow. When one of my coworkers gets stressed out, they'll stop by and lie in the beanbag with them."
Addie, 1½, still has tons of puppy energy, and she'll spring into everyone's cubicle in the morning to say hello, announce her presence and show off the toy she's brought in that day. Two other frequent visitors to the office are Huskies Yukon and Kenai. Emerson also brings her sister's toy poodle into the office on occasion.
Even on days when the dogs aren't at the office, they're never out of mind. Emerson always hurries home after work to take the girls to the dog park when they miss out on their frequent lunch time walks.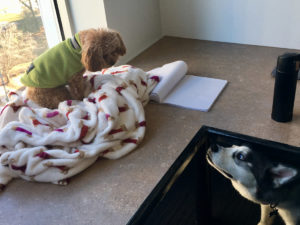 "People who want to stretch their legs during the day will take one or both of them out on a walk," Emerson says. "They really provide a source of entertainment."
When Clean Hands Safe Hands hosts big meetings or other special events, Emerson and other employees will often leave their pups at home. Otherwise, she says they just give visitors a heads up that dogs are present in the office and let the dogs play and hang out in the background.
"I think [Clean Hands Safe Hands] has done a great job creating a pet policy," she says. "Having dogs here makes people feel good. People can get their dog fix even if they don't have one."