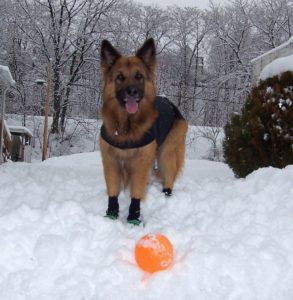 Grooming Your Dog for Winter
Winter: the season of colder temperatures, crackling fireplaces, holiday celebrations and ugly sweaters. But what about the family dog? Does he have to wear an ugly sweater too? Does he need to wear a sweater at all?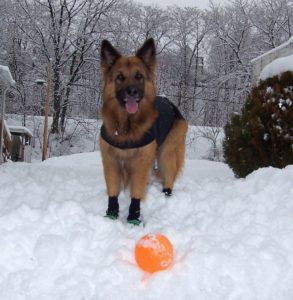 The first consideration in winter canine care is maintaining a regular grooming routine. Just as we continue to shower on a regular basis, your dog's coat needs to be kept clean and tangle-free all winter long.
A clean coat will more effectively trap the air that is warmed by the dog's body. The muscles in the dog's skin will fluff up the coat for even more insulation. Clean fur will help repel snow or sleet, and be quicker to dry when your dog comes back inside.
Your dog's nails may need to be trimmed more often in the winter, as she may get less exercise on hard surfaces which kept her nails shorter in the summer. Long nails can make walking on cold, slippery surfaces more difficult.
Trimming excess hair between your dog's toes and under her paw pads may help prevent the formation of ice or snowballs. If you are uncomfortable trimming this area at home, ask your groomer for a demonstration or schedule a "pawdicure."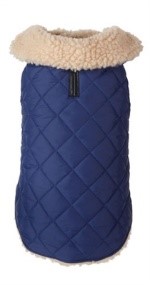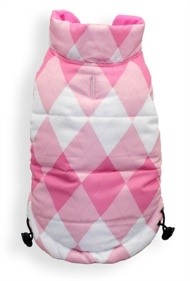 Let's Go Shopping
Whether or not you need to take your dog on a winter gear-shopping spree will depend on her breed, age, health and outdoor activity level. Dogs that spend all of their time inside may not need any winter clothes or gear, while dogs that accompany their owners outside for extended periods of time can benefit from the vast selection of products that are available.
Very young, very old, or very small dogs that venture out in the cold only when heeding the call of nature may benefit from owning both a sweater and coat. Sweaters are usually knit, and provide an extra layer of insulation to help maintain body heat. However, when precipitation is involved, sweaters can absorb the moisture and quickly wick body heat away from your dog.  This is when a waterproof coat is the garment of choice.
Active dogs that play with the kids while they make a snowman or accompany you on a winter wonderland walk may benefit from sweaters and coats that are more rugged and provide more insulation and features. Look for dog coats, rugs or blankets that are waterproof, windproof and breathable. Velcro closures allow for a secure fit.
Sweaters, coats and boots are available from your local pet store, catalog retailers and online. Taking your dog to the local pet store and asking for assistance in choosing the proper style and size will help assure a perfect fit the first time.
The best time to choose outerwear for a dog who has never worn any is now: The sooner you go shopping, the better the selection will be, and the more time your dog will have to get acclimated to her new clothes. Putting a sweater or coat on a dog who has never worn any before may result in a dog who refuses to move when she gets outside. You want your dog to be comfortable in her outerwear by the time real winter weather arrives.
Once you've selected your dog's outerwear, its time to think about her paws. Not all dogs need boots, but they are useful in wet, icy, snowy or muddy conditions. Dog boots are available in a variety of styles and materials. Some styles are designed to provide traction, while others promise warmth and waterproof properties.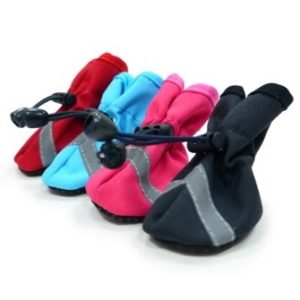 Trying on Those Boots
One thing is certain… There's nothing quite as amusing as the first time a dog wears boots. The best way to acclimate your dog to her new footwear is to calmly place the boots on the dog and swiftly head outside. Don't make a fuss, try not to giggle, take your dog for a walk on lead and keep your dog moving while she adjusts to the feel of her footwear. Promptly remove the boots when you return home and praise and treat lavishly. Repeat on a daily basis until your dog is comfortable with her footwear. Most dogs accept boots quickly, but others may need a slower approach, or different style altogether.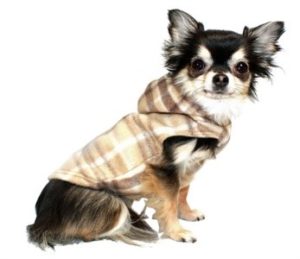 Wardrobe Care
Sweaters, coats or boots should be removed as soon as your dog comes inside. Sweaters and coats need to be dried thoroughly after every outing, and laundered and air dried as necessary. Boots need to be air dried after every walk.
A Few Final Tips
It is not usually necessary for your dog to wear a sweater in your home. Doing so can affect their ability to self-regulate their body temperature, and for long-coated dogs, increase the probability of tangles and mats.
Whether or not your dog wears outerwear, if he has been walking on a surface treated with a chemical ice-melting agent, you will need to rinse his feet in warm water and dry them thoroughly to prevent possible skin irritation or accidental ingestion. When using ice-melting products at your own home, be sure to choose one of the child- and pet-safe brands that are readily available.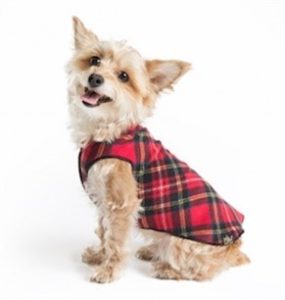 Winter can be a great time of year for the properly outfitted dog. Outerwear can help keep him cleaner, drier, warmer and more stylish, leaving you to win the ugly sweater contest again this year.
Contributed by Lorrie L Leiclel-Koch